|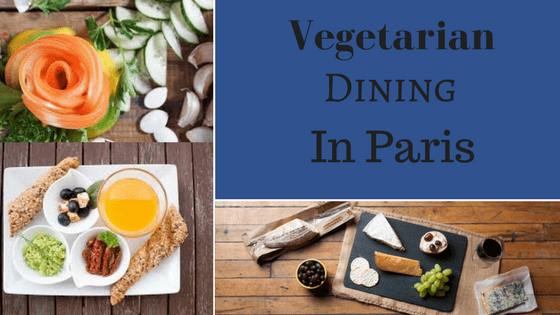 Vegetarian Restaurants in Paris
A few years ago, it would have been almost unheard of for a vegetarian in Paris to find good food. But there have been more and more options popping up.
Gone are the days where requests for vegetarian food
are met
with a confused expression and a 10-euro plate of lettuce with out-of-season tomatoes
. If you're visiting Paris and are not eating meat for any reason, here are the vegetarian restaurants in Paris to try.
L'As du Fallafel – 32, rue des Rosiers, 75004
Mi-Va-Mi – 23, rue des Rosiers, 75004
Miznon – 22, rue des Ecouffes, 750
Ellsworth – 34, rue de Richelieu, 75001
Judy – 18, rue de Fleurus, 75006
Breizh Café – 109, rue Vieille du Temple, 75003
Café Pinson – 6, rue du Forez, 75003
Brasserie Lola – 99, rue du Théâtre, 75015
Gentle Gourmet – 24, boulevard de la Bastille, 75012
Vegetarian Restaurants in Paris to Try
The Classic
For years, the only option for  vegetarian restaurants in Paris was to patronize Israeli establishments
.
The most famous of which is
L'As du Fallafel,
a falafel joint in the Marais that earned the approval of many celebrities, including Lenny Kravitz
. The long lines outside this restaurant move fast thanks to years of experience. A host or hostess takes your order while you wait in line.
When you make it to the window, you can watch your sandwich get assembled rapid-fire – the only thing you need to do
is let
them know if you want hot sauce
.
But L'As is no longer the only place to get your fill of this vegetarian treat.
Mi-Va-Mi
just
across the street has given L'As a run for its money, and some Parisian gastronomes prefer the newer establishment
.
A few blocks from Mi-Va-Mi, you'll find
Miznon.
This place is more of a sit-down joint that not only sells falafel but also a host of different vegetables. Look for their famed whole roasted broccoli to or their excellent sweet potatoes. The discerning vegetarian in Paris can make a whole meal of the different veggie options. To add a little flavor, veggies can
be accompanied by
toppings and sauces from the sauce bar.
L'As du Fallafel –
32, rue des Rosiers, 75004
Mi-Va-Mi
– 23, rue des Rosiers, 75004
Miznon
– 22, rue des Ecouffes, 75004

Want to visit some of these vegetarian restaurants in Paris, or perhaps some other Parisian landmarks? Check out our Paris Tours Page and book a once-in-a-lifetime trip to the City of Light.
The Mixed Bag
One of the toughest hurdles for a vegetarian in Paris is traveling with an omnivore. Often, the vegetarian gets stuck ordering a pizza or a plain omelette. The omnivore gets to partake in the
steak-frites
or
boeuf bourguignon
he or she was craving.
But there are a few restaurants that cater to groups looking for both excellent vegetarian and excellent omnivorous options
.
Ellsworth
is a restaurant not far from the Louvre. It's owned by husband-and-wife team Braden Perkins and Laura Adrian. The concise menu usually boasts several vegetarian and vegan options. It's best to call ahead and see what's available that day – and make a reservation – before stopping by. The modern menu has a little bit of everything, and a great wine list besides.
On the left bank,
Judy
brands itself as a "qualitarian" restaurant with a host of veggie options. On offer are Buddha bowls, vegan curries, and a few choices for omnivores too, like fresh catch of the day.
Crêpes and savory
galettes
are a must-try in Paris.
Breizh Café
has options for both omnivores and vegetarians: ham and cheese, mushroom, egg, and more are all on offer at this Marais favorite
.
Ellsworth
– 34, rue de Richelieu, 75001
Judy
– 18, rue de Fleurus, 75006
Breizh Café
– 109, rue Vieille du Temple, 75003

The Veggie Mecca
Paris has advanced its vegetarian and vegan dining options by leaps and bounds in the past several years
. Now there are more than a handful of places where a plant-based dieter will
be catered
to.
Café Pinson
was one of the first great vegan restaurants in the capital, and it's still a favorite. The ever-changing menu puts an emphasis on superfoods.
It features dishes like poached egg with beet cream and crudités, large meal salads, and vegan chocolate fondant
.
Brasseries are a French tradition, and
Brasserie Lola
invites vegans to the table, with veggie burgers, beet risotto, and even a vegan version of the classic croque monsieur
.
The brasserie also offers several dishes of Asian inspiration including samosas and stir-fried noodles
.
Vegans can even get a true French cuisine experience at
Gentle Gourmet
.
The haute cuisine menu varies with the season and may include chestnut-crusted Seitan with squash mousseline and mushrooms or a revisited vegan
blanquette
with button mushroom carpaccio
.
Desserts are
just
as creative, including ginger-poached pear with gingerbread and conference pear coulis or Normandy apple confit with fennel and green apple sorbet
. Special attention
is paid
to signal the presence of gluten as well.
Café Pinson
– 6, rue du Forez, 75003
Brasserie Lola
– 99, rue du Théâtre, 75015
Gentle Gourmet
– 24, boulevard de la Bastille, 75012
T
he increased presence of vegetarian and vegan restaurants in Paris means that it's easier than ever for plant-based dieters to find options they can enjoy in most restaurants
.
Just
ask for
des plats sans viande
(dishes without meat),
des plats végétariens
(vegetarian dishes), or
des plats véganes/végétaliens
(vegan dishes)
. A smile and a
s'il vous plait
(please!) will go a long way!