|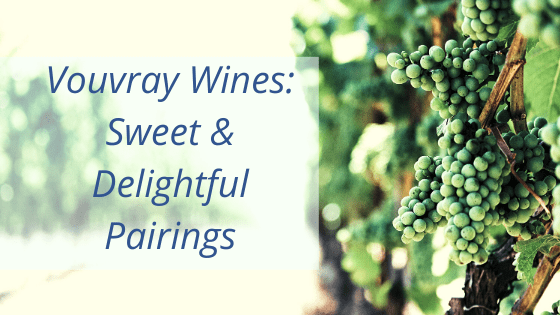 Vouvray Pairings for the Main Course: Baked Ham, Chinese or Indian food, Gingered Pork, Butternut squash soup, Peking duck

Wine Pairings for Dessert: Goat Cheese, Lemon Meringue Pie, Mince Tarts, Pumpkin Pie
It was some years ago–as a member of a group of teenagers bicycling through the Loire Valley–that I discovered Vouvray wines.  The setting was idyllic. We camped in the Loire Valley after a day of bicycling through the countryside. We stopped every day to see the world famous Loire chateaux.
Then one evening we were making dinner, and I decided to buy some wine.  One the menu was fresh French bread, paté, and canned beets for dinner. Goat cheese was our dessert.
Now the beets would be cooked with white vinegar, sugar, cornstarch and spices. I bought the wine at a small countryside store, a Vouvray. It was inexpensive, rather sweet, but–I was assured–full of flavor and character. But would it go with the dinner?
This delicious combination is one of the best food and wine combinations to date! I discovered Vouvray–from the Chenin Blanc grape–has a natural acidity and flavor. It goes well with sweeter dishes. I remember that pleasant dinner for the balance of food and wine.
True, this wine leads towards sweetness, with gradations of flavor.
Here are the categories sweetness of Vouvray:
sec (dry)
demi-sec (somewhat less dry)
moelleux (sweet)
and doux (more so)
Click here to see our new 7 Day Treasures of the Loire tour 
So if you enjoy sweet wines, try Vouvray.  It can age for a long time, and has been made for centuries. And apparently the wine cellars of the region were quarried to provide stone for the famous Loire Valley castles.
If you want to discover sweet wines, then try Vouvray. You will discover that this wine is best tasted with food. And often best with food that does not pair well with other wines. There is a boldness of flavor about Vouvray. Tasting notes include pears, figs and honey, that seeks a counterpart.
Vouvray Wines for the Main Course:
First pair it with baked ham. (If you have flavored the ham with whiskey, or perhaps brown sugar or half a cup of maple syrup).
Also, try Vouvray with Chinese food, such as orange beef. To my palate, it matches better with Chinese foods than Alsatian gewürztraminer wines, which are often recommended as a match.
Or try it with sautéed gingered pork medallions.
Or perhaps one of my favorite dishes, butternut squash soup.
And last, for a special treat, serve it with Peking Duck. The dinner of roasted duck, plum sauce, green onions and Mandarin pancakes, is set off perfectly by the flavors of a well-chosen Vouvray (Gaston Huet, Vouvray Demi-Sec Le Clos de Bourg 2009).
Vouvray Wines for Dessert:
It goes well with goat cheese, another treat from the Loire Valley.
Domaine Vaufiget Vouvray (2013) is a match for fine goat cheeses.
Closer to home, try a semi-sweet Vouvray wine with something with a tang to it, such as a freshly homemade lemon meringue pie.
At Thanksgiving we prefer a pumpkin chiffon pie. Vouvray balances that dessert very well indeed. The range of possibilities is up to you.
Finally as more wine lovers discover this fine wine and explore its tasting possibilities, Vouvray is still a low-cost treat. In addition to the wines already mentioned,
try a Barton & Guestier Vouvray

or a Vouvray Champalou

This is a great way to enjoy Vouvray with your delighted dinner guest friends.