|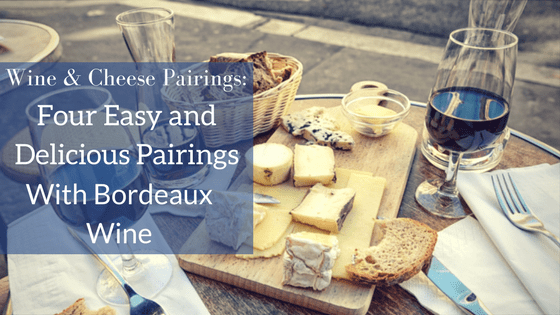 Bordeaux Wine and Cheese Pairings
Have you planned a dinner party around the wine and cheese pairings?
You could take it one step further and plan it around the wine and cheese pairings. Here are four suggestions for Bordeaux wine and cheese that are easy to replicate.
Why not try something new and informal? Showcase your wine and cheese paring savvy with a cheese buffet.
This could be thematic, such as Bordeaux Wine and Cheese. This is a perfect plan as a pre or post-theater event, a course in a progressive dinner party, or even an engagement party. Let your guests choose their own cheeses from an assortment. Add fresh baguettes, fruit and nuts. At the same time, put next to each cheese assortment the wine that goes best with that variety.
Here are some selections:

Brie and Camembert with red St. Emilion wine (Grand Corbin d'Espagne 2005 ($30)
Soft ripened Saint Albray cheese with red Bordeaux (Château Haut La Perrière, Côtes de Castillon $16)
Roquefort and Bleu d'Auvergne (blue cheese) with Sauternes (Château Filhot 2009 half bottle $18)
Valençay or Chèvre (goat cheeses) with Entre- Deux-Mers white Bordeaux (Château Martinon 2012 $12).
Beginners could simplify things-offer Mouton Cadet red or white wines with their cheese. These quality Bordeaux red and white wine blends from Mouton Rothschild offer value and Bordeaux flavor for roughly $10 a bottle, or $18 for a magnum.
Check out our award-winning small group and package tours here: Bordeaux Wine Tours
Sign Up for our eNews articles and receive our Free Guide to Wine Tasting Like a Pro
Wine and cheese pairings for a dinner party:
The first course and the main courses have been served, possibly with a salad. The wines have progressed from a lighter white wine to a more substantial red wine for the meat course.

If, instead, a fish is served as the main course, that would call for a more substantial white wine.
Start with light white wine (perhaps an Entre-deux-Mers). Then a tasty red wine from St. Emilion, or a white wine from the Graves region.

The remaining courses will often be a cheese course, and a dessert.
In Bordeaux, it is customary to serve an assortment of three cheeses for the cheese course.

​For example, a mild cheese (brie or camembert), a hard cheese (farmhouse or cheddar), and a blue cheese (perhaps a Roquefort, or a festive, pyramid-shaped Valençay).
Often a glass of the same wine that accompanied the main course is offered, particularly if that was a red wine.
In this instance, a magnum of red wine, opened at the meat course and also served with the cheese course. This will add a festive touch to your dinner. Guests know it is a special occasion when a magnum of fine wine is uncorked for their pleasure!
If you do wish to offer a separate wine with the cheese course, pick a wine that is deeper than the two already served, for example a wine from your cellar from an earlier vintage.

And then, the dessert course will give the opportunity for a contrasting wine.

Trys a smooth Sauternes, particularly if the dessert is not overly sweet.
Château Coutet is a dry Sauternes, while Château Suduiraut is more opulent.
That is the usual progression.
But there are some tasty variations!
When I visited Roquefort sur Soulzon and first tasted that famous cheese, I was surprised to hear the recommendation that it be served with a recent vintage of chilled Sauternes.
It was further suggested that the cheese be served as a soufflé! Upon returning to Bordeaux with a wheel of Roquefort, we followed that wine recommendation, and served a Roquefort soufflé as the first course at our next dinner. The combination was delicious and memorable. (The same wine is perfect with a smooth paté as a first course.)
And so, some flexibility allows the host or hostess to delight his or her guests with new wine and cheese pairings. This makes for a memorable occasion.
For more information on Bordeaux, visit the Great Wine Capitals Global Network!
Sign Up for our eNews articles and receive our Free Guide to Wine Tasting Like a Pro