|
French Wine Map, Map of French Wine Regions
When planning your wine tour to France, it's best to see where the French wine regions are situated on a French wine map!
Then it's best to gauge how far the French wine region is from Paris or Nice, or where you will arrive initially in France.  There is no shortage of French wine regions, so pick your region, choose your dates, and go!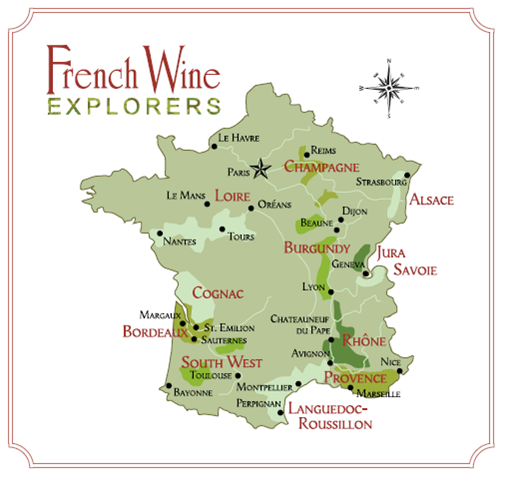 The most popular wine regions are Bordeaux, Burgundy, Champagne, the Loire Valley and Provence.
A few things to consider when looking at the French wine region map:
There may be updates and new routes, please contact us to confirm.
When to go: The best time to go on a wine tour to France is March-early June and October-November.  Airfares are lower and the tourist season is usually not in full swing.
Self drive options: Even if you spit during your wine tastings, please avoid driving while you are tasting wine.
Keep and open mind: Try a region you are less familiar with and broaden your knowledge and appreciation for the region.
Quality over quantity: In France, the visits are thorough. Limit yourself to knowing that it's quality over quantity when it comes to tours and tastings.
Drive Times: Where you stay is as important as the estates you visit.
Keep distances in mind:
You need a minimum of 2 hours between connecting flights at Charles de Gaulle Airport (to connect to Bordeaux, Lyon, Nice or Marseille by air)
Most transatlantic flights touch down before hotel check-in times. Avoid waiting for a room jet-lagged and cranky, book a spa treatment for your arrival, then check in once you're finished, feeling relaxed and revitalized.
Bordeaux: Connect through Paris on your travel day (1 hour flight) or take the high speed train (about 2-3 hours) from Paris or Paris CDG airport
Burgundy: 1.5 hours by train (either Beaune or Dijon stations) OR fly into Geneva, it's a 2-hour car ride. It's about a 3.5-hour car ride from Paris CDG. Driver services can be arranged with your hotel. Another option is to arrive in Lyon, which is about 1.5 hours by car to Beaune.
Rhone Valley, Avignon: same as Bordeaux.
Loire Valley: one hour by high-speed train from Paris, arriving at the St. Pierre des Corps station. For Nantes, connecting flights from Paris CDG are available.
There are trains from Paris and from the Paris CDG Airport, check Rail Europe for schedules and fares. NOTE: Many train schedules are released only 60 days in advance. We highly recommend traveling First Class (noted as Comfort Class on Rail Europe) via the train.
Train times, air schedules subject to change, contact us for the most up-to-date information at

[email protected]

.
The infographic below is a great overview of the grape varietals in each wine region in France.
Also, you will find interesting information on the types of wines produced in France, as well as the classification system and data on wines produced and exported in France.
This graph is courtesy of Vin-X, fine wine investment experts, wine investment brokers.