|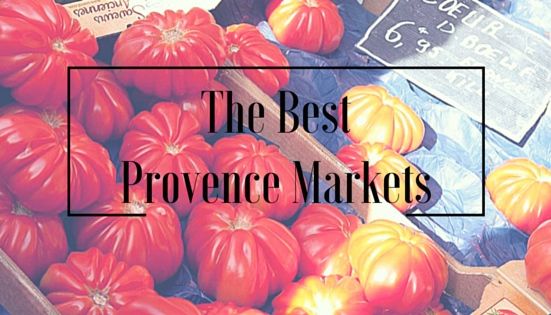 Colorful and lively, the best markets of Provence will take you on a picturesque discovery of flavors, fragrances, and local products.
Rooted in the French identity, food markets go beyond a tourist attraction. First, the best markets of Provence belong to the local culture. Second, they are the preferred meeting place for the town. Last, people come to chat over a cup of coffee surrounded by beautiful stalls of summer fruit and lavender.
Where are the best Provence markets in the region and when are these markets open?
Best Markets of Provence:
Arles market
St-Rémy-de-Provence market
L'Isle-sur-la-Sorgue market
Le Coustellet market
Vaison-la-Romaine market
Cassis market
Aix-en-Provence market
Maussane-les-Alpilles market
Apt's "Grand Marché"
The Forcalquier market
Markets of Provence: Details, Open Days, Etc.
1. Arles market
First , this market is w

ell-known for its diversity. It stretches 1 mile around the picturesque city

. Find the famous Arles sausage, local crustaceans, olives and oils, and local wines. Organic food lovers will enjoy local bread and honey, and local rice and vegetables.

This market of Provence offers lavender, herbs, and the famous Provençal soaps and essential oils

.
Every Wednesday and Saturday from 8am to 12:45pm.
2. St-Rémy-de-Provence market
The next market is in the capital of the Alpilles region in Provence. Saint-Rémy invites you to discover its typical market of Provence. Among the sun-filled stalls, find local products such as olive oils and local rosé wines.
The market takes place on Wednesdays and Saturdays from 8 am to 1 pm.
Sunday Market Option
3. L'Isle-sur-la-Sorgue market
Well-known for its 300 antique shops, L'Isle-sur-la-Sorgue hosts 5 different markets of Provence

. The most unique of all remains the marché flottant or "floating market".

This traditional market of Provence takes place on the Sorgue river, every first Sunday of August

. Merchants dressed in Provençal outfits travel by rowboat to serve their customers.
Farmers' markets: Saturdays/Sunday/ Thursdays from 6 am to 2pm.
Antique/garage sale market: every Sunday.
4. Le Coustellet market
This farmers' market has been gathering about 80 stalls since 1981. The charming town

is divided by

the main road. This also separates local farmers on one side from wholesalers on the other side. The former will be recognizable with the vegetables presented.

Every Sunday morning from 8am
Organic Market Option
5. Vaison-la-Romaine market
Next, l

ocated in Haut-Vaucluse, Vaison-la-Romaine has been hosting the oldest market in Provence since 1483

. With more than 450 stalls in summer, the market's essence revolves around wine production. You will be able to taste Côtes-du-Rhône and Côtes-du-Ventoux wines in a friendly atmosphere…a must-see!
Farmers' market: every Tuesday from 8am to 12pm
Organic market: every Tuesday and Saturday morning
Seaside Market
6. Cassis market
Famous for its cliffs and creeks, Cassis hosts a market of about 70 stalls twice a week. Although smaller than other markets of Provence, it offers a wide variety of products. Find homemade jams, tapenades (olive paste), and wines. Enjoy local crafts such as rattan baskets and ceramics.
Main market: every Wednesday and Friday from 8am o 1:30 pm
Farmers' market: every Saturday
Best Flower Market
7. Aix-en-Provence market
To enjoy the Aix-en-Provence market come early to avoid the crowds of tourists. A wander around will lead you to the flower market, dazzling with colors and pungent scents. If you are looking for local foods try succulent goat cheeses or the local delicacy, the

calisson

.

Every Saturday from 7am.
Local Speciality Food Market
8. Maussane-les-Alpilles market
This market is ideal to find all the tasty products you need to make specialties from the region. Find quality olive oils, the famous tapenade, and honey and jams. Try the lamb from the Alpilles and the wide variety of wines.

Local restaurants and hotels nearby choose this less touristy market of Provence for supplies

.

Every Thursday from 8am to 1pm
Larger Market
9. Apt's "Grand Marché"
The Apt market, taking place for 5 centuries, is one of the oldest and liveliest markets of Provence. Therefore, you will find no less than 350 stalls during the high season. Free shuttles are available in summer for visitors coming from the surrounding towns.
Every Saturday from 8 am to 1 pm
Late Afternoon Market Option
10. The Forcalquier market
Finally, t

his popular market is the most important in the region and its tradition dates back to Antiquity

. You will find a wide variety of stalls selling local products, fabrics, and clothes. If you want to avoid the crowds, join the locals and arrive early in the morning!
Every Monday from 8 am to 2 pm and every Thursday from 3 pm to 7 pm
In conclusion, the Provence region offers a wide range of markets selling great local products. Embark on a journey of discovery of the simple pleasures of Provençal life, its people, its crafts, and its food. These markets of Provence are not to miss on your next trip to the area!
Experience the Beauty of Provence Markets
Plan your dream tour to Provence today