|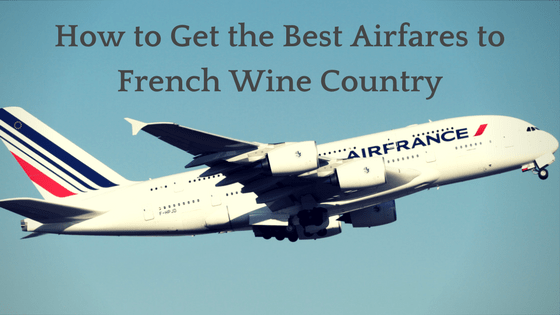 How to Get the Best Airfares for Your French Wine Country Tour
Do you know what can ruin your French Wine Country Tour?  A miserable flight experience.  It's the first and last experience that can overshadow even the best tour experience. Here are some tips to help you get the best airfares possible so you can avoid the dreaded experience of paying too much for too little.
Air travel was, at one time, predictable. One could phone a travel agent, book a trip to French Wine Country, and expect to fly either in coach or first class. It was common for the airlines to print their fares on the back of the ticket—there was so little change in their rates.
Times have changed, and  travelers are presented with countless ways to book airfare and it can be confounding. There are innumerable websites vying for consumer's attention and dollars, and they may not be able deliver all that is promised. It can be difficult to determine which site offers the most for the money—which method is the best for finding the coveted "lowest price."
Here are a few tips to consider when trying to find for the best airfares for your next wine tour in France:
One thing to keep in mind when searching for international business class deals is that airlines experience a lag in ticket sales four times per year: Easter, Thanksgiving, the Christmas and New Year holiday, and in the summer months. As a result of this drop-off in sales, airlines typically announce summer deals in January and winter deals in August hoping to increase travel during these slow periods. Airlines do not promote these deals, so the best way to keep on top of them is by subscribing to a service like Yapta or Kayak with flight fare tracking service that can alert you when a fare goes down.  We have had great success with both services in securing reasonable business, premium and economy fares.
Enrolling in an airline's Frequent Flyer program is beneficial for those seeking out ways to save on travel.  Members accumulate frequent-flyer miles based on the distance they have flown on that airline or purchases with a corresponding credit card. They then can redeem those miles for free air-fare, upgrades and other goods and services. Flying with the same carrier and accumulating frequent-flyer miles can lead to reduced or free upgrades to business or first-class; airlines reward loyalty. When purchasing tickets, look for ones listed as K-UP or Y-UP. These will you to be moved to business or first-class if space permits. For this type of fare, it's best to consult with a travel professional.
A little known method for getting the lowest rates for airfares is to purchase tickets between noon and three on Tuesdays. Airlines typically announce sales on Monday nights prompting other carriers to lower rates the next morning. The result: a flood of sale priced tickets, reaching its peak by three PM on the east coast and noon on the west.  Also, subscribe to an airline's newsletter to benefit from unpublished or early fare sales.
In addition to booking international travel during specific times of the year, connecting to European destinations via Iceland or Northern Europe may be a way to find deals on business class travel. Travel to these Nordic countries has opened up in recent years, but still needs promoting, benefiting travelers. Last year we were able to book business class tickets for only $200 more per seat than economy fare with a major carrier by connecting in Iceland via Icelandair.
When planning your next French wine country vacation, finding the best travel deals is simply a matter of knowing where to look and when. Those that are armed with knowledge will  prevail in finding the best tickets at the best prices.
Sign Up for our eNewsletter and receive our free guide to wine tasting