|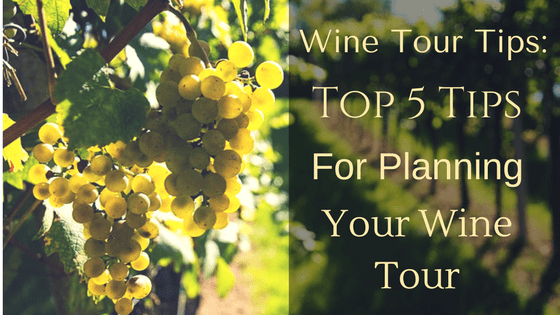 Planning a wine tour in France can feel like a part-time job. You have to research your destination, what to do, and what chateaus to visit. Before that, you check and book flights (and connecting flights). Then you find a desirable hotel—and hope that the website is representative of what you're actually getting. Last, you arrange transportation to and from the airport and for while you are in France. One can get a headache just thinking about it! Don't worry, though—help is here! Our tips on the top five wine tour tips to consider when planning a wine tour in France:
Time of year
Leave the driving to someone else
Be adventurous, venture out
Less is more
Drive times
5 Tips for your dream wine tour
Our first wine tour tip – Time of year:

The best time to go on a wine tour to France is March-June and October-November. 
Usually, airfares are lower and the tourist season is not in full swing. 
September is a beautiful time to go to see the harvest but can be challenging to get certain estate appointments. Early July can also be a good time to go and get estate-quality visits before August, typically vacation time for many.
If you are keen on First Growths, then it's best to schedule 9-12 months in advance or join a tour that already has First Growth tastings scheduled.

Don't drink and drive:

Even if you spit during your wine tastings, it is not advisable to drive while you are tasting wine.
Leave that to a pro and take full advantage that a driver will get you where you need to be on time, and fill the day out with useful information about the region and its wines. Relax and enjoy.

Be Adventurous:

Try an appellation or region you are less familiar with and broaden your knowledge and appreciation for the region.
Not sure which appellation that may be? A quality wine tour provider can steer you in the right direction.

Less is more:

In France, the visits are very thorough, so limit yourself to knowing that it's quality over quantity when it comes to tours and tastings.
Usually, 2-3 per day is sufficient to get a sense of place without feeling frazzled.

Accommodations and Drive times:

Where you stay is as important as the estates you visit.
If you haven't been to the hotel or chateau you are considering, don't assume what you see on the website is what you get.
Check with your wine tour expert who regularly visits hotel properties for real-time information and can assist in choosing a hotel property best suited for your touring style and accommodation preferences.
Armed with these five wine tour tips, you can plan your trip without stress and enjoy a sense of anticipation for the journey.
Ready to plan your dream tour?
Start here to see our tours by region