|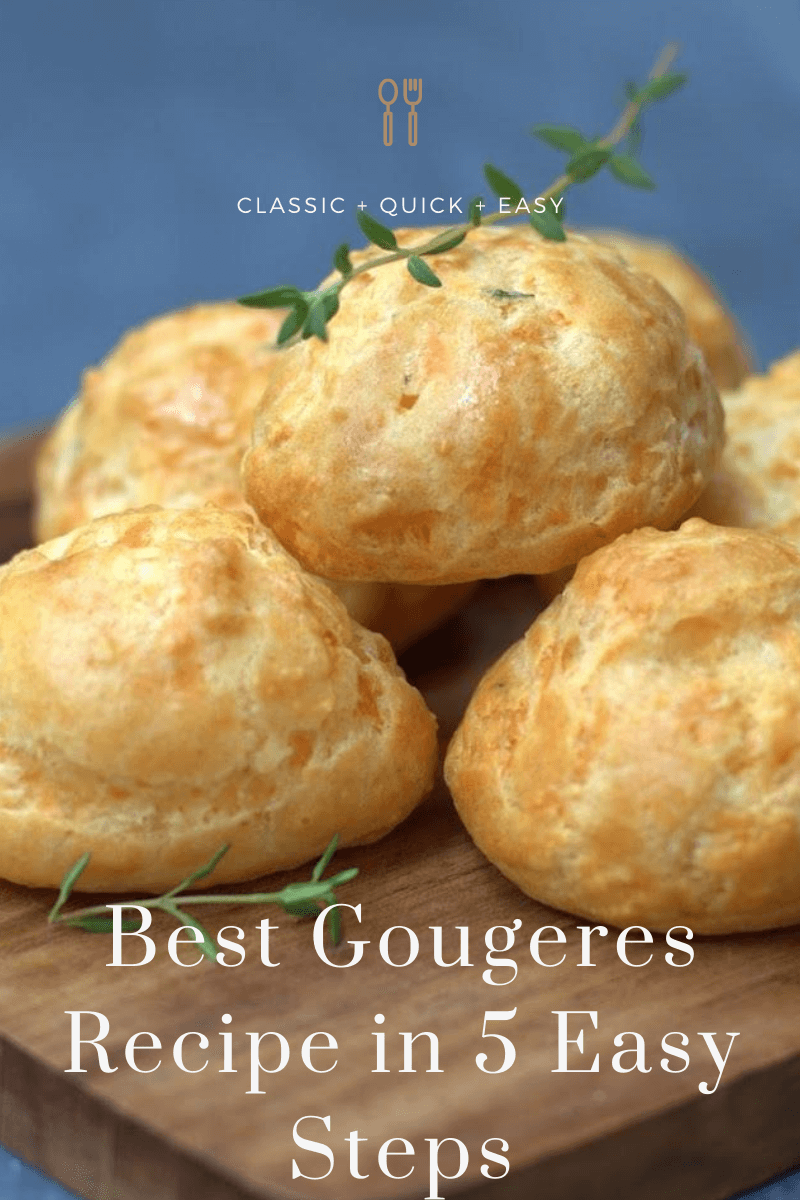 Gougères Recipe in 5 Easy Steps
Do you know that feeling when you want to offer some appetizers but don't know what to serve beyond chips and dip? Here is an easy gougères recipe (pronounced goo-jairs) that is a real crowd-pleaser. Plus you can make a larger batch to freeze for that last-minute get-together, or even to enjoy with a salad for a light dinner!
Gougères have a long history of pairing with wine. They originate from Burgundy, where locals have been these light cheese puffs since the eighteenth century. They are typically served as an appetizer with a glass of wine with a wine tasting.
Gougères in 5 Easy steps
Time needed: 50 minutes
Easy Gougères Recipe
1 cup water
3/4 stick of salted butter
1 1/4 cups plain flour
2 cups of Emmenthal or Swiss cheese
4 eggs
dash of nutmeg
1 egg yolk for glazing
dash of salt and pepper
Heat oven to 400 degrees

(Farenheight)

Make the batter

In a medium saucepan, bring the water and butter to boil. Add the flour, stirring very fast and take immediately off the heat.
Keep stirring until you form a soft ball.
Add the eggs, one at a time, and stir, by the last one the batter should be smooth.
Add the cheese, salt, and pepper, making a dewy batter.

Preparing for oven

Line a baking tray with parchment paper.
You have 2 options: either piping or shaping, to add the gougeres to the tray.
Piping: put in a pastry bag with standard tip and pipe walnut-sized mounds. I find this the easier of the 2 methods.
Shaping: spoon and shape with 2 teaspoons to form a walnut-sized ball.

Glaze and bake

Glaze with the egg yolk for a beautiful baked finish. Sprinkle the puffs lightly with grated cheese.

Bake and enjoy!

Bake for about 25 minutes until puffy and golden, serve immediately.
If you refrigerate or freeze them, simply heat them on high in the oven for 5-7 minutes.
Best white wine pairings are from Burgundy: try a Chablis, Pernand-Vergelesses, or a Cremant de Bourgogne.
Enjoy!
Check out our Burgundy Tours
View our small group, private and custom tour options and plan your dream Burgundy tour today