Burgundy Wine Tours
Visit fabulous Grand Cru estates and fascinating cultural sites.
---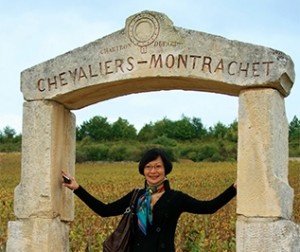 ---
Small Group Burgundy Grand Cru Tour
This is one of the best wine tours in Burgundy offering the opportunity to taste all the Grand Crus of Burgundy, including the quintessential Romanée-Conti. Immerse yourself into the complex and fascinating world of Burgundy.  This is the quintessential wine region for Pinot Noir and Chardonnay wine lovers. Limited to 12 guests.
October 11-16, 2021 SOLD OUT
US $7,900 per person, double or single occupancy
Click Here to Receive Full Itinerary
Save
Save
Save
Save
Save
Save
Save
Save
Save
Save
---
Burgundy Wine Tour Packages
Short, value-priced, pre-packaged private Burgundy tours that feature the region's top estates, best  hotels, and finest restaurants. A great value, just choose your package and choose your dates!
---
New Online French Wine Course!!
French Wine Demystified: Discover and communicate confidently about French wine. This course provides you with the foundation to better understand and enjoy French wine. If you want to grow your knowledge of French wine, culture, food and history in a way that was easy to digest, fun and relevant, this foundation course is the perfect start your journey!
---
"Everything was first class, from the accommodations to the meals. We had access to tastings and chateaus that wine enthusiasts can only dream of. Thanks for making this our best vacation ever!"
---
---
Burgundy Wine Tasting Tours
There is no better way to understand the nuances of "terroir" than on Burgundy wine tours. 
Burgundy is one of France's most prestigious wine regions. The world-famous Côte d'Or ("Golden Slopes") is home to illustrious Grand Crus such as Romanée Conti, Chambertin, and Montrachet. Discover the subtle play between land, sun, and vine that brings out the most noble and diverse expressions of Pinot Noir and Chardonnay grapes.
Burgundy is one of the most beautiful and important regions in France. Experience its rich cultural heritage at fascinating sights like the Clos de Vougeot with its 13th century wine presses. And make sure to visit the Hôtel Dieu (Hospices de Beaune), the Renaissance hospital famous for its yearly wine auction.
On our Burgundy Tours, [wpanchor id="burgundy-tours"] enjoy VIP tastings at the region's best estates. We include top Premier and Grand Crus in the Côte de Beaune and the Côte de Nuits. We include free time for shopping and sightseeing in the charming town of Beaune. Indulge in luxury accommodations at historic hotels or chateaux. And delight in sumptuous dining at some of France's best Michelin-starred restaurants.
Exclusive Burgundy Grand Cru Tour:
This is a superb opportunity to discover and taste all 32 Grand Crus of Burgundy.  Wines are from the best of the best vineyards, representing less than 2% of Burgundy's wine production. And taste the quintessential Romanée Conti of the Domaine de la Romanée Conti.
Included in your tour is a private Burgundy masterclass for all levels.
Taste Burgundy Grand Cru wines during your gourmet meals, including a meal dedicated to the iconic whites of the Montrachet vineyards.

Enjoy lunch prepared for you by a Grand Cru producer, hosted at her estate.
Meet with winemakers and estate representatives from large, mid-size and boutique estates for an insider's view of this famed region.
Taste at the best estates of legendary appellations like Vosne Romanée, Gevrey-Chambertin, Puligny-Montrachet and Chassagne-Montrachet.
Enjoy Michelin starred restaurants, including a 1* and 2*,  and bistros favored by locals and winemakers.
Relax in deluxe accommodations in the charming city of Beaune.
Slow food travel: free time for independent exploration of the town of Beaune and it's great restaurants within walking distance of your hotel.
This tour is limited to 12 guests.
Private Great Estates of Burgundy & Champagne Tour:
Available year round.
Combine the best of Burgundy with the best of Champagne. 
Travel to Champagne for VIP tastings at exclusive Champagne houses. Included is a special private tour and tasting of Dom Perignon at Moët and Chandon.
Enjoy private tastings at some of the most prestigious estates of Burgundy's Côte d'Or.  Tastings include Premier and Grand Crus in legendary appellations like Vosne Romanée, Chambertin and Meursault.
This luxurious voyage includes exceptional dining and beautiful, first-class accommodations. This is an unforgettable wine and food vacation for the discriminating wine lover!
Private Great Estates of Burgundy and Bordeaux:
This private tour is available year round.
Discover the beautiful "Golden Slopes" of Burgundy's famed Côte d'Or. The program includes tastings at estates of legendary appellations like Meursault, Gevrey Chambertin, Puligny Montrachet or Vosne Romanée.
Get to know major appellations in Bordeaux. Taste at prestigious estates of the Graves, Médoc, Sauternes and St. Emilion region.
You'll also enjoy gourmet dining and first-class accommodations.  This is a fantastic overview of the best that these two magnificent regions have to offer.
Customized luxury Burgundy tours are also available.
Your Burgundy wine vacation with French Wine Explorers will be fun, fascinating, and truly unforgettable! All programs are hosted by professional guides who are wine specialists.
Contact us today by email at [email protected] or call us at 1-877-261-1500 (USA).  Start planning your trip filled with memories that will last a lifetime.
Learn more about Paris Wine Tours, Bordeaux Wine Tours, Loire Valley Wine Tours, Rhone Valley Wine Tours, Provence Wine Tours, Champagne Tours, or Italy Wine Tours.
---
Featured Blog Posts