|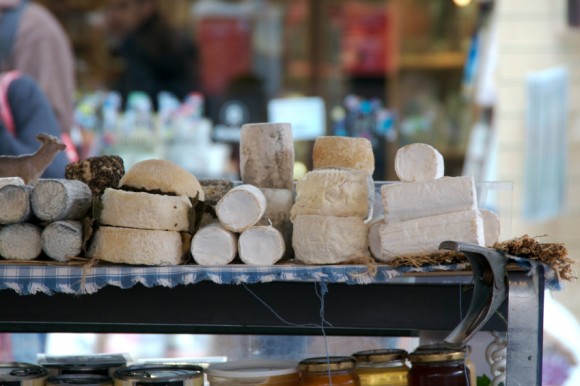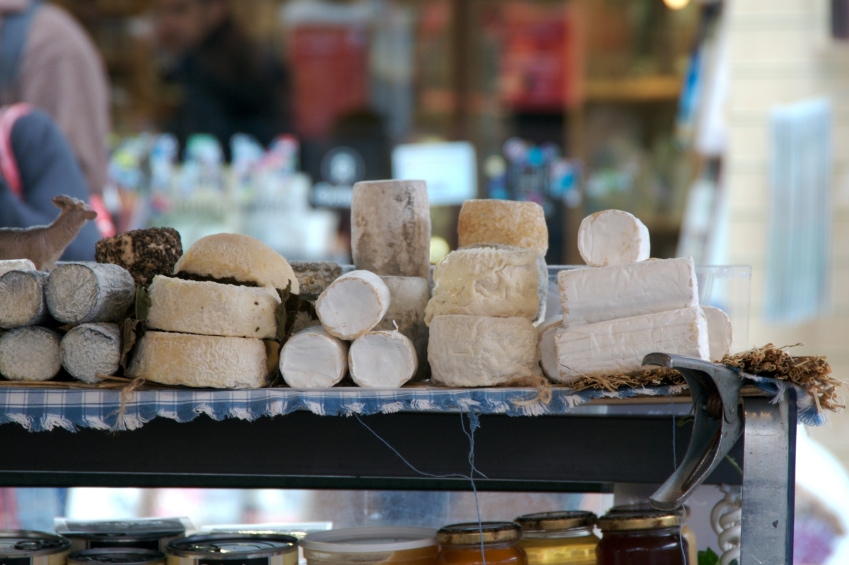 The Best Loire Goat Cheeses and Perfect Wine Pairings
There are 48 cheeses in France that have the protected AOC status – and six of them are in the Loire Valley. They go quite well with local wines, and all of them are goat cheeses.
Valençay cheese with red Sancerre
Crottin de Chevignol with a crisp white Quincy wine
Chabichou du Poutou Try a Pouilly Fumé
Pouligny St. Pierre with Rosé d'Anjou
Selles-sur-Cher with Muscadet
Sainte-Maure de Touraine with red Chinon
When you visit the Loire Valley, France, do take the time to enjoy the region's famous cheeses.
An interesting explanation for this fact is that nearly 1300 years ago, when the Arabs were defeated at the famous Battle of Tours in 732 by Charles Martel, the grandfather of Charlemagne, they left their goats in this region!
Most French meals end with a choice of cheeses, and three is the usual selection. So you might wish to have your Loire Valley goat cheese with a soft Brie or Camembert, and perhaps then for contrast, a pressed farmhouse cheese, such as a Cantal, similar to Cheddar.  Here are some suggestions for wines to accompany your cheese course. These wines are not expensive, mostly in the $15 range per bottle.
Discover our Loire Valley Tours Here
Loire Valley Goat Cheeses by Region, and Wines to Pair With Them
Valençay cheese (AOC 1998), when fully mature, is a world class cheese that is served in prestigious restaurants.

You can easily tell it by its truncated pyramid shape. (Napoleon is said to have lopped off the top of a Valençay because the shape reminded him of his defeat in Egypt!) It has a unique rather nutty flavor when mature.
I have enjoyed it with fine St. Emilion wines left over from the main course. A good Loire Valley pairing might be a red Sancerre, which is made from Pinot Noir grapes, but would be nowhere near as full-bodied as a red Burgundy.
Crottin de Chevignol (AOC 1976), shaped like a small cylinder, is one of the best known and appreciated Loire Valley goat cheeses.

It has a mild, balanced flavor, neither sweet nor sour, and would pair well with a crisp white Quincy wine. First noted in 1120, these wines, made from both Sauvignon Blanc and Sauvignon Gris grapes, are delicate and citrusy.
Chabichou du Poutou (AOC 1990) has a delicate, slightly sweetish flavor.

Try a Pouilly Fumé, made from Sauvignon Blanc grapes, which may have been first grown in this very region. Pouilly Fumé, a dry white wine, is not to be confused with the white Burgundy made from Chardonnay grapes, Pouilly Fuissé.
Pouligny St. Pierre (AOC 1972) is moist and rather crumbly.

You won't be able to resist it with fresh French bread and a dab of Normandy butter.
Why not have a treat, and enjoy it with a Rosé d'Anjou wine? This is a refreshing combination.
Selles-sur-Cher (AOC 1975) melts in the mouth, with a touch of sweetness, and an underlying salty note.

You'll want a fresh, crisp wine, perhaps a white Muscadet sur lie, which is refreshing and rather neutral, the perfect foil for more assertive foods. (It also goes perfectly with Eastern Shore foods such as crabs.)
Sainte-Maure de Touraine (AOC 1990) is a balanced cheese which should be well aged.

Enjoy it with a glass of red Chinon wine, made from Cabernet Franc grapes. Local producers are proud of this grape, which is also the base of many fine Bordeaux wines.
Of course, there is no rule against enjoying your cheese course with sparkling wine. Saumur Mousseux, a white sparkler made from Chenin Blanc grapes, is a flavorful wine produced in great quantity according to a champagne process which the makers are forbidden to call as such, since they are not in the Champagne region. Enjoy a glass – we'll never tell!
Sign Up for our eNews articles and receive our Free Guide to Wine Tasting Like a Pro!