|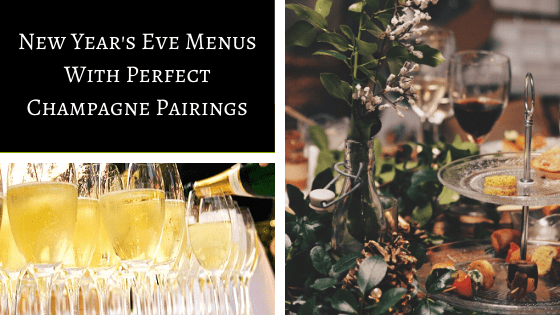 New Years Eve Menus With Perfect Champagne Pairings
So you have decided to host a festive New Years Eve champagne supper. You'll want to choose from a few New Year's Eve menus and make sure to pair the food thoughtfully. There are still many choices to make, depending upon your preference for sweet or dry champagne. You will want to weigh carefully the balance in flavors between your dinner courses and the champagne wine(s) that will be served. And since this is a special occasion, you'll want to create a mood that your guests will long remember. Pick your dinner music with care, and make sure that your co-host takes your hints, and will provide flowers for the occasion.
Here are two New Years Eve menus: one for a formal dinner, and one for an informal dinner. I use the word formal not to impose a dress code, but to suggest sumptuous wines that will go well with suggested main courses.
New Years Eve Menus | A Formal Menu:
Appetizers (light drinks as desired):
Spinach artichoke dip with crackers
Mixed spiced nuts
Steamed baby shrimp
First Course:
Coquille of Crab in Sherry Sauce (Miraval rose de Provence )
Or French Onion Soup (Simonet-Febvre Chablis )
The light and distinctive wines refresh the palate, setting the stage for the fine champagnes that follow.
Main Course:
Crisp Roast Duck (Pol Roger Brut Champagne)
Cornish Game Hens (Taittinger Brut Vintage 2012: Moet et Chandon "Imperiale" N.V.)
New Year's Eve is a time for pleasant memories. My wife and I greatly enjoyed our trips to the Champagne region. Christian Pol Roger was our host at his home in Epernay, and he served us what he called, "Our local tea." It was a delicious bottle of non-vintage Pol Roger. This is a medium weight champagne that goes very well with the suggested main course.
Cornish game hens set the stage for several different champagnes. As you go up the quality (and price) scale, from non-vintage to vintage champagnes, the prices of course rise accordingly. A vintage Taittinger would be a delicious and festive accompaniment, in a lighter champagne. The non-vintage Moet et Chandon Imperiale is a sweeter, more weighty champagne which would set off well the Cornish game hens, particularly if they were served with Cumberland sauce (a red currant sauce). A Moet distributor told me that their Imperiale is such a favorite now in the United States that it has become their best-selling champagne in this price range.
Dessert:
Mixed Berry Pavlova or Sacher Torte. You will enjoy a light, dry wine from the Sauternes region. There is a tradition now in that celebrated area of Bordeaux to serve a "letter series" of dry white wines, not processed as the sweeter Sauternes. Try the "G de Chateau Guiraud".
I also promised you an informal menu. This is as tasty as the formal menus, but it can be largely prepared in advance, and is less costly. (You still get the flowers.)
New Years Eve Menus| An Informal Menu:
First course: Melon with Prosciutto.
Main course: Bouillabaisse or Beef Stroganoff, served with wide egg noodles
Dessert: Apple tarts or Frozen Grand Marnier Souffle.
Serve a fine French sparkling wine, made as champagne but not from the Champagne region. Try your choice of Albrecht Brut Blanc de Blancs Cremant d'Alsace, or the Albrecht Brut Rose Cremant d'Alsace. You will get kudos for your dinner – and for your latest "champagne" discoveries!
Sign up for our newsletter and receive our Free Guide: 5 Secrets on How to Taste Wine Like a Pro!