|
Our last blog article featured the great wines of St. Emilion.  We continue our journey in the Bordeaux region and head for Pomerol.
        Pomero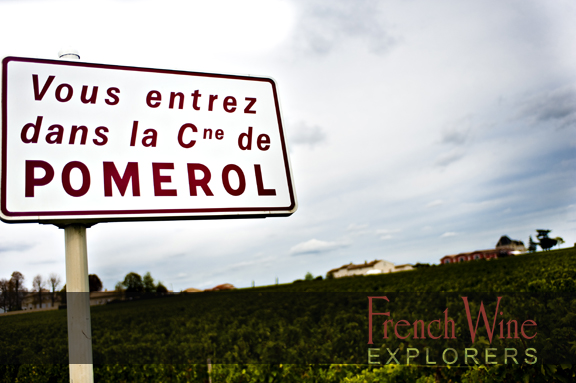 l, population 848, is famous for several matters related to its excellent wine. First, the wines have not been officially classified, which is a sort of wine making oneupmanship, for the general quality of wines produced here is very high, and a number of the properties are historic. (As its label shows, Chãteau Gazin was once owned by Crusaders, the Knights of St John of Jerusalem, Rhodes and Malta.) Second, here the merlot grape has been enshrined, for the clay that forms the subsoil of the finest wine estates seems to react with the merlot grape, bringing out qualities of richness and breed unknown elsewhere. Third, the wine estates here refer to themselves as "châteaux," but this is largely honorific. They usually do not have grand residences in the Médoc sense, and even Château Petrus famously resembles a nineteenth century farmhouse in the Pennsylvania countryside. You would never guess it was the residence adjoining Bordeaux's most costly vineyards.
           Château Cheval Blanc, one of Bordeaux's most famous wines, is located on the Pomerol plain, several miles from the town of St. Emilion, adjoining Pomerol. The property is a single contiguous block of 90 acres, on essentially clay subsoil with some gravel. Major drainage had to be carried out because of the clay, which according to Christian Moueix of Château Petrus, seems to be the geological requirement for the best wines of the Pomerol plain.
It is a rich, mouth filling wine of consummate elegance, very satisfying indeed. Many consider their 1947 to be one of the finest Bordeaux wines ever produced – an estimate reflected in auction prices reaching $4,000 a bottle!
I  remember tasting the 1983 Cheval Blanc from the cask with Jacques Hebrard, then the owner, enjoying the marvelous flavor of the wine. It is a wine cliche to speak of velvet smoothness around a strong inner structure, but that certainly applies to this wine. The blend is "a core of Cabernet Franc enveloped with Merlot."
Château Figeac, another St. Emilion wine on the Pomerol plain, is an historic estate, a premier grand cru classé B which has long produced wines of the highest quality, under the stewardship of the charming Thierry and Marie-France de Manoncourt. With wonderful fruit and good structure, it ages well. I am saving my magnum of 1982 Figeac for a special occasion.
Meeting with Christian Moueix, the owner of Château Petrus and other famous properties in Pomerol and St. Emilion, at his office in Libourne one day, I asked the obvious question. Which estates, exactly, had that famous clay rather than gravel or limestone or some other subsoil? He took out a map of Pomerol and etched in the contours of a few areas with a preponderance of clay, including Château Petrus,which sits virtually entirely on clay, and famously has at least 95% merlot grapes in its wine. As expected, Château Trotanoy also rests largely on clay, and the story that the property's name comes from soil that is "trop ennuyeux" ("too hard" to farm) is well known. He also included, however, patches of Château Petit Village, Château LaFleur, and Château Latour à Pomerol, which has great breed and structure, and requires very long aging.
Whether sampling a famous wine at the producing estate, or finding your own discovery over luncheon, Pomerol and St. Emilon are well worth your visit. Your wine discoveries will have you already planning your return trip to this charming wine region. More information on joining one of our Bordeaux Tours.
Wine Of The Month
            Everyone needs what our family calls a "Château Tuesday," a good quality, genuine wine that does not cost hundreds of dollars a bottle, to enjoy on nice occasions. For years, mine has been Château La Tour Figeac, a superior wine made from a thirty acre property adjoining Château Cheval Blanc on the Pomerol plain. Part of the property probably once belonged to Château Figeac. It is  60% merlot and 40% cabernet franc, and is very tasty. At $35 a bottle for the excellent 2009, you will savor a fine wine at a fraction of the prices paid for Château Cheval Blanc ($900 for the 2009), or its second wine, Le Petit Cheval ($169 for the 2006).
Bill Shepard, Wine Editor
Related Articles:
Top 10 things to do on your Wine Tour in Bordeaux
Sign Up for our eNewsletter and receive our free guide to wine tasting