|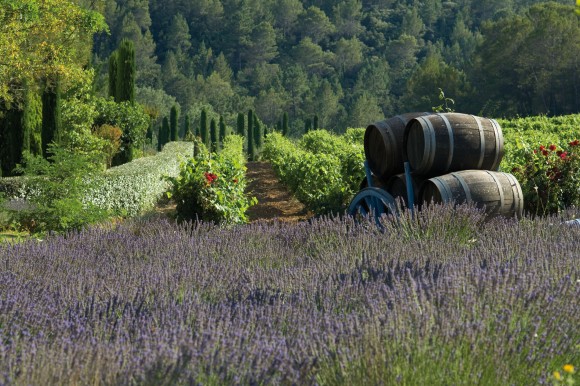 Sunshine, great food, and a palate of fine wines are your pleasure as you visit the Rhône Valley. This may be France's oldest area of wine cultivation, and the tradition proudly continues today, with many lesser known wines surprisingly affordable. It is the region of Lyon (which may set the standard for excellence in food), and Avignon with its famous bridge (you really can dance on it) and its fourteenth century Papal Palace. Just half an hour's drive from Avignon lies the fabled region of Châteauneuf du Pape, where you will savor hearty red wines rich in flavor and history, their bottles emblazoned with the wine's signature emblem.
There are two wine regions here. The Northern Rhône is a narrow band of vineyards adjoining the river south of Lyon. The grapes are often terraced on difficult slopes, in an area some fifty miles long. The best known red wines here are Hermitage and Crozes Hermitage, largely made from the Syrah grape. The Viognier white wine grape is now reaching a new American public, thanks to some fine winemakers in Virginia. Taste the original, in Condrieu! St. Joseph, and Cornas also produce fine red wines, well worth seeking out.
The Southern Rhône which begins some 45 miles south, is by contrast an ampler region, with generous red wines, produced by the flavorful Grenache grape. There is no need to add sugar to fortify these wines – they are naturally fuller, often reaching 13.5 or 14 percent alcohol, and seem to recall the sunshine of their origins when enjoyed in winter in frostier climates.
Here, the best known wine is Châteauneuf du Pape, and a string of recent excellent vintages serves the consumer well. Fine producers include Beaucastel, Clos des Papes, Vieux Donjon, and Vieux Télégraphe, and now, many houses are producing not only their basic Châteauneuf, but also a special house cuvée or restricted bottling. Bosquet des Papes, for example, produces not only a fine Châteauneuf (2005 vintage $30), but their special bottling "À La Gloire de Mon Pére" (2005 vintage $45), is a superior wine. You might complete your dinner featuring Rhône wines by serving the well regarded Muscat Beaumes de Venise with dessert.
In the Southern Rhône, you will also enjoy tasting Gigondas wines. Now produced and bottled on their own, in the past these wines were often added to lighter wines to add heft and flavor. They are rich and hearty, resembling the fine wines of Burgundy at a fraction of the price. And of course Tavel wines from this region have long set the standard for French rosé wines. What fun it will be to taste them in this region of their production!
Wines Of The Month
A 2007 Domaine de la Janasse Côtes du Rhône Villages "Terre d'Argile" ($24) will be a great introduction to your own trip to the Rhône Valley. Côtes du Rhône had a superior year in 2007. The eighteen wines entitled to the appellation Côtes du Rhône Villages, all of them produced in the Southern Rhône, were exceptional.
What to serve with your boeuf bourguignon? I'd try a 2007 Santa Duc Gigondas ($33), and its flavors will make Gigondas a favorite wine to serve during the winter months.
Are you looking for a fine wine for that special company dinner next winter? You can't miss with a magnum of 2005 Vatican "Sixtine" Châteauneuf du Pape ($80). It's a great way to enhance a winter dinner party for old friends who deserve the best!
Do you prefer wines from the Northern or Southern Rhone? Please comment below!
Looking for inspiration for your next tour to the Rhone and Provence? Click here and see our "fan" photos on Facebook, become a fan as well!
Sign up for our Enewsletter and receive our FREE wine tasting guide