Rhone and Provence Wine Tours
Provence Wine Tours: indulge in sumptuous scenery and rich, sun-gorged wines.
---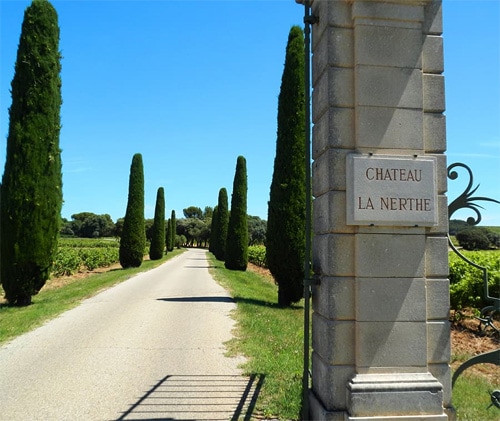 ---
Great Estates of the Northern and Southern Rhone
Join us for a week of in-depth exploration of the Northern and Southern Rhône with extensive tastings at the best estates including Côte Rôtie, Hermitage, Châteauneuf-du-Pape, Gigondas, and more.  Your time exploring the Rhône Valley will provide memories that will last a lifetime. Limited to 14 guests.
October 3-9, 2022 SOLD OUT (private option available for groups of 8 or more)
US$6900.00 per person, double occupancy
---
Provence Wine Tour Packages
Short, value-priced, pre-packaged private Provence wine tours that feature the region's top estates, best Provence hotels, and finest restaurants. A great value, just choose your package and choose your dates! Tours are available year-round.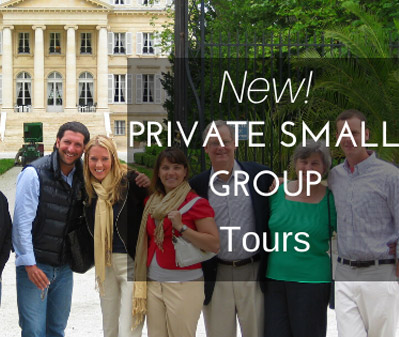 ---
New Small Group Private Tours!
Do you prefer to travel with only the members of your party? Let us arrange a private wine tasting tour for you! This is a perfect way for a group of friends looking for a fun and relaxing week of gastronomic discovery in France. We can arrange an exciting wine and food tasting adventure just for you. This is your best choice if:
You have a group of 6-12 traveling
You want a curated wine tasting tour with special amenities
You are looking for a special hotel, villa or chateau stay
Contact us for more information on custom small group wine tours in France.
---
"The sequence of the wine experience was organized with precision, much thoughtfulness, and grace."
---
---
About Provence Wine Tours
Provence wine tours can offer some of the most rewarding wine tour experiences in France. Following the wide Rhone River south from Lyon, vineyards are perched perilously on impossibly steep slopes, giving this part of the valley a distinctive and dramatic look.
The Northern Rhone is where Syrah and Viognier make prestigious wines such as Côte Rôtie, Hermitage, and Condrieu.
Your tastings will include the best négociants such as Chapoutier and Guigal, and the top boutique producers, Cuilleron, Clape or Gérin.
Enjoy luxury accommodations with Michelin-starred dining on the banks of the Rhone or in the charming city of Vienne with its amazing Roman ruins.
Heading south, you'll discover the charming medieval villages and colorful red-tiled roofs of Provence.
Explore the famous appellations of Chateauneuf-du-Pape, Tavel, Gigondas, and Côtes du Rhône Villages with tastings at some of their finest estates, including the renowned Chateau de Beaucastel and Chateau de la Nerthe.
Stay in Avignon's historic walled city, close to the majestic Pope's Palace, shopping, and restaurants, or in the countryside among the vineyards.
Between tastings, you'll experience the rich history and flavors of Provence as you visit Roman ruins and open-air markets, and you'll enjoy the delectable cuisine of Provence at some of the area's best restaurants.
 Provence Wine Tours Available:
A Taste of Provence and the French Riviera
Wine Tours in the Rhone Valley and Provence boast some of the most beautiful vineyards in France. Vines cover the landscape as far as the eye can see, punctuated by olive groves and lavender fields. This region is also a food lover's paradise with both sweet and savory treasures to be discovered. The French Riviera provides a rich variety of fascinating sites to discover while enjoying the full-bodied, expressive local wines and sun-drenched Provençale cuisine. And if you travel during the early fall, you may also enjoy a private wine harvest activity to experience wine from grapes to glass!
Highlights of your tour include:
2 nights deluxe accommodations at 5-star boutique Hotel La Mirande in Avignon
2 nights deluxe accommodations at 5-star luxury Relais and Chateau member Hotel l'Auberge de Berne
2 nights deluxe accommodations at 5-star Relais Chateau Member Chateau de Chevre d'Or in Eze
Gourmet Buffet breakfast each day
2 gourmet lunches, 2 gourmet dinners, including Table d'hote welcome dinner with a chef in Avignon
View the itinerary here: Private Provence and French Riviera Itinerary 
A Taste of Paris and Provence Wine Tour
Find all the elegance, romance, and excitement of Paris, paired with a Provence wine tour for a six-day Town and Country experience. Discover the City of Light, the most beautiful city in the world. Stay at a lovely 4 or 5* luxury boutique hotel on the Left or Right Bank. This is the city for food, wine, culture, and bliss! Next, travel to wine country and discover all the beauty and splendor of wine touring. This is the perfect tour for a week of "the good life."
Highlights of your tour include:
A customized itinerary featuring the best hotel, estate, and touring elements tailored to your preferences
3 nights accommodations in a Deluxe Room at a 4 or 5-star luxury hotel in Paris
2 nights accommodations in a Deluxe Room at a 5-star luxury hotel in Provence
Daily buffet breakfasts
Choice of a private custom-tailored day in Paris
Roundtrip 1st class rail tickets from Paris to Avignon
3 full days of wine and cultural touring
3 lunches
Tours and tastings at some of the finest chateaux and estates of the region
All programs are hosted by high-level professional guides who are wine specialists and insiders who live in the region.
Contact us today by email at [email protected] or call us at 1-410-745-5406 (USA).  Start planning your trip filled with memories that will last a lifetime.
Learn more about Paris Wine Tours, Bordeaux Wine Tours, Burgundy Wine Tours, Loire Valley Wine Tours, Champagne Tours or Italy Wine Tours.
---
Featured Blog Posts