|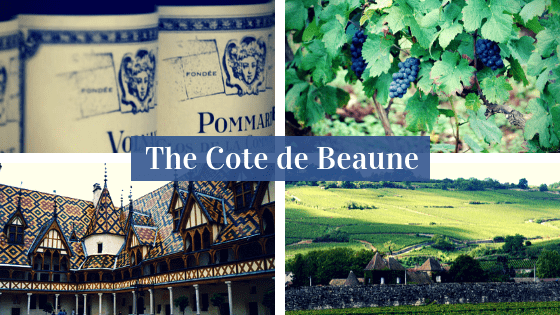 The Cote de Beaune: Rare Wines and a Treasured City
The Cote de Beaune, the southern half of the storied Cote d'Or of Burgundy, swings in a southwesterly arc from Aloxe-Corton four miles north of Beaune, to Saintenay, some 16 miles away. The entire region could be covered in a few hours, but do yourself a favor: plan for tastings in the region, and don't miss seeing Beaune itself. It will be one of the highlights of your trip. At the same time, have a leisurely meal, perhaps at the Hotel Lameloise at Chagny, where the food is excellent and the wine cellar thorough and compelling, with lots of smaller bottles so you can match each course with a treasured wine from the region.
And what a region it is! First, bear in mind that Beaune itself is a destination. It resembles St. Emilion in the Bordeaux region, and Riquewihr in Alsace in that regard. Beaune's rich Burgundian history is recalled by architectural gems such as the Hotel Dieu, dating from the early Renaissance, which was built to shelter and care for the poor of the region. The striking building, in flamboyant Gothic style, was founded in 1443, and features a fine Last Judgment by the Flemish master, Roger van der Weyden.
It is here that wine celebrations are held each November, with wine auctions held by Christie's benefiting the charity. There are now some 300 acres of vineyards that have been deeded over the years to the charitable estate, of which 250 acres are Pinot Noir, and 50 acres are Chardonnay. When the donated wine is bottled, you'll notice the famous Hospices de Beaune insignia that forms a distinctive part of the wine label.
The best-regarded red wines from the Cote de Beaune are surely:
Corton
Pommard
and Volnay
Of the three, Corton is the only one to qualify for Grand Cru status. Pommard is a sturdy wine. It is very rich, like Latour in Bordeaux. Volnay is on the lighter side.
My wife and I have enjoyed a Volnay Hospices de Beaune and a Drouhin Pommard First Growth. My tasting notes say that they should not be drunk before 10 years from the vintage, minimum. "Les Epenots" is generally thought to be the finest Pommard.
A Jadot "Les Epenots" now would cost $99 (2015), and I still wonder why the wine doesn't merit Grand Cru status.
We enjoyed a bottle of Corton as guests of the Domaine Bonneau de Martray. First they served their Grand Cru white wine, Corton Charlemagne. It was a nuanced treat, justifying its reputation as the finest maker of this white Burgundy Grand Cru. The Corton came with lunch, and was served in a pitcher. I wondered at this until I learned that we were joining the grape harvesters on a very rainy afternoon.
I asked our host if the old story was true, that Charlemagne's wife asked for the estate to make a white wine, devoting some of their vineyards to Chardonnay grapes. His wife replied that it was true, and for a good reason. The Empress got tired of Charlemagne's spilling red wine on his tunic!
A Corton-Charlemagne from Latour now costs $99,
and those from Bonneau du Martray are even more expensive.
If this is a new wine for you, it may be time to enjoy one of the very finest white Burgundy Grands Crus.
I have not forgotten that the wines generally considered the best white Burgundy, Montrachet, and Chevalier Montrachet, from the areas of Puligny-Montrachet, Chassagne-Montrachet and Meursault, are technically within the Cote de Beaune. They are south of Beaune, and merit special consideration. As Victor Hugo once remarked, when asked how Montrachet should be drunk, he answered "Reverently … on one's knees." Provided you don't spill the wine, that's still a good rule!
Start your acquaintance with a Latour Puligny-Montrachet Premier Cru "Sous le Puits".
But bear in mind that the relative bargains may be with Meursault (Latour Blagny Premier Cru).
In the meantime, enjoy your luncheon at the Hotel Lameloise in Chagny! You might even enjoy an unpretentious (and inexpensive) Santenay. This is a light red wine full of flavors, combining the freshness of fruited Beaujolais with the body of a light red Burgundy. It may prove that not all Burgundy has to be expensive in order to be a memorable treat!
Receive timely updates and promotions and a free Guide to Wine Tasting Like a Pro-Click Here!