|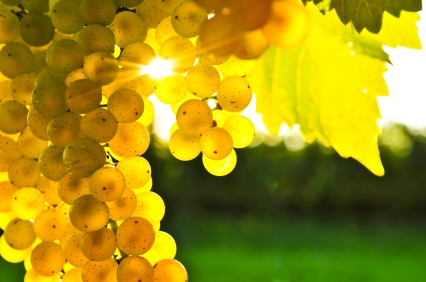 Last month, we explored Burgundy wines and the first half of the Côte d'Or, called the Côte de Nuits, which extends from Dijon to Nuits St. Georges, passing fabled vineyards that you owe yourself to see in person. The wines are expensive, but the entire area is not called "Côte d'Or" (Gold Coast) for that reason. Actually, it is short for Côte d'Orient (Eastern Coast), a nice reminder that the vineyards slope gently to the east. Continuing south, we enter the Côte de Beaune at Aloxe-Corton, and begin a realm of excellent red wines, and the finest dry white wines on earth. The red wines, both the grand cru Corton and the premier cru Pommard (try "Les Rugiens" or "Les Épenots"), tend to be sturdy, and reward long aging. Nearby, the softer red wine Volnay, also available in a premier cru (try "Les Caillerets"), is more expressive and delicate.
And there are a number of fine Beaune wines as well, as one nears that historic city, such as Robert Drouhin's succulent premier cru "Clos Les Mouches" (Flies), which, he insists, should really be called "Les Abeilles" (Bees). Don't miss the city's renowned tourist attractions, such as the grand Hôtel Dieu, whose annual charity auctions still feature superb Burgundy wines.
But the region's real fame for Burgundy wines is justly with its white wines. The grand cru Corton Charlemagne, from Aloxe-Corton and Pernand-Vergelesses, is produced as an opulent wine by Latour, and as a more delicate, layered wine by Bonneau du Martray, whose legendary vineyards I have visited. It is said that the original Corton Charlemagne came from that vineyard, prompted by Emperor Charlemagne's wife, who asked for a white wine in lieu of the red, which the Emperor was constantly spilling on his white tunics, upsetting the laundress!
Further south, after Beaune, we come to Puligny-Montrachet, and Chassagne-Montrachet, where the finest Burgundy wines command hundreds of dollars, or even more, per bottle. The grand crus include Montrachet itself, Chevalier Montrachet, and Bâtard Montrachet, while the premiers crus, spectacularly including "Les Pucelles," are not far behind, in quality or in price. And fine Burgundy premiers crus in Meursault, such as "Les Genevrières," are worth sampling, at perhaps a third less than their more celebrated neighbors. At VinExpo in New York a few years ago, I preferred this Meursault to any Burgundy premier cru from either Puligny- or Chassagne-Montrachet.
Save your appetite for a Michelin three-star restaurant in Chagny, the Hôtel Lameloise. Their Burgundy wine assortment matches superb food, with half bottles for another taste of the wines you so much enjoyed during your trip along both parts of the Côte d'Or.
Wines of the Month: Thanksgiving
This is the annual wine challenge, for no wine seems to go quite perfectly with turkey, and the rich flavors of side dishes and gravies that are served with it. The good news is that Burgundy wines pair very well with certain parts of the meal. To start, refresh your palate with a nice cool white Burgundy, say Louis Latour's Mâcon Lugny 2007 ($11.49). With your turkey, a full bodied Alsatian wine, such as Hugel's Riesling 2007 ($17.99) might go well. If your choice is ham, try Sasha Lichine's Château d'Esclans "Whispering Angel" Rosé ($17.99). If you prefer roast lamb, then Bordeaux is called for, perhaps a Château Poujeaux 2000 ($34.99), a fine, undervalued wine from an exceptional year.
Perhaps this is the year you'll join me in serving a chilled glass of Sauternes with dessert. A little goes a long way, so a fine bottle of Château Rabaud Promis from the excellent 2001 vintage ($34.99) will give you a memorable Thanksgiving treat. Then the bottle should keep well chilled through the holidays and be served with Christmas dessert. Or try a half bottle of Château de Fargues 2001 ($49.99), made by Count Alexandre de Lur Saluces, former owner of Château D'Yquem. It's the top of the line, made by an expert.
Let us know what wines you like to serve with your holiday feasts, or your favorite Burgundy wines!
Sign up for our eNewsletter and receive our FREE wine tasting guide.