|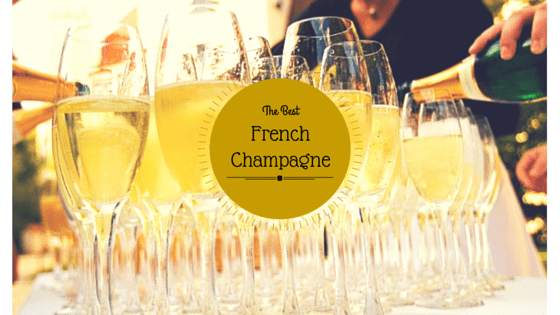 French Champagne: How to Make Your Party Pop!
We all associate French champagne with pleasant occasions.
I'd like to highlight five champagnes from three different French champagne producers, each of high quality, for your tasting enjoyment. And let me say thanks to the French champagne makers, who have consistently exceeded their own legal requirements in making this famous beverage.
Recently I introduced the wines at a fine Bordeaux dinner, and I'll share the champagne course with you! To my delight, it was a Louis Roederer champagne (non-vintage Brut Premier). In my wine tasting course a year ago, I had paired this wine with Taittinger's lighter Brut La Francaise. And it also brought to mind a sampling of Pol Roger non-vintage Brut in Epernay several years ago.
So, let's take a look at these three fine French champagne offerings.
If you prefer a lighter wine, Taittinger is a fine choice, rather delicate in flavor. (And you might bear in mind that to begin a meal, a lighter champagne will be less filling). It seems to bubble incessantly, with a clear taste. Brut la Francaise contains a high proportion ofChardonnay grapes (40%), with 35% Pinot Noir and 25% Pinot Meunier, and that is said to account for its freshness and elegance. The special Taittinger cuvee, Comtes de Champagne is also in a lighter style. With 100% Chardonnay, it is fresh and elegant, and makes an occasion unforgettable.
The Louis Roederer Champagne was somewhat weightier, more mouth filling, with excellent flavors. I first served it at my wine tasting seminar two years ago, and it was the clear class favorite of the champagnes tasted. It is 40% Pinot Noir, 40% Chardonnay, and 20% Pinot Meunier. Like the other champagnes tasted, it exceeds legal requirements for aging (4 years rather than 15 months!), and the grapes are all said to come from grand and premier crusites. And if your taste and purse permit, don't forget that the original grande cuvee, Cristal, was created for the Czar of Russia. It was so successful that they continued production despite the fall of the House of Romanoff!
The third champagne is Pol Roger (non-vintage reserve brut, $54), which we enjoyed on a visit to the home of Christian Pol Roger, then the
president of the family company. This was a full champagne, with rich bubblesthat enlivened the palate. While we were enjoying the champagne, Monsieur Pol Roger told us that some tourists would wonder from time to time where the bubbles in the champagne came from. The standard chemical explanation of fermenting yeasts seemed inadequate to the tourists. How could such magic be produced? Inevitably a tourist guide called from the showroom. She was sorry to disturb Monsieur Pol Roger, but a tourist was dissatisfied with the standard explanation of how the bubbles were created. Taking the phone, he told us, "I said that if he would never tell anyone else, I would share the secret with him. There was a special Bubble Inserter, he advised, which was never publicly seen, which was calibrated to deliver 25,000 bubbles exactly to each bottle of champagne. "I knew it!" said the delighted tourist!

Pol Roger, whose special cuvee Sir Winston Churchill is justly renowned, now produces two more non-vintage champagnes. The new offerings are rather recent. They have decided to spread their appeal, to include those who like a variety of fine non-vintage champagnes, not just the customary dry, brut offering. Is this a sign that tastes are changing, or that consumers no longer favor a dry champagne?
Pol Roger is covering both options, with a drier champagne, called Pure an Extra Brut, introduced in 2008 ($51). There is also a sweeter Demi-Sec, called Rich, which was introduced in 2001 ($41). Both are said to be made from equal portions of the three champagne grape varieties. The Pinot Noir, from a prestigious location on theMontagne de Reims, is a source of particular pride. The Rich is cellared for four years, with a healthy dosage of sugar following final disgorging from the bottle, to enhance the sweeter flavor of this French champagne.
And so you have five non-vintage champagnes, from three prestigious houses, to enjoy over the New Year and beyond.
Sign Up for our eNews articles and receive our Free Guide to Wine Tasting Like a Pro!