|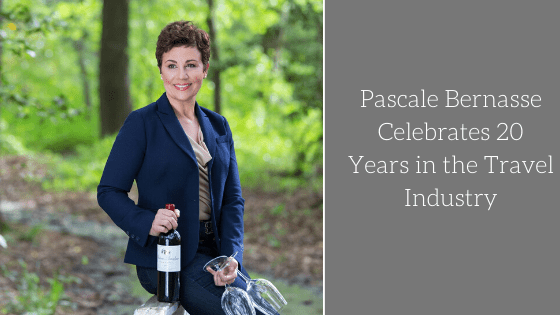 Pascale Bernasse Celebrates 20 Years in the Travel Industry
Twenty years ago, Pascale Bernasse fulfilled a lifelong dream and began a career in the travel industry. Today, that dream remains a reality for her as the co-owner and President of French Wine Explorers. 
Bernasse started working in the travel industry in 2000 after leaving a corporate career that had left her uninspired. Taking a leap of faith, she started her career at two of the first internet-based cruise retailers, then moved on to gain experience with a small niche tour operator and a brick and mortar travel agency.  In 2007 Bernasse and her husband, Pierre, acquired French Wine Explorers, a boutique tour operator specializing in luxury wine vacations in France and Italy.
For the past nine years Bernasse has been featured as a Condé Nast "Top Travel Specialist" for her expertise. Bernasse earned this reputation by providing exceptional immersive tours with memorable experiences. Her success is due to her insider's knowledge and relationships with the top estates and guides in France. Daughter of a French native, Bernasse spent summers in France and received part of her college education and professional experience there. All this time spent in France has allowed her to have a deep perspective that she shares with clients. 
Says Bernasse, "I am incredibly proud of my experiences in the travel business these last 20 years. This has been a dream of mine since I was a young child spending my summers in France. Over the years, I have forged relationships with outstanding clients and service providers. These partnerships have allowed me to grow in ways that I never imagined. We use a high touch approach with our clients; and this fuels our brand as Pierre and I surround ourselves with the best in the business. I hope the next 20 years will challenge, reward and inspire me as much as the past 20 have been!"
Along with recognition from Condé Nast, French Wine Explorers has been recognized by Wine Enthusiast, Travel and Leisure, Rachel Ray Magazine, Travel Weekly, and Bon Appétit magazines. 
---
About French Wine Explorers:
French Wine Explorers is a leading boutique travel firm creating exclusive wine vacations in France and Italy. These unique wine tours are designed to help wine lovers become connoisseurs. Travelers choose from small group tour itineraries or custom-designed wine tours. Packages include deluxe transportation, boutique hotels, gourmet meals with premium wines, VIP wine tastings, sightseeing, and the services of a bilingual wine expert guide.
Contact Information: 
https://www.wine-tours-france.com
1-877-261-1500 or 1-410-745-5406
Click Here For Our Insider Newsletter and Free Guide: 5 Secrets on How to Taste Wine Like a Pro!