|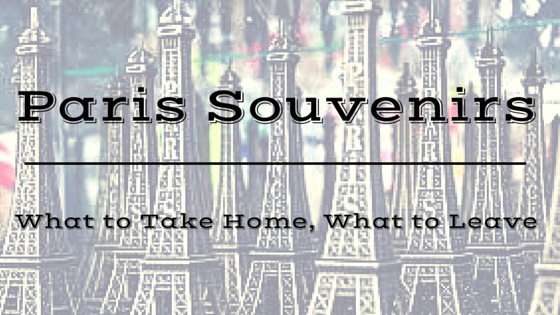 While in Paris, you will at one time feel the urge to spring for Paris souvenirs for you or for the folks you left back home. But while Paris' offers a wide range of trinkets, not everything is worthwhile. Here are some of our insider secrets to the best Paris souvenirs.
Top 5 Paris Souvenirs
While you're wandering the city, be sure to take the time to pick up some of these:
1. Mustard
The number-one request that I get from friends and family back home is French mustard. Find it a grocery store or spring for the special flavored mustards at the Maille store on place de la Madeleine.
2. Wine
The amazing bottles that you only find in specialty shops in the US can are found everywhere in France. Try supermarkets like Monoprix for some of the more well-known bottles like Chateauneuf-du-Pape and St-Emilion.  Seek out boutique wine shops or chain wine stores like Nicolas for lesser known bottles.
3. Chocolates
Paris is a great place to buy specialty chocolates. One of the top French chocolatiers is Michel Chaudun. His exquisite chocolates as well as square truffles that are beyond belief. Just be sure to pack the truffles in your checked bag — they need to stay cold so that they won't melt.
4. Trudon Candles
The candlemaker who sold candles to Versailles and Napoléon is still open, and now Claude Trudon sells candles to us common folk. The beautiful perfumed candles are a wonderful decoration item for your home.
5. Stationery
You'll find many stationery shops, called papeteries, throughout Paris. Tout Noté is a great one to visit.  You can mix and match paper and envelopes of all colors and also pick up a beautiful notebook.
5 Paris Souvenirs to Pass On
Lots of things seem tempting in the moment and then just end up gathering dust on a shelf when you get home. Here are our 5 Paris souvenirs to avoid.
1. Mini Eiffel Towers
Outside the Eiffel Tower, you'll often see men peddling Eiffel Tower trinkets. These cheap souvenirs are not worth the extra bag space. If you feel you need an Eiffel Tower, go for a keychain sized one. Beware, the low price translates to poor craftsmanship, and these are prone to break.
2. Macarons
Many people buy macarons in Paris and are sad to see that they have gone stale by the time they get home. Macarons have a short shelf life. Enjoy them in Paris, but not to bring home with you (unless you're getting them at duty free, but more on that later!)
3. Berets
Few people end up actually wearing a beret once they make it home from Paris. In fact, few Parisians wear these hats, which are actually more typical of the Basque region. It can be a tempting buy, but one that most people would regret in the end.
4. Eiffel Tower Shaped Things
We warned you against Eiffel Towers, and the sheer number of Eiffel Tower-shaped things offered in Paris means they warrant a second look. From plush toys to bottle openers to cheese graters, it seems that everything is available in Eiffel Tower shape. But that doesn't make it worth it — these trinkets are usually cheaply made and not at all worth the fuss.
5. Raw Meats, Fruits or Vegetables, or Non-Vacuum-Packed Cheese
These items, unfortunately, will be taken from you at American customs. Not worth it!
5 Paris Souvenirs to Get at the Airport in Duty Free Shops
While at the airport, stop at duty-free for some extra things to slip into your bag.
1. Cheese
Some buy vacuum-packed cheese in Paris to bring home.  We recommend you buy the cheese at the duty free supermarket in the airport. While it's sold at a premium, you can rest assured that no customs agent will take it from you when you arrive.
2. Foie Gras
Some foie gras is packed in cans or jars and is shelf-stable, but other types are sold in hermetic bags and need to be kept cool. You can buy both in the duty free market at the airport.  They'll survive the trip home in your handbag.
3. Designer Clothes
There are several designer clothing shops in the airport. You can buy beautiful French items including scarves and handbags without extra tax charged.
4. Perfume/Wine
French perfume is famous the world over. No one wants to spend money on a pricey bottle only to have it break in their suitcase and perfume all their clothes. Pick your bottle up at duty free for peace of mind- and duty free prices. This holds true for wine and champagne as well.
5. Macarons
We told you not to buy these in Paris! But you can pick them up at the airport, as long as you're planning to eat them within 24 hours. There is a Ladurée shop at Charles de Gaulle and Orly airports.  You can select your favorite flavors from this master of the French macaron.
Enjoy shopping for Paris souvenirs like an insider!
 Sign Up for our eNews articles and receive our Free Guide to Wine Tasting Like a Pro!