|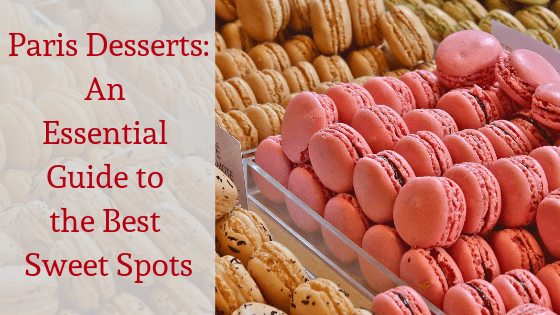 Paris Desserts: Our Guide to the Best Sweet Spots
Paris is known for its Michelin starred dining prepared by famous chefs. There's no lack of amazing places to eat in stunning environs. But what if your taste buds are looking for something a little more sweet, a little less savory? We've compiled a list of places where you can find the best Paris desserts to satisfy that sugar craving.  From pastries to ice cream, there's something for everyone (even those looking for gluten free delights!).
Paris Desserts: Best Pastries
The world of Paris pastries used to be somewhat simple. In every pastry shop window, you had your choux pastry-based éclairs and religieuses. You also had your stacked millefeuilles (also known as Napoleons), and a variety of fruit tarts glazed with apricot jam to make them shiny and appetizing. The choices rarely varied. Many of the pastries themselves, hailing from industrial factories, seemed to resemble one another. Continue reading…
Paris Desserts: Best Macarons
Paris is famous for many different pastries. Think of millefeuille, éclairs or the classic croissant. But one of its most popular desserts is doubtlessly the macaron. Paris macarons are deceptively simple little cookies that require a good deal of work and precision to perfect. So if you want to sample the best Paris macarons, try one of these favorite spots. Continue reading…
Paris Desserts: Best Ice Cream
In the summer months, Paris ice cream is king. Here are our three favorite places to find the best Paris ice cream or une créme glacèe. But first… a bit of vocab, with pronunciation guide. Continue reading…
Paris Desserts: Best Patisseries
Paris truly is a foodie paradise, home to some of the world's best chefs, best restaurants, best ingredients, and best desserts. While restaurant pastries are often quite exquisite, be sure that you make some time (and space!) to taste desserts from some of Paris' best patisseries. While there are literally dozens you could try, if you've only got time for a few, we recommend that you seek out these three. Continue reading…
 Receive timely updates and promotions and a free Guide to Wine Tasting Like a Pro-Click Here!