|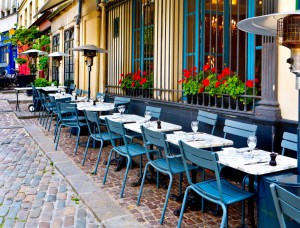 Eating in Paris is a delight for foodies and the casual diner, alike and is well known as one of the world's top gastronomical destinations. From bistros to Michelin star dining, the City of Light is a foodie's paradise. Here is our essential guide to Paris' cuisine with recommendations for everything from the best places to find steak frites to where to go for pastry to what to expect while dining in France. Bon appétit!
An Essential Guide to Eating in Paris
If one thing is certain, it's that visiting Paris and living in Paris are two different endeavors when you're a foodie. When you live here, you have to retain some modicum of restraint, for the sake of both your waistband and your wallet. But as a visitor, you can take full advantage of the top 10 Paris offerings.
Foodies headed to Paris know they're in luck, but do you know exactly how lucky? Paris is home to over 70 Michelin-starred establishments, many of which climb to the 2 and 3 star range. Discover top Michelin starred restaurants in Paris and start making your choices now; as you might guess, reservations are required, and tables fill up fast and early!
When you think of  Paris restaurants, what comes to mind? Maybe the sort of 19th century restaurants that you see in films, covered from top to bottom in mirrors and ornate wallpaper, with glimmering chandeliers and thick, leather-bound menus featuring escargots, roast chicken, sole meunière and frog's legs. You're not wrong; that sort of Paris restaurant does still exist. In fact, many of them have existed since the 19th century. But if you take a look at Paris' food scene today, that's not what's ranking at the top of the list.
If you've visited major metropolises worldwide, you might find Paris' view on restaurants open on Sundays surprising. Whereas in most major cities, things generally remain open, particularly in neighborhoods frequented by visitors, the seventh day of the French week is a day of rest, and many shops and restaurants in Paris are closed. So where should you go for lunch or dinner on Sundays? It depends on where you are in the city!
You may think that dining in France is much like eating out in any country. Walk into a restaurant, ask for a menu, order, eat, pay, leave. And yet if you're used to American restaurants, there are a few things about the French system that might strike you as odd. Never fear; with this guide, you'll be eating out in France like a pro.
Ask any local, and they'll tell you that the best advice for eating near the most popular Parisian landmarks is not to: after all, restaurateurs know that tourists are going to come down from the Eiffel Tower or out of the Louvre Museum starving, and they tend to take advantage of our tired legs and "underdeveloped" palates to pawn unexciting and overpriced food off on us, telling us it's local or authentic. And yet, if you know where to look, you can be pleasantly surprised near certain sights, particularly the Louvre Museum– and that's a good thing!
Finding the best Paris steak frites has become a minor obsession of ours. France is famous for refined cuisine, for sauces and pastries and dishes that require a specific fork. But the fact remains that some of the most beloved French dishes are the simplest: croque monsieur, oeuf mayo, steak-frites. The latter is exactly what its name claims it to be and is perhaps one of the most beloved of all. In Paris, nearly every brasserie and bistro will serve a version of this dish, but very few of them are worth the trek. If you want to sample the best Paris steak frites, you've come to the right place.
Paris truly is a foodie paradise, home to some of the world's best chefs, best restaurants, best ingredients, and best desserts. While restaurant pastries are often quite exquisite, be sure that you make some time (and space!) to taste desserts from some of Paris' best patisseries. While there are literally dozens you could try, if you've only got time for a few, we recommend that you seek out these three.
Sign up for our eNewsletter and get our FREE wine tasting guide.