|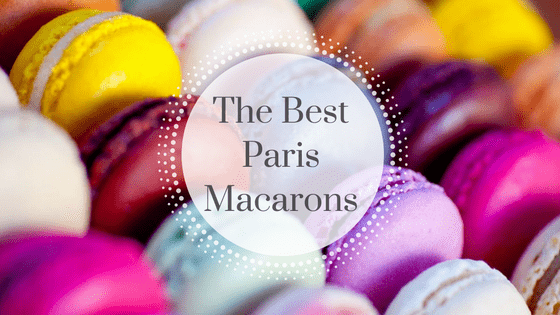 Best Paris Macarons: 4 Fantastic Spots to Try
Paris is famous for many different pastries. Think of millefeuille, éclairs or the classic croissant. But one of its most popular desserts is doubtlessly the macaron. Paris macarons are deceptively simple little cookies that require a good deal of work and precision to perfect. So if you want to sample the best Paris macarons, try one of these favorite spots.
Ladurée

Ladurée is by far the most famous place to try some of the best Paris macarons.
This is perhaps because this shop is the one that launched this pastry trend.
Founded in 1862, this luxury bakery has made macarons for several notable events, including the film Marie Antoinette.
The macarons are worth the hype: particularly the rose, orange blossom, and vanilla.   It's worth going to see the beautiful Belle Epoque boutique on the Champs-Elysées. (75, avenue des Champs Elysées.)
Insider Tip: If you want to try Ladurée macarons but avoid the lines, try the somewhat smaller Left Bank store at 21, rue Bonaparte in the 6th.
Pierre Hermé

Pierre Hermé is a relative newcomer compared to Ladurée.
He founded his shop about 18 years ago. The shop (72, rue Bonaparte) has quickly gained in renown in Paris.
It is best known for its modern, innovative seasonal flavors.
They have unique flavors like olive oil and vanilla or grapefruit and wasabi.
The classics are great as well, with an "infinitely chocolate" variety that's out of this world.
Insider Tip: Ask for a free brochure that shows you what ingredients are in which macaron. It's a nice souvenir and also lets you know a bit more about the seasonal offerings.
Sadaharu Aoki

As you might be able to guess from this pastry chef's name, Aoki is not French but Japanese.
That said, he gives French macaron-makers a run for their money.
His macarons are less sweet than most.
And they have unique flavors inspired by his origins. You'll find ingredients like black sesame, yuzu, and green tea. All are available not only at Lafayette gourmet and at his shop (35 rue de Vaugirard).
Insider Tip: If you have space for something beyond macarons, test a Sudachi cake made with the Japanese citrus of the same name – it'll blow your mind.
Gerard Mulot

Gérard Mulot's Marais patisserie is a local favorite, as are his macarons.
Their brighter flavors make them stand out from the pack, at first glance.
And the all-natural flavors have converted even the staunchest of Ladurée supporters.
Mulot offers a few classic flavors – coffee, caramel, chocolate – as well as some surprises. His lemon macaron is sublime, and the winter offering of orange and cinnamon is perfect for the holidays.
Insider Tip: Gérard Mulot is also an accomplished chocolatier. Try his chocolates at his workshop store (93, rue de la Glacière) and try to catch a glimpse of the famed macarons being made.
Sign Up for our eNews articles and receive our Free Guide to Wine Tasting Like a Pro!