|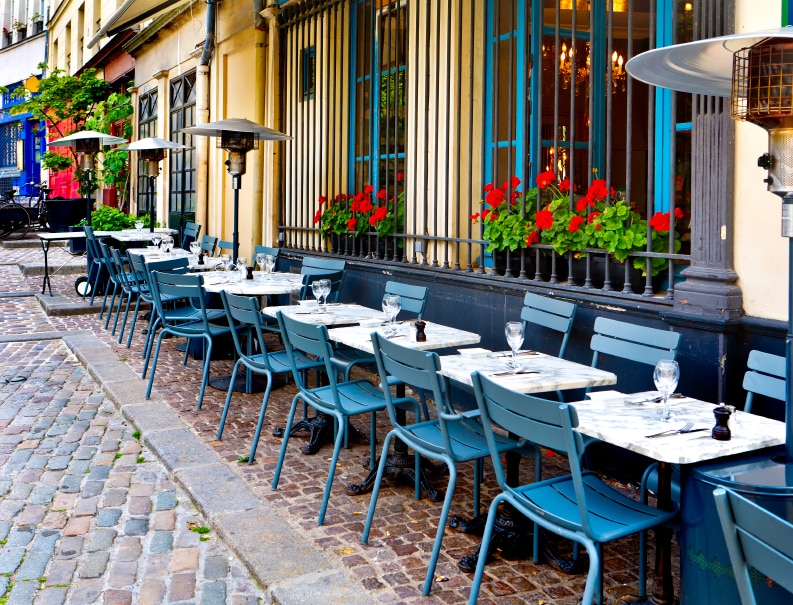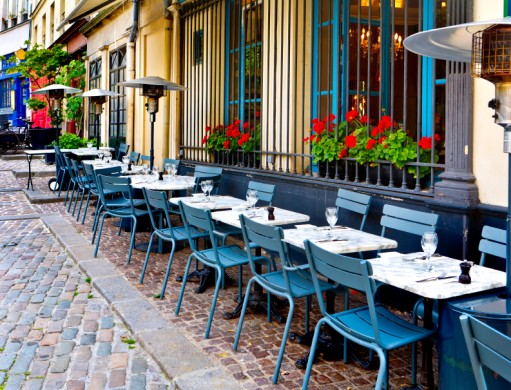 While in Paris, you might struggle to find
Paris
restaurants open on Sundays. The seventh day of the French week is a day of rest, and many shops and restaurants in Paris
are closed
.
So where should you go for lunch or dinner on Sundays? It depends on where you are in the city!
Paris Restaurants Open on Sundays



Paris Restaurants Open on Sundays: Opéra District



When you've finished seeking out the phantom at Paris' beautiful Palais Garnier and have turned your sights on somewhere to eat, why not try the restaurant at the Opera itself
?
L'Opéra

's kitchen reinterprets

French classics

combining authenticity and novelty. The menu

is divided

into acts, a cute nod at the primary use of the building. Acts I and II combine French, Italian, Spanish and even Japanese influences. The pastries and cheeses of Act III tend more towards classic French.



A bit further south, not far from the luxurious Place Vendome, sits

L'Ardoise

, a

modern bistro

run by Pierre Jay. Sunday dinner is a prix-fixe menu.

A sample menu: red mullet with creole sauce, mushroom ravioli with tarragon butter, and poached quince

.



Brasserie Mollard, founded

in 1895 boasts classic décor. Enjoy the large frescoes, marble columns and mosaics decorating the room.

Fresh seafood, like oysters and bouillabaisse, as well as classic brasserie dishes like andouillette and steak tartare are on the menu

.



Paris Restaurants Open on Sundays: Saint Germain and Saint-Michel
Avoid the touristic restaurants near Notre Dame and lining the boulevard Saint-Germain. They have lost their sparkle in the 21st century
Instead, try

Le Christine

, a small restaurant not far from Odéon métro. The prix-fixe menu changes with the seasons. Daily specials combine innovative flavors and French technique.

A sample menu: homemade terrines and

foie gras

, beef fillet with homemade mashed potatoes, and

crème brulées

infused with a variety of herbs and spices

.



Oyster fans will love the

Bar à Huitres

, a few steps from the Sorbonne university building. Oysters are the stars of the menu but far from the only choice.

Find items like mussels and traditional French fish soup, and escargots with garlic butter

.



Les Bouquinistes

, on the

quais

of the river Seine, is a Guy Savoy restaurant.

The restaurant highlights some of the best foie gras, langoustines, lamb, pork and artisanal cheese

.

Some have international accompaniments, like exotic chutney for the foie gras or Thai broth for the langoustines

.



Paris Restaurants Open on Sundays: Champs-Elysées
Joël Robuchon is one of France's most famous celebrity chefs, as well as the chef with the most Michelin stars in the world

. So it's only fitting that he would have a restaurant on one of the world's most famous avenues.

L'Atelier de Joël Robuchon

is inside Publicis Drugstore, where his

gastronomic menu

shines

. Lobster, scallops, langoustines and quail

are featured

on the pricey but delicious menu.



Steak fans should try

Le Relais de l'Entrecôte

, a famed restaurant famous for classic

steak-frites

. The accompanying sauce is so delicious. Rumors hint that the restaurant may burn its garbage to ensure that no one discovers its secrets.

No choices here: steak, cooked rare or medium, delicious French fries, and a starter frisée salad topped with walnuts

. An extensive dessert menu follows. No reservations either, so you may need to wait in line to snag a table.



Maison Blanche

couldn't be more Champs-Elysées if it tried. Its location is n the roof of the theater that shares the name of the famous avenue. A view over Paris and the Seine can be had from its two terraces. Browse Hervé Nepple's menu, offering foie gras and oysters.

Find modern options such as baby squid tempura with black rice, John Dory in a hazelnut crust with buttered cabbage and chestnut gnocchi, or roasted figs with Maury wine, sheep's milk cheese and gingerbread

.



Paris Restaurants Open on Sundays: Eiffel Tower



The neighborhood around the Eiffel Tower is home excellent restaurants.
On Sundays, try

Café Constant

, a small restaurant owned by Christian Constant. Chef Constant the is a famous face thanks to his spot on the jury of French Top Chef. The menu here changes and

is written

on an old-school chalkboard. Meals featuring gastronomic versions of bistro classics can

be found

here.



To try some French regional cuisine, take a taste of

Pottoka

, a little

Basque

restaurant with a big heart. Sébastien Gravé hails from Bayonne and creates the menu with his native

terroir

in mind.

Find dishes like gazpacho with basil sorbet and pigs' trotters, grilled octopus with beans, and crispy pork belly with chanterelle mushrooms

. Basque cheeses and Basque cake both make the dessert menu.



If you're going to be dining near the Eiffel Tower on a Sunday, you could always dine

in

the Eiffel Tower! The

Jules Verne

restaurant is famous for its views overlooking the Champ de Mars. Try its "Experience" menu, signed Alain Ducasse. It offers several an amuse-bouche, two appetizers, two small mains and two desserts.



Paris Restaurants Open on Sundays: Montmartre
Montmartre is almost idyllic in its perfection! Find the perfect restaurant to end your Sunday stroll .
Try the historic

Moulin de la Galette

for classic French bistro food in an atmosphere that inspired Renoir's painting of the same name

.



Le Bon Bock

is Montmartre's oldest restaurant, built in 1879 and frequented by Picasso and Toulouse-Lautrec

.

The beautiful restaurant's menu is as tempting as the old Paris décor, with classic sole meunière, entrecote steak with béarnaise sauce and duck confit

. Classic and bohemian, le Bon Bock doesn't disappoint.
Le Coq Rico

– a play on the French for "cock-a-doodle-doo"

is known

for its

rotisserie

.

Dishes include a platter of different poultry offal like liver and heart, but fainter of stomach may choose to opt for the various egg-based appetizers, terrines and salads

. As for mains, most

are roasted

, like Bresse chicken and Dombes duck. Many dishes

are meant

to feed a crowd, so bring like-minded friends and come hungry.
Paris Restaurants Open on Sundays
(Please note: days and times may change, please double check to make sure!)
L'Opéra, 1 place Jacques Rouché, 9th
L'Ardoise, 28 rue du Mont-Thabor, 1st
Brasserie Mollard, 115 rue Saint-Lazare, 8th
Le Christine, 1 rue Christine, 6th
Bar à Huitres, 33 rue Saint-Jacques, 5th
Les Bouquinistes, 53 quai des Grands Augustins, 6th
L'Atelier de Joël Robuchon, 133 avenue des Champs-Elysées, 8th
Le Relais de L'Entrecôte, 15 rue Marbeuf, 8th
Maison Blanche, 15 avenue Montaigne, 8th
Moulin de la Galette, 83 rue Lepic, 18th
Le Bon Bock, 2 rue Dancourt, 18th
Le Coq Rico, 98 rue Lepic, 18th
What are your favorite restaurants in Paris? Comment below!
Click Here For Our Insider Newsletter and Get Your Free Guide: 5 Secrets on How to Taste Wine Like a Pro!