|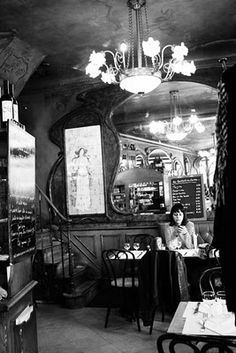 When you imagine dining in Paris, do you imagine tuxedoed waiters, wood paneling and mirrored walls?
You're probably thinking of Belle Epoque Paris, and not without good reason – the beginning of the 20th century in Paris was a period characterized by optimism, advancement and prosperity.
This golden age in Paris' history created many of its most famous restaurants, and while today's trends in Parisian dining lean more towards "Brooklyn-style" bars and small plate meals, there are still a handful of these restaurants still in existence for a taste of a classic, Belle Epoque dining experience.
Dining in Paris, Belle Epoque Style
Billed as "the most Alsatian of Parisian brasseries," this restaurant's history starts all the way back in 1864, when Frédéric Bofinger decided to build a restaurant in the Alsatian neighborhood of Paris near Bastille. The brasserie was a favorite of Alsatians, particularly after the Prussian annex of Alsace and Lorraine forced many of them into exile in France.
It wasn't until 1919 that Bofinger obtained the beautiful Belle Epoque ambiance that makes it famous today. The Art Nouveau décor includes a wooden spiral staircase, black leather bench seats, bronze sconces, beveled mirrors and beautiful Niçois vases. In 1989, the brasserie was protected by the Supplemental Registry of Historic Monuments to preserve this impressive interior.
Of course, the menu also makes Bofinger worth a visit. The kitchen still turns out Alsatian specialties including the quintessential sauerkraut as well as a good selection of beers.
Bofinger – 5-7 Rue de la Bastille
Since 1908, this restaurant just down the street from the Eiffel Tower has served up delicious dishes not far from the beautiful fountain that gives the restaurant its name and once served as a watering hole for the horses of the Napoleonic guard. Several dining rooms allow for different ambiances within one restaurant, from the large dining room to a small more intimate space to the sidewalk café, weather permitting.
Since 1991, the Boudon family has taken up ownership of this restaurant and styled a menu featuring the cuisine of their home in Southwestern France: foie gras, duck, cassoulet and more. The early 20th century décor, spruced up but never replaced, is the perfect place to enjoy it.
Fontaine de Mars – 129, rue Saint-Dominique
One of Paris' oldest cafés is also steeped in intellectual history, a former watering hole to such luminaries as Hemingway, Sartre, Beckett, Picasso, Gide and Fitzgerald. The locale's history dates back to 1847, and ever since, this restaurant near Montparnasse has welcomed Parisians and tourists alike.
Have a drink to pay homage to Hemingway, settle into the piano bar to let Verlaine's poetic verses-turn-lyrics wash over you, and be sure to sample the desserts from William Lamagnère, who was trained in the art of macarons by none other than Ladurée himself.
Closerie des Lilas – 171, boulevard de Montparnasse
If you've ever seen the movie Gigi, then you've heard of Maxim's. The bistro dates back to 1893, when it was founded by Maxime Gaillard. It became one of the most popular restaurants in Paris, thanks to its reputation and lush décor.
Today, it is owned by Pierre Cardin, under whose management an Art Nouveau museum was created on the several floors of the building and a cabaret was built as well, to create a true ambiance of times past.
Maxim's – 3, rue Royale
This restaurant not far from Paris' stock exchange was first conceived of in 1637, though the original construction was torn down and rebuilt in 1825. The 19th century structure was renovated in 1985, and today, the large room is home to high walls creating a spacious dining room decorated with sculpted pilasters and elaborate crown molding. Wooden booths and mosaic floors complete the ensemble, which is now listed as an historic monument.
The Grand Colbert became even more famous after being featured in Diane Keaton and Jack Nicholson's Something's Gotta Give. Today, the roast chicken the pair ordered has become the most famous dish on the menu, though it's home to many other bistro classics as well like steak tartare, duck foie gras and seafood platters.
Le Grand Colbert – 2, rue Vivienne
We'll finish our list with yet another locale of Alsatian origin: Lipp was founded in Saint-Germain in 1880 by Léonard and Pétronille Lipp; their Alsatian brasserie served up cervelas sausage with remoulade followed by choucroute; a simple, delicious prix fixe to be accompanied by beers.
For several years, Lipp was required to take the name Brasserie des Bords to avoid anti-German sentiment, but today, Lipp exists with its original name and original dish de résistance, along with a few other brasserie specialties like andouillette, roast chicken, escargots and ile flottante to complete the menu.
A one-time favorite of Hemingway's, who liked to enjoy their pommes à l'huile with a cold beer, this restaurant still offers views of the busy boulevard and occasional glimpses of the rich and famous who like to dine here.
Brasserie Lipp – 151, boulevard Saint-Germain
Where do you like to go when dining in Paris. Let us know below!
Sign up for our eNewsletter and receive our FREE wine tasting guide.