|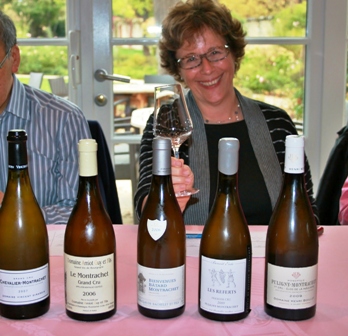 Some fortunate French Wine Explorer travelers have already tasted the summits of fine Burgundy wines. If you haven't yet, perhaps 2013 will be the year to do so! Meanwhile, the cold nights of winter, and the festivities of the holiday season, form a special mood. It is an ample season when we count our blessings, and help others, and gather together for holiday dinners.
That feeling of plenty goes perfectly with fine Burgundy wines, both red and white. White Burgundy wines set the standard of excellence for dry white wines. Also, high quality Burgundy red wines, the summit of the Pinot Noir grape, have an underlying fruit taste, which complements fine cooking and ample dinners. Indeed, a carefully chosen bottle of Burgundy gives a sense of occasion to a festive meal.
Let's start with some fine white Burgundy wines.

The dry white wines of the region, from Chablis to Montrachet, are considered among the finest in the world. They are only made from Chardonnay grapes, but they offer a full spectrum of flavors. Any of the seven grand cru Chablis wines, and some 40 premiers crus would be a fine way to start a meal. I prefer William Fèvre's premier cru "Les Vaillons" ($35 for a recent vintage).
The superb Montrachets now are celestial in price as well as taste, making the good premiers crus, such as Sauzet's Puligny-Montrachet "Les Folatières" 2006 a relative bargain at $99. We greatly enjoy it with salmon kulebiaka, a traditional hearty Russian dish. The wine has enough heft and flavor to go perfectly with the salmon en croute with mushroom and sour cream sauce.
For those who want to recapture memories of the Côte d'Or, here are some memorable red Burgundy dinners.
I had long treasured a bottle of Vosne Romanée "Les Malconsorts," a fine first growth, from the 1935 vintage. I bought it from Morrell's in New York for $125, and they had procured it from the private cellar of the Laurent Restaurant in New York. I decided to pair it with a 1988 Clos Frontin Vosne Romanée "Les Malconsorts" from the 1988 vintage. A special dinner was prepared for us in 2005 by the chef at the Peninsula Grill, a fine Charleston restaurant. The 1935 vintage had just enough concentrated life to it to go exquisitely with foie gras, while the 1988 accompanied the main course.
We were struck by the blackberry flavors of each wine. Clearly they reflected the same elegant terroir. And as the courses continued, Sliced Muscovy Duck Breast, Crispy Pork Osso Bucco and Grilled New Zealand Venison Chops, we knew we were consuming a meal to remember! You may want to arrange something similar. Just take two vintages far enough apart for a sense of contrast.
In Burgundy, a dinner at Marc Meneau's L'Espérance at Vézelay featured duck, and I chose to accompany it with a Nuits St. Georges "Les Vaucrains" (1985). The fit was excellent, for the duck itself and for the broth that was served. And Nuits St. Georges still gives excellent value for high quality. Any meal here, though, will end with a number of desserts offered by the host, so don't forget to have some strong coffee and a fine cognac, to finish your feast!
Your own feasts at home are as unlimited as your imagination. Try a Griotte Chambertin with fine cherry flavors with roast goose with lingonberries – or a white Chassagne Montrachet with swordfish or fine Dover sole. The richer the wines, I think, the more elegant the occasion.
Besides, you can always start that diet next year!

What wines do you serve with your holiday dinners? Let us know below!
Sign up for our eNewsletter and receive our FREE wine tasting guide.