|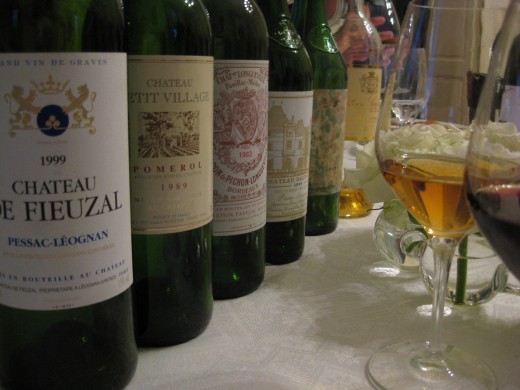 Let's say that you enjoy a glass of French wine from time to time, and would like to know more about them. You have heard that well aged French wines are superb, but you do not yet know which wines they are, how much they cost, where they come from, and when to drink them. Vintages and point scores vie for your attention. And it is not getting any simpler. It's a huge topic. So let's get started. The important point is always, which wines do you prefer?
First, different wines go with different foods, and the seasons are important. Summer wines tend to be flavorful and not deep. They are also relatively inexpensive, $10-$15 a bottle. For suggestions, see my first two columns, on white, red and rosé wines for summer drinking. Look at Muscadet (white) from Château de la Chesnaie, Beaujolais (red) from Georges DuBoeuf, or a Tavel (rosé). In the winter, reverse the process. If you want a hearty wine with a stew or cassoulet, serve a Cahors or a Madiran, both rich red wines. Rich tasting fish, such as lobster or swordfish, will take a deeper white wine, such as a sturdy Riesling, or perhaps a Pinot Blanc, either from Willm or Hugel, Alsatian wine growers for centuries.
Those are parameters. In the fall or early spring, you will be having roasts, and perhaps occasional game, such as goose or duck. This is when you should start to taste good Burgundy and Bordeaux wines. With both Bordeaux and Burgundy, you will want to know the region that the wine comes from, and something of the vintage. Red Burgundy is exclusively the Pinot Noir grape, while Bordeaux is usually a blend of Cabernet Sauvignon, Merlot and Cabernet Franc. Burgundy will often have fruit flavor overtones, while Bordeaux stresses maturity and structure, and great profundity when it has been well aged. There are hundreds of wines from each region.
Alexis Lichine's Rule of Three
How do you start enjoying fine wines? Don't just buy one bottle of the wines of your choice – buy three. I'll pass along to you the advice of my late friend, Alexis Lichine, who taught a generation of Americans how to enjoy French wine. Have the first bottle, he said, and make some note about what you tasted. Have the second wine six months later, and make notes on that tasting, without reading what you wrote about the first bottle. Have the third bottle six months later. Make your tasting notes – and then read your three sets of notes. The evolution of the wine, and your own development as a wine taster, will be clear. Do this with several wines, and you will be well on your way to developing a discriminating taste in fine wines.
Wines Of The Month
So, which wines should you choose? Here are four possibilities.
For red Bordeaux, you might start with a fine Médoc wine, such as Château Potensac 2005 ($29), or perhaps a Graves of good quality, such as La Chapelle de la Mission Haut Brion 2001 ($35). This is the second wine of the grand cru La Mission Haut Brion, which would cost you six times that amount. For Red Burgundy, try a Louis Jadot Bourgogne Pinot Noir 2005 ($17), or a Santenay "Clos de Malte" 2005 ($27), also from Jadot. You will savor these fine wines, enjoying them even more over time, as your taste develops..