|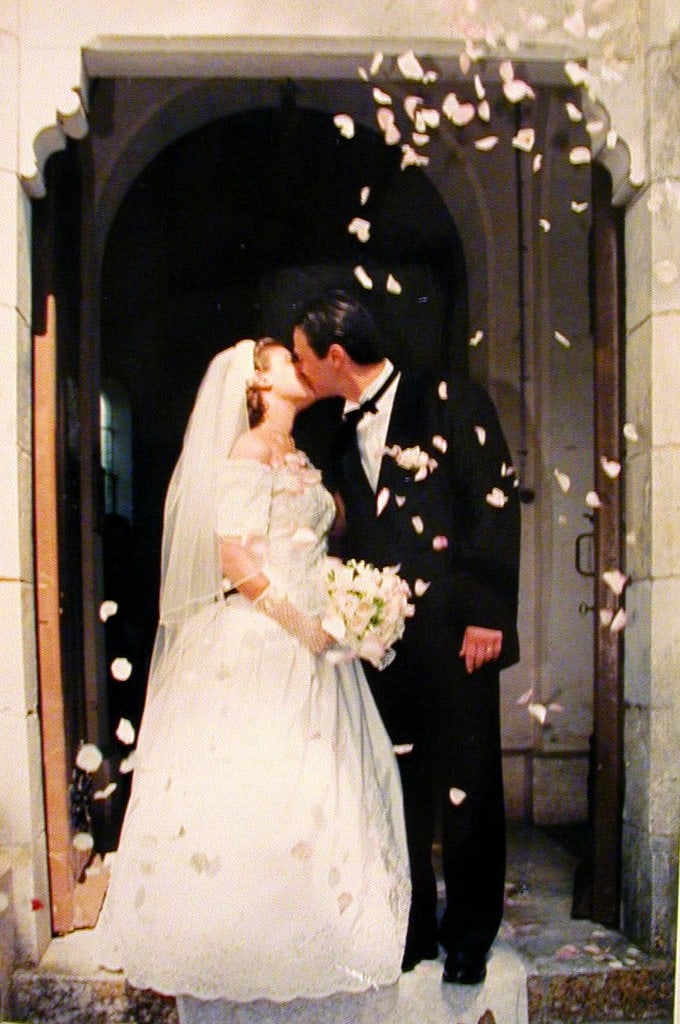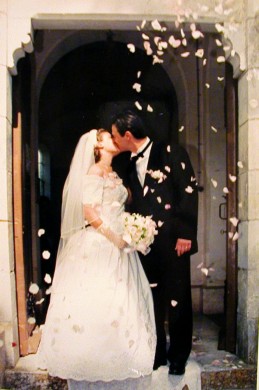 The special event, a family wedding, can be enhanced with careful planning. And carefully selected French wines, while not as essential as the ring itself, can play a role in creating a memorable occasion. You'll want to make appropriate choices from the standpoints of affordability and flavor. What foods will you be serving at which event, and which wines go well with them? We'll approach this from the standpoint of reliable wines averaging US $10-$20 per bottle in this column, then the next column will consider suggested menus and wine suggestions averaging $40-$100 per bottle.
Here are some thoughts as we begin. When we planned our daughter's wedding I had just returned from assignment in Bordeaux, and brought a number of fine wines with me. More to the point, I associated wines with French friends and pleasant occasions. For the wedding Rehearsal Dinner, for example, I served a magnum of classified Graves wine from our daughter's birth year, a gift from the château owner. And the wedding dinner featured a fine Muscadet, Marquis de Goulaine, from an historic Loire Valley property near Nantes that is said to be the oldest château wine producing property in the world.
If you have visited some French wine châteaux, by all means serve those wines, adding your personal touch to the occasion. And you will understand why many French parents put aside a case of fine wine from each child's birth year. It will surely be perfect (and then unobtainable) to serve at that child's wedding, many years later.
Events to plan on will include the Rehearsal Dinner, the Wedding Luncheon or Dinner, and a Sunday Morning Brunch, often a buffet. The Rehearsal Dinner is a convivial affair for close relatives and those directly involved in the wedding. It is usually held in a restaurant or club, with family bringing special wines. You might have, for example, chilled salmon with dill sauce, Roast Leg of Lamb with mint sauce, Roasted Fingerling Potatoes, and green beans with slivered almonds.
Here let me suggest a Marquis de Goulaine Muscadet sur lie 2011 ($13), a refreshing white wine, complementing the salmon perfectly. The Leg of Lamb is the classic dish for Bordeaux, so look for a flavorful wine such as a 2006 Château Clarke from Listrac ($22), a fine Rothschild property that deserves to be even better known.
You will have a Wedding Luncheon or perhaps a Wedding Dinner to plan. It all depends upon the time for the wedding itself. Here you might serve Quiche Lorraine, Grilled Chicken Breasts with baked zucchini and rice pilaf,  with fruit filled meringues and the Wedding Cake, of course. Offer your guests a treat with chilled Chablis to go with the Quiche Lorraine, perhaps a 2010 Autunes "Vaillons" Ier Cru ($20). With the chicken, offer a choice of 2011 Rothschild Mouton Cadet Red or White (Magnum, $20).
For the toasts to the bride and groom, only champagne will do. I suggest individual glasses be served of light Taittinger brut ($37).
Sunday morning buffet may well be part of the wedding plans. This is usually held at some member of the family's home and is ostensibly for out of town guests – but everybody will show up! I would serve a fine French sparkling wine, a Crémant de Limoux ($14), either by itself or as a festive Mimosa with orange juice. Avoiding mixed drinks at the buffet is probably wise, and your guests will appreciate the festive bubbly touch!
Hopefully this will help with your wedding plans. Please comment below if you have any pairing questions, or suggestions! And don't forget the honeymoon, how does a romantic trip to France sound?!