|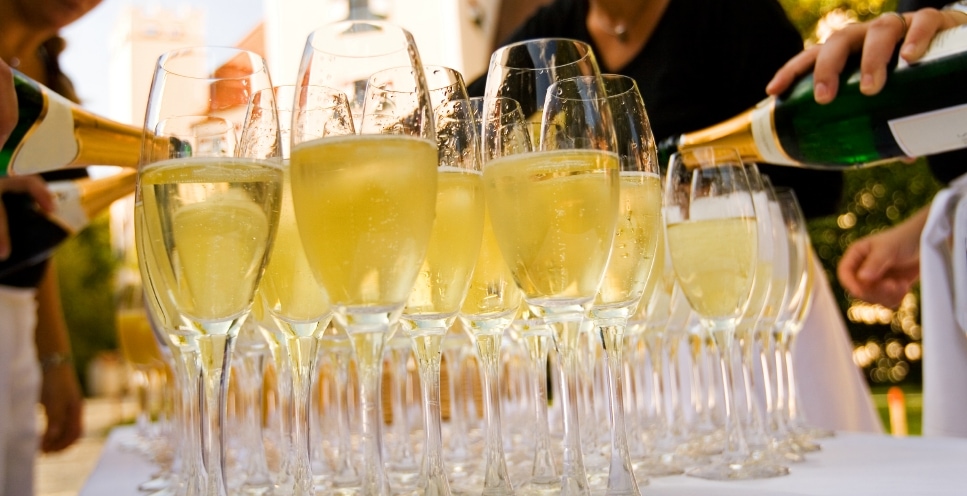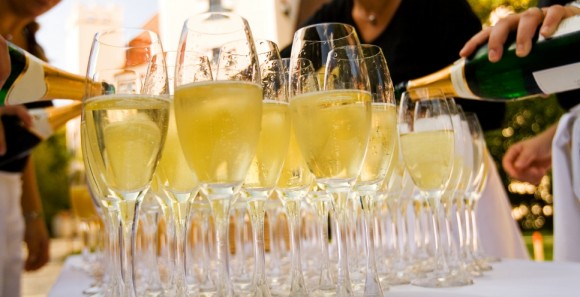 In our last article, we have spoken of the events featured at a wedding weekend (Click here for our first article on French Wines for Weddings). Here are some French wine suggestions to go with each event, for a gala occasion. The Rehearsal Dinner is time for some special wines, with perhaps 20-25 guests. The chilled salmon and roast leg of lamb go perfectly with a number of excellent French wines. With fewer guests involved, you might wish to consider other wine selections. This is, of course, exactly the right occasion to bring out your treasured and saved family bottles of wine to share with close friends. You might wish to serve Louis Latour Chassagne Montrachet 2010 ($40) with the salmon, and a fine 2008 Château Brane Cantenac ($60) with the lamb. Resist the temptation to serve a grand cru white wine here. There should be a succession of flavors, and a grand cru white Burgundy would upstage the Bordeaux.
The Wedding Dinner or Wedding Luncheon depends, as mentioned, on the timing of the wedding itself.  The Wedding Dinner (which today averages some 150 persons) usually come after a late afternoon wedding ceremony. As to the event itself, there are many options. It may be a formal dinner at a restaurant or club, again with family providing special wines and champagne), or a catered event at a special venue, such as a museum or historic site.
A more traditional dinner at a club or catered affair might be the following:
Lobster or Crabmeat in pasty shells,
followed by Beef Tournedos, with wild mushrooms and vegetables.
Raspberry or Grand Marnier frozen soufflé,
followed by the Wedding Cake.
The white wine should be festive and, to partner the lobster, a fairly substantial wine.  Why not start with the white wine that the Bordelais themselves would serve on this festive occasion? Château Carbonnieux 2010 ($40), an excellent classified Graves, is substantial and refreshing, without being too filling. It is a compliment to your guests. Why not follow it with a fine rich Burgundy, say a 2009 Mongeard-Mugneret Vosne Romanée ($57)?
The soufflé will be accompanied by an elegant Sauternes. Just remember that a little of this sweet wine goes a long way, so small glasses should be used! I suggest what the French themselves serve on state occasions – a 2007 Château Suduiraut ($88, full bottle).
And with the wedding cake will come the toasts to the bride and groom. Here again, glasses of champagne should be passed, the champagne itself having just been opened with those satisfying cork pops that indicate a celebration.  I suggest vintage champagne, 2002 if you can find it (Taittinger $82, Pol Roger $78). 
There is also Dom Perignon 2002 at $189, but let's reserve that treasured bottle as your present for the young married couple!
Hopefully this will help with your wedding plans. Please comment below if you have any pairing questions, or suggestions! And don't forget the honeymoon, how does a romantic trip to France sound?!
Sign up for our eNewsletter and receive our FREE wine tasting guide