|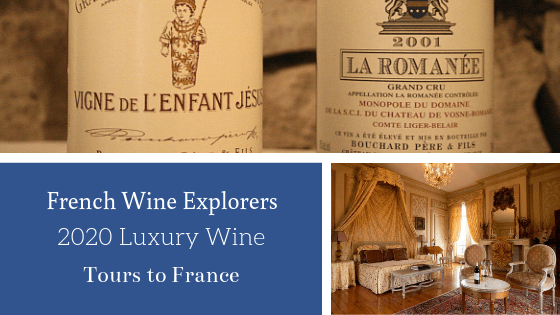 Luxury French Wine Tours, Amazing Experiences, Great Wine
French Wine Explorers, America's leader in luxury French wine tours, is expanding offerings with exciting wine tour packages for the 2020 season. These tours provide the ultimate experience for wine lovers. Programs feature luxury accommodations, Michelin-starred meals and VIP tours of France's most prestigious wine estates.
The 2020 wine tour season includes scheduled departures and customized wine tour vacations. Tours are available across France and beyond, leading guests to Bordeaux, Burgundy, Champagne, the Rhône Valley, Provence, the Loire Valley, Paris, and Tuscany.
"Innovative and exclusive experiences are the focus of the successful Bordeaux and Burgundy programs," says Pascale Bernasse, president of French Wine Explorers. "And our new Northern and Southern Rhône program is the highlight of the 2020 tour offerings."
Guests on the Rhône Valley tour will enjoy an in-depth discovery of the Northern and Southern Rhône regions. French Wine Explorers has featured private tours through the region, but this is the first small group program available for wine lovers to join. This tour is a perfect introduction to the wines of the region. Journeying into the Northern Rhône, guests enjoy white wines made from Viognier grapes and some of the best Syrah wines in France.
Guests also enjoy a dining experience like none other at the Michelin Three-Star restaurant Maison Pic, a hallmark of French cuisine. This tour also takes them through one of France's most charming and beautiful cities, Avignon. Noted for lovely weather and outstanding local cuisine, the Rhône Valley is the perfect environment for discovering wines steeped in French tradition. Visits include the Côte Rôtie, Hermitage, Châteauneuf-du-Pape, and Gigondas for extensive tastings.
Sign Up for our eNews articles and receive our Free Guide to Wine Tasting Like a Pro.
The Bordeaux Prestige Tour offers the ultimate wine tour experience. The tour includes tastings of all five First Growth chateaux: Lafite Rothschild, Latour, Margaux, Haut-Brion, and Mouton Rothschild. Additionally guests visit the most legendary estates of Pomerol, Sauternes and Saint-Émilion while learning the history of this scenic region. New for 2020, guests enjoy a cocktail reception at the private home of a chef instructor and taste the iconic Château Petrus during a gala dinner.
The Grand Cru Tour of Burgundy is an up close exploration of the Côte d'Or's finest estates. This is a unique opportunity to taste the 32 Grand Crus of Burgundy alongside crafted winemakers' meals and exclusive tastings at some of the best estates of the region. New for the 2020 season, guests take part in two private Burgundy masterclasses conducted by a leading Burgundy wine expert. This tour provides a spectacular view of one of the world's most famed winemaking regions in a relaxing and educational setting.
French Wine Explorers, a Maryland-based company, has enjoyed 19 years of crafting exclusive, luxury French wine tours for its guests. Under Bernasse's stewardship the company has received accolades from both international travel and the wine press. Bernasse herself has also garnered recognition, earning a coveted spot on Condé Nast Traveler's List of Top Travel Specialists since 2011. Her extensive connections in the wine and travel industry open the doors to top wineries and private estates for their guests, providing an insider's view not available to the public.
"We are excited to release our 2020 tour dates to the public since our 2019 group dates sold so quickly," notes Bernasse. "Our 2020 group tours are filling up, so now is the best time to book one of our once-in-a-lifetime, luxury French wine tours."
The group tours allow for 11-14 guests, ensuring an intimate environment and personal interaction with the wine expert guide. Tours include deluxe, air-conditioned motor transportation, luxury hotels, gourmet meals with premium wines, wine tastings, sightseeing, and the services of a bilingual wine expert guide. Prices range from US$5900.00 to US$7800.00 per person, double occupancy. All programs offer single rooms for solo travelers.
Sign Up for our eNews articles and receive our Free Guide to Wine Tasting Like a Pro