|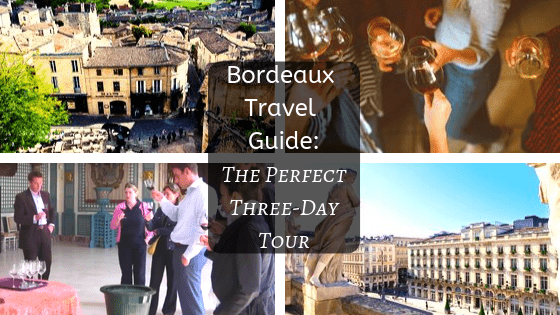 Bordeaux

is a diverse region full of character. It may be best known for its

world-class wines

, but Bordeaux has much to offer beyond the vineyards.
Bordeaux has

architectural and historical monuments

to discover.

The city is second to Paris for maintaining the most protected historical buildings in France

.

In fact, Bordeaux

is called

Le Petit Paris

because of the many similarities between the two cities

.

Situated on the

Garonne River

, Bordeaux

is known

for local gastronomy, wine bars, markets, and historical villages

.

Experience world-class wine tastings and historical exploration during your time in Bordeaux

. This Bordeaux Travel Guide will show you how to see all the best of both!
How Do You Get To Bordeaux?
The best way to get to Bordeaux is, generally, to start in Paris.
It is nice to explore the City of Light before you venture out of the metropolitan area to the famed wine region. Paris is an essential stop to have a classic

town and country experience in France

.

Our favorite way to go to Bordeaux is by train.

Arrive at Bordeaux in only two hours and can enjoy the scenery along the way. From Paris, you can also take a car for a roughly six-hour drive to Bordeaux.

If you would rather forgo the scenic route and prefer to take a plane, Bordeaux is only one hour from Paris. This is a great solution if you plan to go to Bordeaux instead of staying in Paris first. There are other regional airports that connect to Bordeaux as well, such as Nice and Lyon.
So how do you explore this diverse region
, in only a few days? Check our suggestions for three days in Bordeaux and get the
most out of your time
.
Bordeaux Travel Guide:  Your Curated Itinerary
A great way to learn about a culture is to experience the regional cuisine. There's no better way to do that in Bordeaux than to take a
foodie tour
!
First, some great foods and tours to look out for: 
Canelés:

Known as the

winemaking pastry

, these little delights fit in the palm of your hand.

They have a crunchy burnt sugar shell and a fragrant interior that tastes like rum and vanilla custard

. The

legend of canelés preceded the French Revolution

.

The story says that at a convent in Bordeaux the nuns prepared canelés made with

donated egg yolks

from local winemakers

. At the time, winemakers used egg whites to clarify their wines—and some still do to this day.

 
Chocolate

: Bordeaux is home to many quality chocolate shops. One of the oldest is

Cadiot-Badie

. Founded by two brothers in 1826, it is a Bordeaux institution.

It has existed in the same location since 1895 and sells confections created from the

secret recipes

of those two brothers who opened the shop so many years ago

.

 
Caviar:

Bordeaux

is known

for its

production of caviar

. The most common type of caviar

is farmed

from sturgeon.

Sturgeon are farm-raised, taking up to three years from birth for the fish to mature and

be identified

as male or female

.

Once the fish start producing eggs, only the most skillful operations can extract them and package them with minimal processing

.

One of the best Bordeaux caviar producers is

Sturia;

and the best place to taste their caviar is at

Caviar-Galerie

. Like wine, caviar can have a range of flavors. Here you can try the different types and textures to decide which ones you'd like to take home. They offer selections such as

Grand Chef, Prestige, or Oscietra Grand Cru

.
After satisfying your

sweet and salty craving

, you may be ready for some wine tasting. With the emergence of

wine bars

in Bordeaux, you can taste many fine wines by the glass. One of our favorite wine bars is

Max Bordeaux

. It closes early—8:00 pm—so it's a perfect place to visit in the afternoon. Max Bordeaux

is known

for its

Enomatic.

It is a state-of-the-art device that dispenses

Châteaux Margaux and Château Yquem

by the glass.
Day 2
Now that you have explored Bordeaux, day two is a good time to venture into wine country.
Start in the morning at one of the many great estates in

Margaux

.

 
Then break for lunch at one of the many cafés or bistros in Margaux, many feature the local wines.

 
After lunch, venture to a tasting in

Pauillac

.

This appellation is a good representation of Bordeaux wines: rich, full-bodied and tannic

.

Paulliac is the largest city in the appellation of the Médoc, producing

Cabernet Sauvignon

followed by

Merlot, Cabernet Franc, Petit Verdot, Malbec, and Carmenere

. One of the most famous châteaux in this commune is

Château Mouton Rothschild.

 
Spend some time outside of the city with a visit to the
UNESCO World Heritage site
,
Saint-Émilion
.
Saint-Émilion is one of the
oldest active wine-producing regions
in France
. Dating back to the time of the Romans, there are many ancient ruins scattered all over the area. It was the Romans themselves who planted the first vineyards here, some of which are still in use today.
Begin your day with one or two tastings to experience wine produced from the diverse soils of the appellation:

sands, clay, and limestone

.

Enjoy judicious blends of grape varieties such as Merlot blended with Cabernet Franc, Cabernet Sauvignon, or Malbec

.

 
Next, take a break for lunch at one of the charming bistros in town. Sit outside and enjoy some people watching and marveling at the ancient architecture.

 
After lunch, take a walking tour of Saint-Émilion along the

narrow cobblestone streets

or venture below the streets with a tour of the

ancient catacombs

.

 
Finally, enjoy some macarons. 

The delicious cookies originated in Saint-Émilion. The recipe used today

dates back to 1620

.

These macarons are not the sandwich style you may

be accustomed

to seeing, instead, they are more of a single blonde cookie

. One of the best places to try these delicious little cookies is at

Fabrique de Macarons

.
Bordeaux is nothing if not diverse, there is something for everyone!
From food and wine to history and stunning architecture, make time to experience this beautiful area
.
Take advantage of what time you have
, and enjoy all that
Le Petit Paris
has to offer!