|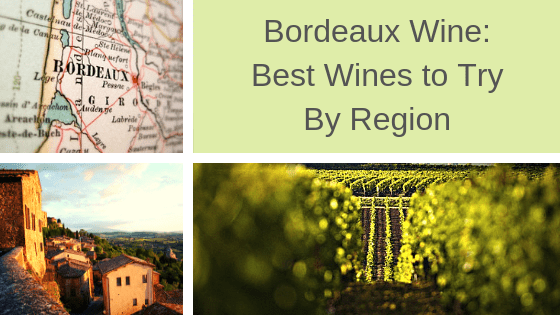 How to Demystify Bordeaux: Best Bordeaux Wine by Region
For all of its beauty of variety and lasting history, Bordeaux wines can be a complex subject. Let's break Bordeaux wine down to better understand the nuances of the major wine regions of the area, and to offer you the best Bordeaux wine choices by region.
Bordeaux is France's fourth largest city. It has the largest controlled wine growing region in the country, known as an AOC, meaning  appellation d'origine contrôlée. Bordeaux produces close to 70 million cases of wine per vintage. While best known for its red wines, there are a number of whites worth noting in Bordeaux as well.
This post is to distinguish the varieties of Bordeaux wine. We have organized this list of best Bordeaux wine by region with further descriptions of appellations and growths. An "appellation" refers to a geographic area where grapes were grown to produce a specific wine. Wines distinguished by "growth" refer to wines awarded in 1855 when wine brokers from Bordeaux ranked all of the chateaux in the area. Estates were awarded from First Growth, being the best, through Fifth Growth. All these years later, the classification remains an indication of impeccable wines. A Grand Cru is a title specific to the best Bordeaux vineyards, translating directly to "great growth".
The regions we will focus on start on the left bank of Bordeaux in Médoc, moving east to Graves, Saint-Émilion, and finally Sauternes.
The Médoc/Haut Médoc
The Médoc and Haut Médoc sit to the west of the Gironde river. There are eight appellations in the Médoc: Médoc, Haut Médoc, Saint-Estèphe, Pauillac, Saint-Julien, Margaux, Moulis, and Listrac.
The Médoc is the terroir par excellence of Cabernet Sauvignon. Cabernet Sauvignon is used in the majority of wines of this region, blended with lesser amounts of Merlot and Cabernet Franc. To give a more in-depth analysis of the large region of the Médoc, here are the four appellations in the Haut Médoc that produce Grand Crus wines, moving from north to south: Saint-Estèphe, Pauillac, Saint-Julien, and Margaux.
In the Médoc: Saint-Estèphe
Saint-Estèphe sits on the northernmost segment of the Médoc region. Wines are well regarded by connoisseurs around the world. Though there are no first growths in this region, these wines are notable for their depth in taste and have earned many other awards in their own rite.
Second Growths
Château Cos d'Estournel

has a rich history that is reflected in their wines, all concentrated flavors from a long cellaring process.

Château Montrose

boasts hillside views overlooking the Gironde River. It produces a deep Bordeaux wine, best consumed in magnums.
Third Growth
Château Calon Ségur

faced several bad harvests before the 1855 Classification, according to the current estate owner.

Despite this set back, the estate has an impressive reputation as a third growth château and more modern vintages uphold the estate's high standards.
Fourth Growth
Château Lafon Rochet

dates back to the

17th century

. It was maintained by the same family for 150 years before current owners, the Tersseron family, bought it in 1960. They have consistently produced outstanding wines.  
Fifth Growth
Château Cos Labory

received a score of

90 by Wine Spectator for their 2009 vintage

. It has also ranked among the top 10 wines from this region considering the number of prizes won.
Crus Bourgeois
Saint-Estèphe is rich in another classification, the Cru Bourgeois. This classification is specific to red wines of the Médoc. Unlike Growth Classifications which award the entire estate, Cru Bourgeois highlights a specific wine, often relative bargains for high quality Bordeaux. This classification is awarded annually.
Château Haut Marbuzet was one of four Crus Bourgeois Exceptionnels awarded in 2003, a

nd impressive number for the small region since there were only nine awardees  in total

.

There were also nine

Crus Bourgeois Supérieurs

. One of which is the wonderful

Château Meyney

.
In the Médoc: Pauillac
Of the world famous 1855 Classification, Pauillac has eighteen classified wines. Pauillac lies between Saint-Estèphe and Saint-Julien, and perhaps that is why the taste of wines produced in this hamlet vary so greatly. Pauillac means quality wine. Since it is expensive, a buying strategy is needed. We recommend to buy a bottle or two as a special treat, and save them for a fine occasion. Be sure to also watch for Vintage Dinners stateside. These dinners are somewhat pricey – but cost nowhere near what the wines being presented would cost by themselves. You might even discover a bargain!

First Growth
Château Mouton Rothschild

resembles the fine wines of Burgundy with a lush flavor.

Château Lafite Rothschild

sits on a hilly area, which develops grapes with a lighter taste and texture.

Château Latour

sits along the coast of the Gironde river and is known for rich wines full of depth.
Second Growth
Château Pichon Longueville

is a top

"super second,"

wines that were classified as Second Growths in the 1855 classification.

Château Pichon Longueville Baron

was formerly a part of the Château Pichon Longueville estate, but was divided due to an inheritance and now produces high quality wines on their own.

Comtesse de Lalande

is known informally as "Pichon Lalande" and is the second of the "super second" growths.
Fourth Growth
Château Duhart Milon

is owned by the Domaine Barons de Rothschild, and made by the same winemaker who produces Lafite. While there were no Third Growths of this region, the Fourth Growth is a notable estate to visit.
Fifth Growth
Pauillac has eleven well regarded Fifth Growths including:
Château Lynch Bages

is an estate facing the river which produces  excellent quality wines.If the 1855 Classification were ever revisited this estate would be a popular candidate for a promotion. By common opinion, the 1985 Lynch Bages was the finest wine produced in Bordeaux.  

Château Pontet Canet,

which adjoins Lafite, has long since ceased to be a bargain –but is still well worth the investment.
Looking for the best small group and private Bordeaux wine tours that help wine lovers become connoisseurs?  Check out our Bordeaux wine tours page- click here!
In the Médoc: Saint-Julien
You might be tempted while exploring Bordeaux wine to skip Saint-Julien since it has no First Growths from the famous 1855 Classification. But skipping Saint-Julien, at 2200 acres, the smallest of the four major appellations of the Médoc, would be a mistake. The northern wines of St. Julien are often said to favor slightly the sturdier wines of neighboring Pauillac, while those closer to the Margaux appellation are more subtle. The combination is delicious. There is wonderful scenery here to enjoy as well. As you drive south, there are fine estates along the Gironde River leading to the ocean, and the Ducru-Beaucaillou estate, considered the finest in the entire Médoc. A well aged Château Ducru-Beaucaillou is considered to hold its own against any First Growth.
Second Growths
Château Leoville-Lascases

has been thought to be the finest of the three Leoville wines, a gap that I would argue is narrowing. All three of these estates used to be just one, but now offer a variety of wines for you to explore.

Château Leoville Poyferré
Château Leoville Barton
Third Growths
Château Lagrange
Château Langoa-Barton
Fourth Growths  
Château St. Pierre
Château Talbot

in the interior, began as a hunting lodge for Constable Talbot when the English ruled the area during the Hundred Years War.

Château Branaire-Ducru
Château Beychevelle

sits on the river coast and by legend was the property of a French Admiral, and its name reflected the custom of "lowering the sails," as passing boats honored the resident admiral.
Crus Bourgeois
Château Gloria

is a well regarded wine which was assembled by the late Henri Martin, who put together this property from some 110 acres.
Best Bordeaux Wine In the Médoc: Margaux
The highlight of your trip to Bordeaux may be discovering the wines of Margaux. Margaux is the largest of the six regions of the Médoc, and the farthest south. The lucky 1,479 people who reside there live in one of the most famous wine making regions on earth. The rest of us can profit from the legendary hospitality of the wine estates, which welcome visitors. Leading grapes grown are: Cabernet Sauvignon and Merlot,  followed by Cabernet Franc, with traces of Malbec.The wines are on the lighter side, but fragrant and flavorful.  
First Growth
Château Margaux

is the most celebrated of the first growths in the Médoc. This is a major accomplishment considering that Margaux is home to twenty-one wines from the 1855 Classification, the largest of any region of the Médoc. 
Outside the Medoc: Graves
Graves sits on the left bank of Bordeaux. This region is named for the gravel soils native to the region, which contribute to the unique flavors of wines. Graves is distinct for producing both high quality red and white wines. Bordeaux white wines are almost always a blend of Semillon and Sauvignon Blanc grapes. This blend requires the winemaker's distinct craft to develop a captivating wine. Sauvignon Blanc has a high sugar content, yielding a fresh, fruity flavor. Semillon tends to add finesse and balance.
First Growth
Château Haut Brion is home to Château Haut Brion Blanc,

a rarely tasted white wine, with good reason; most of the small crop goes directly to Paris for use at state dinners. It is a noble and distinctive wine, full of both body and flavor. As for the reds,

Château Haut Brion

, perhaps the oldest wine brand name in existence and has exquisite red wines.

La Mission

produces the white

Laville Haut Brion.

It is delicious and rather resembles the best Chablis when it is aged in steel vats.

Haut Brion Blanc

is now priced with the most expensive red wines of Bordeaux.  

La Clarte de Château Haut Brion Blanc

, is clear and palate cleansing. It combines stocks of

Haut Brion

and

La Mission

. For reds,

La Mission Haut Brion

offers a rich, full mouth feel. Recently the

blend has been changed

, to use

less Merlot

and

more Cabernet Sauvignon

.
Grand Crus
Domaine de Chevalier

is one of the few properties to use the term

Domaine

, and the wines, both red and white, are well made. Together with the two Haut Brion white wines, this is considered one of the

three top white wines of the Graves region

. The style is the lighter style of Laville Haut Brion, with breed and flavor.

Château Bouscaut

produces red wines. While this estate is less well known, it remains a worthy inclusion for the region.
Crus Classés
Château Carbonnieux

, a former monastery, is now a

classified growth

in Graves. There is a legend that centuries ago, Chateau Carbonnieux Blanc was sold to Ottoman rulers as "mineral water" to get around their religious scruples about drinking wine. A member of the Sultan's court, the story goes, was heard to ask aloud why the French bothered to drink wine, when their mineral water was so good! This wine is often served as the first course at dinners in Bordeaux.

Château Latour Martillac

was the property of the French philosopher Montesquieu. The philosopher's "Spirit of the Laws" inspired America's founders to insist on a separation of powers in the American Constitution. Château Latour Martillac also produces a

favorite red of the Graves

region that is not to be missed.

Château Pape Clement

is a favorite property for those who enjoy a touch of history. It was named for a Bordelais who became Pope during the Avignon schism. Along with the

Marquis de Goulaine Muscadet

from Nantes, this is one of the oldest French wine properties still in existence.
Best Bordeaux Wine Outside the Medoc: Saint-Émilion and Pomerol
Merlot is king on the right bank of the Garonne where we find the appellations Saint-Émilion and its satellites, Pomerol and Lalande-de-Pomerol. Merlot produces wines that are round and supple while easier to drink in their youth than the reds of the Médoc. Cabernet Franc is the other grape used, sometimes in equal quantities as Merlot. Cabernet Sauvignon is sometimes used in some Saint-Émilion vineyards, and in small quantities in some Pomerol vineyards. To the west, the small area within Pomerol of Libournais has estates with an average size of only 17 acres.
Located primarily on the hillsides and plateaus of the Dordogne Valley, the 13,350 acres of A.O.C. Saint-Émilion have quite diverse soil types: gravel, clay, rock fragments and sand, all on a limestone base. The diversity of the soils gives rise to a great diversity of style in the wines. The wines of Saint-Émilion are generally round and rich, with a good structure from very fine tannins.
There are two appellations in Saint Emilion: Saint-Émilion and Saint-Émilion Grand Cru.  Within the appellation Saint Emilion Grand Cru, there are two further classifications: Saint-Émilion Grand Cru Classé, and Saint-Émilion Premier Grand Cru Classé (levels "A" and "B").
The Pomerol vineyards were planted in the 1700s, but the wines started to gain notoriety only in the mid-1800s. Pomerol has a hot microclimate, so the harvest often takes place as much as two weeks earlier than in Saint-Émilion. The soil is mostly clay, a cold soil that is perfect for the early ripening Merlot because it helps the grapes to ripen gradually and evenly and holds water in hot conditions. The wines of Pomerol are powerful, aromatic and round, with aromas of very ripe red fruit and often a gamey or leathery note. With age, they take on characteristic aromas of truffle and forest floor.
Best Bordeaux  Wine Outside the Medoc: Sauternes
Sauternes, a dessert wine with varying sweetness, was one of the world's favorite wines a century ago. They fell out of favor when people started watching their waistlines, but are now making a comeback. A little goes a long way, so I recommend starting with half bottles.
These wines are late harvested, when mists are created in the humid fall, causing a mold to attack the grapes. The trick is to harvest the grapes, which will look like raisins, at exactly the right moment. If you don't harvest them in time the grapes become useless. It is a highly skilled, and labor intensive process. A string of fine recent vintages, including 1999, 2001, 2003, 2005, 2007, 2009 and 2010, offer particularly exceptional wines.
Superior First Growth
Château d'Yquem

is the only wine in Sauternes with this unique distinction. It is considered the gold standard of Sauternes wines, and the high cost of this wine reflects its prestige among French wines.
First Growth
Château Coutet

, made in a lighter style.

Château Guiraud

is the only premier cru classé from the town of Sauternes itself (as is grand cru Château d'Yquem).

Château Suduiraut

, from Preignac, is Sauternes on the grand scale, a sort of Château d'Yquem for those who cannot afford Yquem yet. It is a fine, rich wine in its own right, often served by the President of France at state dinners.