|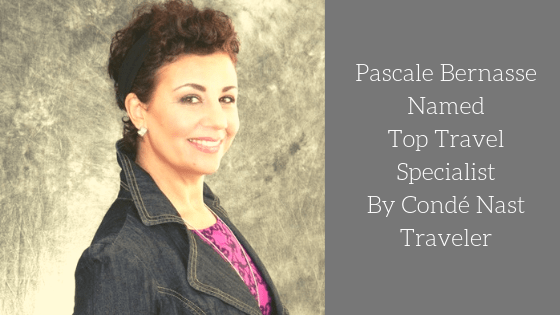 Bernasse Earns Condé Nast Travel Specialist Eight Years in a Row
French Wine Explorers announces that Pascale Bernasse, President of French Wine Explorers,
is honored
as a Condé Nast Travel Specialist for 2019
.
This is the eighth year in a row that Bernasse
is recognized
with this prestigious distinction
.
Condé Nast Traveler states: "Serious oenophiles seek out Bernasse for her access to top winemakers, estate owners, and landmark private castles not open to the public
."
Bernasse has been in the travel industry for nineteen years, and acquired French Wine Explorers in 2007
.
She has earned a reputation for curating exceptional tours that provide educational and memorable wine tasting experiences
. Part of her success is due to deep relationships with top estates and guides in France.
Her company offers wine tasting tours in Bordeaux, Burgundy, the Loire Valley, Champagne, Provence and beyond
. These exclusive tours offer guests VIP access to vineyards and tasting rooms.
French Wine Explorers' tours and high level of service inspire repeat guests, some three or more times
.
One guest said of their second trip coordinated by Bernasse, "You not only met [our] high expectations, you again exceeded them, but this time beyond anything we
possibly
could have imagined
."
"Being included on this very special list for the eighth time by Condé Nast Traveler is inspiring," says Bernasse. "We strive to offer the most creative, memorable experiences for our guests. We value our association with such a renowned publication. This title assures guests receive the highest quality of service in the industry."
About French Wine Explorers:
French Wine Explorers is a leading boutique travel firm creating exclusive wine vacations in France
. These unique wine tours
are designed
to help wine lovers become connoisseurs. Travelers choose from small group tour itineraries or custom-designed wine tours.
Packages include deluxe transportation, boutique hotels, gourmet meals with premium wines, VIP wine tastings, sightseeing, and the services of a bilingual wine expert guide
.
About Condé Nast Top Travel Specialists:
This annual list recognizes the world's finest travel companies. A Condé Nast Travel
Specialist is
chosen
for his or her specialized knowledge, first-hand travel experience, local connections, and value
. Every year, the Condé Nast Traveler team evaluates hundreds of applicants. Each applicant undergoes a rigorous screening process. This includes a detailed application with sample itineraries, client references and phone interviews. Pascale Bernasse maintains an online profile on the Condé Nast Traveler website. This year's partial list is in the April 2019 print issue of the magazine. The full list is available also on the Condé Nast Traveler's website.