Paris Wine Tours
Your source for unique experiences in the City of Light.
---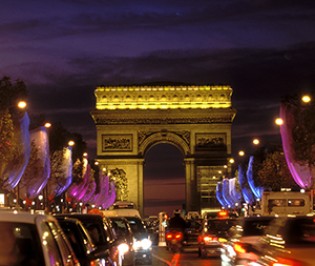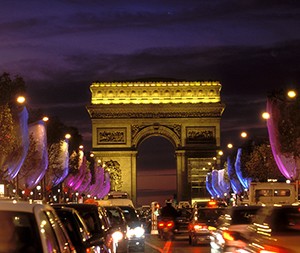 ---
 Paris Wine Tours
Discover all the elegance, romance and excitement of Paris! Explore major landmarks and hidden gems of the City of Light, the most beautiful city in the world. Stay at a luxury boutique hotel centrally located on the Left or Right Bank. Add to your favorite wine region and discover all the beauty and splendor of wine touring. The perfect combination for a week of "the good life."
Save
---
Paris Wine Tour Packages
Private Paris wine tours that feature the city's finest touring, best hotels, and finest restaurants. A great value, just choose your package and choose your dates! These tours are available year-round.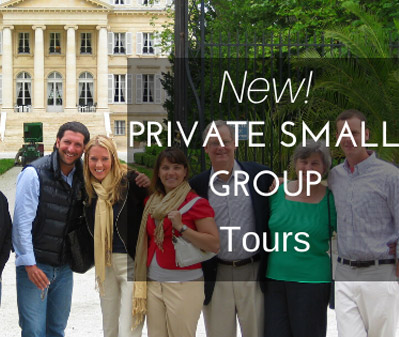 ---
New! Private Small Group Tours
Do you prefer to travel with only the members of your party? Let us arrange a private wine tasting tour for you! This is a perfect way for a group of friends looking for a fun and relaxing week of gastronomic discovery in France. We can arrange an exciting wine and food tasting adventure just for you. This is your best choice if:
You have a group of 6-12 traveling
You want a curated wine tasting tour with special amenities
You are looking for a special hotel, villa or chateau stay
Contact us for more information on custom small group wine tours in France.
---
"The tour was lovely - Annick was so helpful and full of information! We all enjoyed ourselves thoroughly. Plus we had a lovely lunch at a local restaurant. Thank you again for setting up everything and being so accommodating."
---
---
About Paris Wine Tours
Paris is a city that feeds the soul, exuding history, culture, and romance. Known as the City of Light, the capital of France is the center of haute couture, and contains some of the world's most illustrious art and architecture. Parisians enjoy a perfect pairing of fine dining and bohemian cafes; upscale neighborhoods and vibrant ethnic enclaves; haute couture and trend-setting street style. It is one of the most visited cities in the world and its lights shine brighter than ever.
One might expect to visit the Eiffel Tower, or perhaps to take a tour by boat on the Seine, both of which are worthy of the acclaim they have achieved. There are many other places visitors can go to feel the history as well as gain a sense of daily life in Paris. Here are some suggestions for things to do on your next trip to Paris:
Paris is well known for its museums and the extraordinary art contained within. The best way to discover the Louvre and the Musée d'Orsay is with a private guide who can ensure you avoid the long crowds at the entrance, and who can ensure you make the most of your time seeing some of the best art displays in the world.
How about a stroll down Montmartre? This can be a delightful excursion; the stores and street artists that line the streets are known for artful, whimsical displays and can be equally entertaining. Art is virtually everywhere in Paris-including many metro station signs from the art nouveau period of the early 1900s.
When looking for a detour from the crowds of the Champs Elyseés, try the Place de Vosges. It is the oldest planned square in Paris and its row of elegant townhouses were once home to Victor Hugo and post-impressionist painter George Dufrenoy. Visitors stroll leisurely beneath arcades or archways and walk around the large fountain streaming gusts of water in the center of the square. It is an example of Paris' first foray into city planning, offering a glimpse of daily life centuries ago.
One of the best ways to take in modern-day city life is to find a table at one of the many outdoor cafés. Observe the subtle interactions between people on the sidewalks and take in the latest fashions donned by cosmopolitan city dwellers. Some of the most popular cafés include Les Trois Magots and Café de Flore, although there is undoubtedly a fine one next to your hotel or apartment.
The Seine River is another powerhouse attraction in the city. It is an ideal way to see a number of sites, and its banks also offer distractions for visitors in the form of bouquinistes: green metal stalls that display magazines, vintage postcards, and antique and vintage books for sale. Another worthy detour is the flower and bird market on Ile de la Cité near Notre Dame, a treat for kids and nature lovers. Not far is the Canal St-Martin, a serene offshoot of the Seine, and one of the most tranquil and picturesque areas in the city.
In addition to the city's cultural treasures, Paris offers so many opportunities for wine and culinary exploration. There are several wonderful wine and champagne bars to discover, and there is a style for every taste. Try a sampling of culinary experiences from bistros to Michelin-starred restaurants, to a picnic in one of the many lush parks of the city. Satisfy your inner foodie's dreams of living as a Parisian via excellent cooking classes that range from the relaxed yet equally instructional atmosphere of a private chef's home to the inspiring and iconic schools such as Alain Ducasse Ecole du Cuisine.
Paris is a city that has endured as the cultural capital of France (and Europe). Its history is rich and its culture has influenced the wider world. It is a place where food is revered, where fashion is art, and where fine art is fashionable. Taking time to discover this amazing city and seeking paths unknown will create an immeasurably memorable experience.
Our private Paris tour packages feature the city's finest touring, best hotels, and finest restaurants. A great value, just choose your package and choose your dates! These tours are available year-round.
NEW! Private 10 Day Deluxe Paris, Burgundy, and Bordeaux Tour:
Find all the elegance, romance, and excitement of Paris, paired with two iconic wine regions: Burgundy and Bordeaux. 
Discover major landmarks and hidden gems of the City of Light, the most beautiful city in the world. Stay at a lovely luxury boutique hotel on the Left or Right Bank. This is the city for food, wine, culture, and bliss!
Next, discover Burgundy's famed Côte d'Or with tastings at estates in legendary appellations like Gevrey Chambertin, Puligny Montrachet, or Vosne Romanée.
Then travel to Bordeaux and taste some of the most prestigious estates of the Médoc, Sauternes, and St. Emilion regions.
You'll also enjoy gourmet dining and first-class accommodations in both wine regions.
This is the perfect immersive program featuring the best each destination has to offer.
All programs are hosted by high-level professional guides who are wine specialists and insiders who live in the region.
Contact us today by email at [email protected] or call us at 1-410-745-5406 (USA).  Start planning your trip filled with memories that will last a lifetime.
Learn more about Bordeaux Wine Tours, Burgundy Wine Tours, Loire Valley Wine Tours, Rhone Valley Wine Tours, Provence Wine Tours or Champagne Tours, or Italy Wine Tours.
---
Featured Blog Posts