|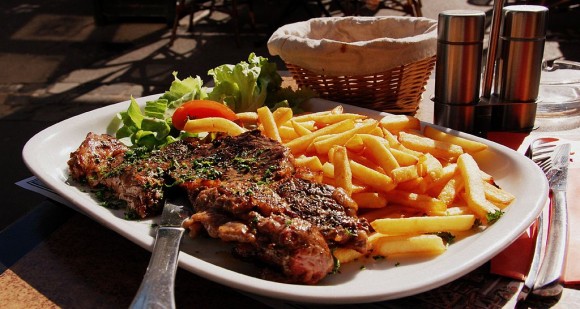 Finding the best Paris steak frites has become a minor obsession of ours. France is famous for refined cuisine, for sauces and pastries and dishes that require a specific fork. But the fact remains that some of the most beloved French dishes are the simplest: croque monsieur, oeuf mayo, steak-frites. The latter is exactly what its name claims it to be and is perhaps one of the most beloved of all.

In Paris, nearly every brasserie and bistro will serve a version of this dish, but very few of them are worth the trek. If you want to sample the best Paris steak frites, you've come to the right place.
Top 5 Paris Steak Frites
The Traditional
For a traditional experience that keeps Parisians guessing, try the Relais de l'Entrecôte. This restaurant has stood the test of time: established in 1959, it now counts four outposts including one in Geneva. Choose the one at the aptly named rue Marbeuf (very close to the French boeuf, or beef) to sample the sauce so secret that Parisians used to pilfer the trash, looking for the ingredient that made it so tasty.
There is only one thing on this menu – the namesake entrecote steak, cut from between the ribs and served with a superb sauce. All diners start with a frisée salad with walnuts, and dessert is à la carte. An excellent wine list is on offer, but the house red is quite tasty. Surrounded by waitresses in authentic black uniforms and with the old-fashioned dessert table in clear view, a table at this address just off the Champs-Elysées should not be missed.
Le Relais de l'Entrecôte
15 rue Marbeuf
8th arrondissement 
Click here to view our Paris and Bordeaux video, featuring amazing food, First Growth wines, and luxury accommodations.
Sign Up for our eNews articles and receive our Free Guide to Wine Tasting Like a Pro!
The Bistro
Bistro cuisine is some of the most authentic in Paris… and also some of the least authentic. Bistros used to be places where you could get an honest meal without spending too much. Today, the bistronomie movement has created bistros that are quite a bit more expensive, and the remaining true bistros often lack in quality as compared to their forebears.
Bistrot Paul Bert is one of the few that remains both traditional and delicious. Steak is the specialty here, and the chef is adamant that you order it no further cooked than rare or saignant. Those who prefer well-done may opt for a poultry dish, also on the menu, but true lovers of beef will enjoy the attention and care the chef puts into his meat dishes, ranging from a filet mignon to a two-person côte de boeuf.
Paul Bert
18 rue Paul Bert
11th arrondissement
The Aged
Au contraire to the States, France isn't all that big on aging its meat. And yet there are some who swear by it, including former butcher William Bernet. His steaks are fantastically aged and definitely appeal to an American palate, but lest you think you're entering an American steakhouse, be forewarned: a dinner at le Severo should include appetizer, main and cheese (you likely won't have room for dessert), with a truly spectacular boudin noir or blood pudding on the menu (the cured ham isn't half bad either). Cheese is of the highest quality. Walk home afterwards.
Le Severo
8, rue des Plantes
14th arrondissement
The Hardcore
In order to find this Argentine beef in the heart of Paris, you'll have to make your way past quite a few metalheads. This metal bar near Châtelet may seem a bit unfamiliar at first glance, but continue past the bar to arrive at the restaurant, where a variety of choices await, none of which include the hardcore lifestyle.
You have the choice between the entrecote and the faux-filet (similar to the American sirloin). Each is served by weight, from between 170 grams to 600 grams, the latter of which, at over a pound, is dubbed "the punishment."  Steaks are served with one of a choice of sauces and side dishes, of which the potatoes are the best for sopping everything up.
Chilean and Argentine wine accompany these hardcore steaks.
Black Dog
26, rue des Lombards
1st arrondissement
The Sauciest
If you're looking for a steak au poivre or a steak au bleu with no fuss, pick this little restaurant near the former Halles market, which once fed all of Paris.
The restaurant has a small menu, but what it may lack in choice, it more than makes up for in flavor. The modest restaurant does not boast the atmospheric or aesthetic allure of some on this list, but the quality of the ingredients more than make up for it. The steaks – accompanied by sauces au choix – are fantastically flavorful and juicy. The homemade fries are just the icing on the cake.
Aux Tonneaux des Halles
28, rue Montorgueil
1st arrondissement
Where do you like to enjoy your Paris steak frites? Let us know on Facebook or Twitter.
Sign Up for our eNews articles and receive our Free Guide to Wine Tasting Like a Pro!