|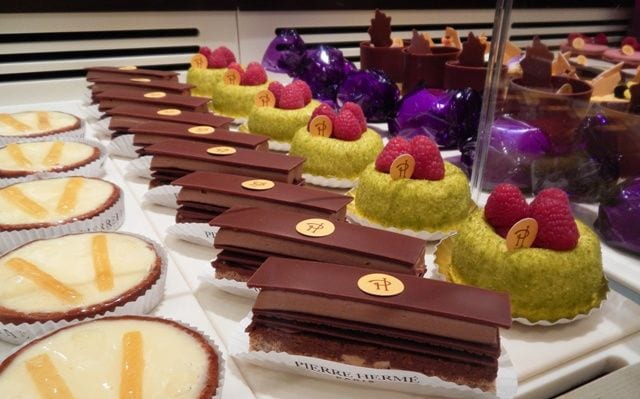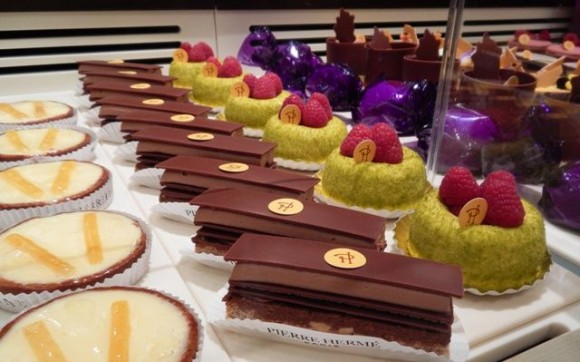 Paris truly is a foodie paradise, home to some of the world's best chefs, best restaurants, best ingredients, and best desserts. While restaurant pastries are often quite exquisite, be sure that you make some time (and space!) to taste desserts from some of Paris' best patisseries. While there are literally dozens you could try, if you've only got time for a few, we recommend that you seek out these three.
Must-Try Parisian Pastries
1. Macarons
This trendy little pastry has taken the capital – and the world – by storm! You'll find them in nearly every patisserie and boulangerie, but if you want to get your hands on the best macarons, there are a few addresses you need to know about.
Ladurée is reputed as one of the best macaron-makers in the world. The macarons at this shop are renowned for melt-in-your-mouth texture and exquisite taste. If you're looking for traditional flavors like chocolate, pistachio, caramel, coffee and vanilla, Ladurée should be your first stop.
One of Ladurée's former students has taken another approach to the classic French cookie. At Pierre Hermé, the same attention to detail renders a macaron that is just as tender, but the flavors will take you for a spin. Combos like wasabi and grapefruit or white chocolate and truffle pop up in the immaculate display case, with seasonal variations available all the time. If you want your macaron experience to offer something a bit different, trust Pierre Hermé to take you there.
Both macaron geniuses have several outposts in the city. Here are two that are central and easy to hit while visiting other spots in the city.
Ladurée
75, avenue des Champs-Elysées
Pierre Hermé
72, rue Bonaparte
2. Mille-Feuille
Occasionally known as a Napoleon elsewhere in the world, this classic brings out the best in some of France's most exquisite pastry techniques.
The ideal mille-feuille, whose name means "one thousand layers," should have a perfectly crispy, buttery puff pastry base. The one at Jacques Génin deviates slightly from tradition by letting the pastry puff up fully, so that it crackles between your teeth. To make sure that its texture stays in tact, this mille-feuille is built "à la minute," or individually upon order.
The second aim of a truly exquisite mille-feuille should be the pastry cream. Traditionally flavored with vanilla, the cream should be sweet, rich, and completely decadent. At Des Gâteaux et du Pain, you'll find one with a thick layer of Madacascar vanilla cream so over-the-top you may have to share.
The icing on the cake is, quite literally, the icing on the cake. While many modern mille-feuille masters forgo it, a traditional mille-feuille is topped with a white fondant icing. For that, you'll need to head back to Ladurée for his traditional mille-feuille flavored with a touch of aged rum.
Once you've tried a classic mille-feuille, you can venture into the world of alternate flavors. Try the one at Angelina, which has pistachio and cherry cream. The sourness of the cherry adds another dimension to this rich pastry making it slightly less cloying than some other versions.
Jacques Génin
133, rue de Turenne
Des Gâteaux et du Pain
63, boulevard Pasteur
Ladurée
75, avenue des Champs-Elysées
Angelina
226, rue de Rivoli
3. Éclair
But of all French pastries, there's perhaps none more evocative of the world of patisserie arts than the éclair. The word also means a bolt of lightning; one can only assume that it comes from the sensation upon biting into a perfect choux puff filled with pastry cream and topped with fondant icing.
Éclairs come in all sorts of different flavors, and many shops do them up nicely. But if you'd like to see the most variety and perhaps the best flavor in all of Paris, do yourself a favor and get yourself to a specialist. L'éclair de Génie offers dozens of variations on the classic, including lemon-yuzu and passion fruit-raspberry as well as more classic flavors like chocolate and caramel. No matter which one you choose, one thing is for sure: it'll be beautiful.
L'Éclair du Génie
14, rue Pavée
What are your favorite Parisian pastries? Tell us below!
Sign up for our eNewsletter and receive our FREE wine tasting guide.