|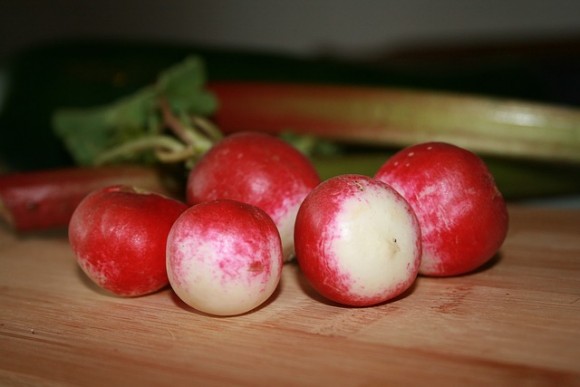 Farm to Table Paris & Beyond; 3 Chefs Serving Local Fare
With the fall harvest quickly approaching, the menus of top French restaurants are changing to reflect what's popping up on market stands, at the massive Rungis market outside the capital, and even in certain chefs' own gardens!
Chefs in Paris and beyond are so committed to the freshness and quality of the produce they use that they don't trust anyone to grow it but themselves. These chefs tend their own kitchen gardens or potagers, with the help of professional gardeners, to ensure that diners experience only the very best farm to table experience. And the Michelin guide has noticed! Three chefs have received stars for their ingenuity and devotion to excellence from farm to table Paris and beyond movement.
Farm to Table Paris: The Vegetable Lover
Alain Passard – Arpège
Arpège is first and foremost a place for Alain Passard's produce to shine. Grown over nearly ten acres in Sarthe, Eure and Mont Saint-Michel, Passard's top-quality fruits and vegetables and have provided Paris with one of the city's only veggie-central gourmet tables, featuring creative dishes like onion gratin with Parmesan, summer vegetable risotto and vegetable sushi with fig leaves. Menu items are just the start; Passard has even created an entire tasting menu revolving just around vegetables.
Passard's gardens are also home to a beehive, which ensure that pollination is achieved naturally… and has the added bonus of providing a house honey as the perfect garnish for cheese plates or ingredient for glazes, sauces and sorbets.
Arpège
84, rue de Varenne (Paris)
+33 (0)1 47 05 09 06
http://www.alain-passard.com
Farm to Table Beyond Paris: The Local Southerner
Armand Arnal – La Chassagnette
Armand Arnal is devoted to local products when it comes to his restaurant, combining meat, fish and cheese that are procured no more than 40 miles from his location in Arles, in the Camargue region. His devotion to local products may find its roots in the very richness of his region: from salt to rice to meat, the Camargue offers many ingredients that are beloved throughout France and the world over.
But when it comes to fruits and vegetables, he moves even closer to home: only his will do. Nearly 5 acres of land produce his over 180 varieties of fruits, vegetables and aromatics, all of which find their place of pride as the stars of his menu. The result is a menu full of local flavors, including watermelon gazpacho with purple basil and borlotti beans, spaghetti squash with sea bream and saffron broth, or peaches with verbena and red currants.
To visit this restaurant, far off the beaten path, consider reserving a room at Le Cloître, a partnered hotel in central Arles.
La Chassagnette
Le Sambuc (Arles)
+33 (0)4 90 97 26 96
http://www.chassagnette.fr/
Farm to Table Paris: The Devotee of Parisian Terroir
Yannick Alléno
High on the 8th floor of a building in Paris' 5th arrondissement sits Yannick Alléno's Parisian potager. The seasonal products he reaps in this garden of comparatively modest size are no less impressive than those grown outside the city.
Yannick Alléno's devotion to Parisian products is directly linked to his childhood in the region; his parents owned bistros throughout the outskirts of the city, and he was quickly introduced to local traditions and specialties. Parisian flavors and recipes became his guide, and after discovering Terroirs d'avenir, a Parisian project that unites producers and restaurateurs, he decided he could do more to highlight Parisian terroir.
Local ingredients – including the super-local from his own roof – are the sources of inspiration for a menu centered on traditional Parisian recipes like liver terrine, green beans with shallots, black pudding, and Paris-Brest for dessert.
Terroir Parisien
20, rue Saint Victor
+33 (0)1 44 31 54 54
http://www.bistrot-terroirparisien.fr
Sign up for our eNewsletter and receive our FREE wine tasting guide.