|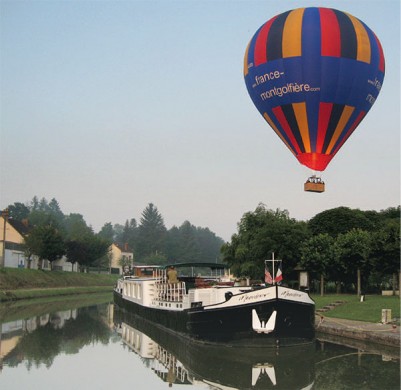 For Immediate Release
French Wine Explorers introduces luxury barge tours to France's wine regions

St. Michaels, Md. (November 29, 2010) – Luxury wine tour company French Wine Explorers announces the addition of luxury barge tour itineraries, which provide travelers one of the most relaxing and enchanting ways to explore France's famous wine regions.
These new tours feature some of Europe's most luxurious barge hotels. Each barge carries between four and 12 guests, and all offer the amenities of a deluxe hotel. French Wine Explorers barge tours are completely customizable with food and wine itineraries, and are available for both those who desire to personally charter their own barge, and those who wish to book individual cabins.
"I am elated to add these luxury barge tours to French Wine Explorers featured itineraries. The barges add a new level of sophistication for travelers," says French Wine Explorers President Pascale Bernasse. "Whether a guest has traveled to France in the past, or is venturing to the area for the first time, this is an opportunity to experience the beauty of the region in a very special way, while immersing themselves in local wines and cuisine."
Travelers can set sail through beautiful regions such as: the Rhone, Burgundy or Canal du Midi in the Languedoc. The Rhone tour includes excursions in the wine region of Châteauneuf-du-Pape and the towns of Avignon and Arles, while barge tours in Burgundy feature the enchanting landscape of Côte d'Or and Canal du Centre. Canal du Midi tours wind through the dreamy wine regions of Minervois, Corbières and Côteaux du Languedoc and include special wine tastings and the opportunity to meet with local wine makers.
Visit www.wine-tours-france.com/wine-culinary for luxury barge tour details and itineraries.
About French Wine Explorers
French Wine Explorers is the leading boutique travel firm specializing in intimate luxury wine vacations to France. Travelers can choose from group tour itineraries or plan custom-designed wine tours. All packages include deluxe air-conditioned motor transportation, luxury hotels, gourmet meals with premium wines, all wine tastings, sightseeing, and the services of a bilingual wine expert guide throughout. For more information call (877) 261-1500, visit www.wine-tours-france.com, or become a fan of French Wine Explorers on Facebook at http://www.facebook.com/FrenchWineExplorers
Copyright ©2010 French Wine Explorers