|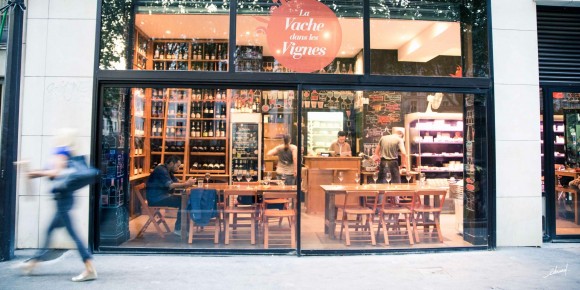 Chef Interview: Pairing Wine and Cheese at La Vache Dans les Vignes
One of our favorite ways to bring the flavors of French terroir (or sense of place) home is by pairing wine and cheese. This is also the goal of one of our favorite Parisian shops, La Vache dans les Vignes (the cow in the vines), run by friends Sélim Blanchard and Marwen Amor.
The shop – which refuses the title of wine bar – sells a selection of house-aged cheeses and hand-selected wines.
"What really distinguishes La Vache dans les Vignes from other wine bars is that it's run by two experts who come from production milieus, with diplomas in our respective production sectors as well as on-the-job experience," Marwen says.
It's no surprise that Marwen is one of the top experts on wine-and-cheese pairings– and he decided to share some of his insights with us.
"A wine and cheese tasting can be very simple or very complex, depending on what you know about wine and cheese," says Marwen.
He sometimes goes beyond the common regional associations (Loire wine with Loire cheese, Burgundy wine and Burgundy cheese). Instead he applies an intellectual approach: "We compare it to a literary analysis," he says. "You need a certain amount of coherence between the thesis, the antithesis, and the synthesis." To put it another way: each cheese and each wine need to be examined separately and together before the appropriate pairing can be found.
Leave it to the French to turn wine and cheese into an intellectual debate!
So what does this mean for us novices at home?
First know your wines.

"Red wines are generally richer in tannins than white wines," Marwen says. "Chemically, tannins are rather poorly associated with casein (milk protein). Pairing white wine and cheese is a more recent trend that seems to be more conclusive."
In other words, you may wish to start with with a white wine pairing rather than a red, which will be more difficult to match.
But this doesn't mean that you should avoid pairing red wine and cheese!

Second, choose boutique wines and artisinal cheeses over more mass produced products.

"The richness of our culinary heritage of wine and cheese leads us to believe that for each cheese, there exists a wine that can bring out the best in it, and vice versa," says Marwen. "That said, we very strongly believe that bad cheese – like industrial cheese – is difficult to pair, because they're soulless cheeses."
In other words, pick real cheese and real wine, and you're already well on your way to a successful pair.

Be on the lookout for balance between the unique natures of the selected wines and cheeses.

"At la Vache dans les Vignes, we have a tendency to look out for possible balances between acidity and fat, as far as both wine and cheese are concerned, as well as surprising aromatic associations," says Marwen.
For example, acidity and tannins in a certain wine and fattiness and acidity in the cheese should complete one another, not compete with one another.
If you need some more specific inspiration, Marwen's current favorite is pairing Rove frais de haute Provence – a fresh, raw milk goat's cheese infused with thyme — with Chateau Martinette (AOP côtés de Provence) rosé, made with 40% Cinsault, 35% Grenache, 15% Syrah, and 10% Rolle.
"The little note of pepper in the goat cheese melts marvelously into the Syrah. The buttery aspect of the goat cheese, due to the individuality of the Rove goat breed's milk, pairs very well with the superb acidity of the rosé."
Discover more about pairing wine and cheese – and sample some delicious products – at La Vache dans Les Vignes (46 Quai de Jemmapes, 10th arrondissement) in Paris.
Sign Up for our eNews articles and receive our Free Guide to Wine Tasting Like a Pro!