|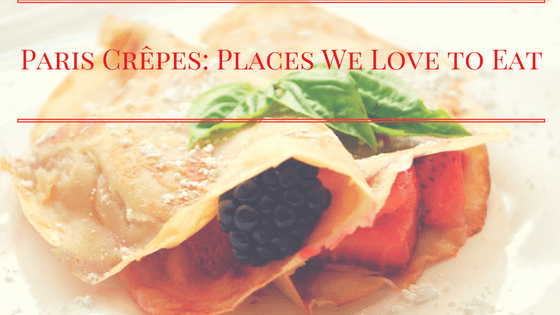 Best Paris Crêpes & Galettes: Where We Love to Eat
Did you know that crêpes are a regional specialty? While commonly associated with France in general, crêpes actually hail from Brittany. They come in two forms:
Savory crêpes–more often called galettes–are made out of buckwheat flour.
Sweet crêpes are made from wheat flour. The best Paris crêpes represent this regional specialty. Today you will find crêpes on pretty much every corner as the perfect snack. (Crêpes with Nutella are a popular after school treat!).
Here are a handful of standout shops and restaurants to find traditional crêpes in Paris:
Great Location: Breizh Café

Breizh Café is one of the most famous places to find some of the best Paris crêpes.
It is in an ideal location–right in the Marais–and has an excellent variety of choices.
The crêperie offers creative crêpe fillings such as potato, smoked herring and herring roe.
The café offers 15 artisanal ciders along with high quality ingredients.
109, rue Vieille du Temple, 3rd arrondissement

Build Your Own Crêpe: Little Breizh

This crêperie has fast become a local favorite.
There are nine house specialties on the menu. Customers can choose items such as goat cheese and walnut or leek and bacon.
You can also mix and match ingredients to create the crêpe of your dreams.
The sweet crêpes are just as delicious as the savory, so be sure to show up early or risk not being able to find a seat.
11, rue Grégoire de Tours, 6th arrondissement

Traditional and Cozy: Des Crêpes et des Cailles

This old-fashioned crêperie imitates the traditional style from Brittany.
With just 18 seats, this crêperie is tiny, but it's well worth the occasional wait.
You'll enjoy their creative and unique fillings. Menu items like blood sausage and curry make this locale a sure standout.
13, rue de la Butte aux Cailles, 13th arrondissement

Best Sweet Crêpes: Josselin

Josselin offers both savory and sweet crêpes.
But it's the latter that makes this restaurant a local favorite.
Try the lemon and honey or salted caramel and calvados.
Or look for the more traditional chocolate, banana and ice cream fillings that are all on offer.
67, rue de Montparnasse, 14th arrondissement

Traditional Brittany Crêpes: Crêperie Plougastel

For a true taste of Brittany, the Plougastel crêperie is a great choice. All the ingredients are sourced from local producers in Brittany.
Ingredients like the salted butter used to make the galettes, to calvados and cream, are all from that region.
47, rue de Montparnasse, 14th arrondissement

Contemporary Decor: L'Atelier

If you want to try standout crêpes without dining in traditional décor, you might prefer l'Atelier. It is a bit more modern and simply delicious.
The crêpes on this menu are all given a first name as a moniker. Try the Marcel with smoked salmon, spinach, cream, and lemon.
Or the Paul with Roquefort, walnuts, and cream.
For dessert, the Andrée with caramelized apples is truly delicious.
15, rue Sainte-Cécile, 9th arrondissement
Sign Up for our eNews articles and receive our Free Guide to Wine Tasting Like a Pro!