|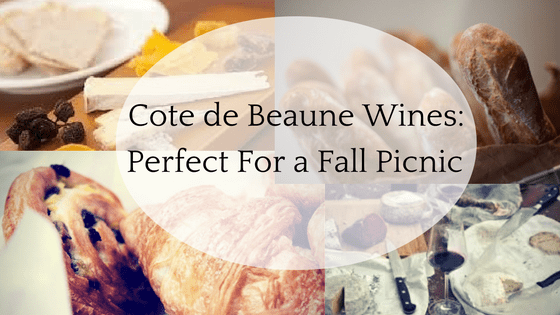 Cote de Beaune Wines: Perfect for a Fall Picnic
Summer is virtually a memory. Although not entirely a pleasant one for those who have experienced record heat. But after Labor Day, we look forward to–and have been enjoying–more temperate weather. And wines with more heft than we enjoyed during the summer months. The up side of summer is the spectrum of excellent wines that we have enjoyed from the Loire Valley. Now, however, we look to succulent Cote de Beaune wines with flavors that go well with fall favorites from Burgundy.
It is also the time to take a look at your wine cellar. There will likely be some gaps in your wine portfolio. Early fall is the ideal time to take stock, and to buy some wines from your favorite areas. Why not start with Burgundy, and the Cote de Beaune?
The Côte de Beaune is the southern half of Burgundy's Cote d'Or. It is so small in extent that you can visit the region in less than an afternoon with ease. It swings southwest from Aloxe-Corton. Is four miles north of Beaune to Santenay and some sixteen miles away. It has extensive red wine vineyards. And south of Beaune, the area is home to the world's finest dry white wine region. And yes, I did once rent a car and visit the region. I stopped along the way to pick up fresh baguettes and cheeses, along with paté, grapes, and chocolate. A bottle of chilled Evian water and a bottle or two of Santenay wine–a light and flavorful red wine rounded out my basket.
The advantage of this impromptu picnic was that I could stop the car where I wanted. And I could take in this wonderful wine growing area at my leisure. You can see how one famous area leads to the next, and get a real feel for the land and its wines. There is a country back road, the Route des Grands Crus or D-122. Most travelers miss it, but on it is a spot where it is easy to stop for half an hour by the side of the road.
Red Cote de Beaune Wines: Grand Crus and Premier Crus
Drive by Corton, to begin. This property is the home of a grand cru that always seems to need more aging than I have planned. And it is the star red wine of this trip. There are many premiers crus as well. Latour's Corton Grancey (2009, $125) sets a standard of excellence. Next, two well-known red Burgundies claim your attention:
Pommard is a succulent red wine that gives much tasting pleasure (Rossignol Pommard 2012, $62).
Enthusiasts of a lighter style Burgundy will prefer Volnay (Latour "En Chevret" premier cru 2012 $75).
Continuing south, now we reach the city of Beaune. This city is home to brilliant Renaissance architecture, including the Hospice de Beaune.
Red Cote de Beaune Wines from Beaune
Perhaps best known are the Beaune red wines.
One I recommend is the premier cru Clos des Mouches (Drouhin 2009, $55). The name implies flies. But Robert Drouhin told me that the acreage should be called Clos des Abeilles (bees) instead. This is a delicious wine, and my favorite red wine from the Cote de Beaune. But that doesn't quite end our brief survey of red wines from this region.
Try a Santenay Clos de Malte (Jadot 2013, $35). This is a light red wine. I remember with fondness a Sunday dinner when the wine seemed to gain in flavors as the meal progressed. It would, I think, make a perfect picnic wine, a bit chilled.
Continuing south from Beaune, now for the white wines. This area is home to wines that are almost beyond reproach. Wines from Puligny Montrachet, Chassagne Montrachet and Meursault are excellent. I feel they are on a different level. They are also increasingly costly.
White Cote de Beaune Wines
I would start with the village appellation from a good producer, say Louis Latour. The recommendation also acknowledges that Latour is making village appellation wines. Here, as elsewhere in the Côte d'Or, Cote de Beaune wines are well made. They are bargains when compared with their pricier premier and grand crus.
By common acclaim Puligny-Montrachet (Latour 2011 $59) leads the tasting laurels.
But Chassagne-Montrachet (Latour 2012 $59) and Meursault (Latour 2012 $49) are also excellent.
I have preferred Meursault premier crus to their Montrachet rivals in blind tastings. At this level of excellence, you can't go wrong!
What if you haven't made plans for a picnic?
You are in luck if Lameloise in Chagny has a table free. This is a splendid restaurant. And as a bonus, they have an excellent cellar of half bottles. So you can indulge your taste for both red and white Cote de Beaune wines as you sample their famous cuisine.
Sign Up for our eNews articles and receive our Free Guide to Wine Tasting Like a Pro!