|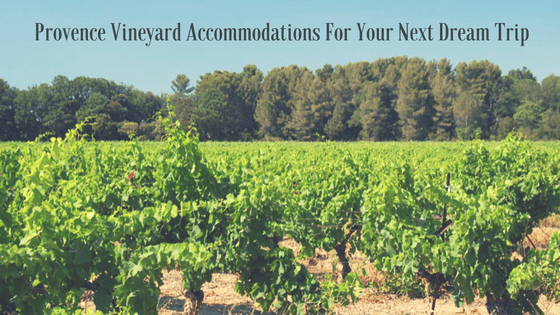 Provence Vineyard Accommodations: Where to Stay, What to Do
The center of Provence is well endowed with places to stay for wine lovers. There are little distractions from the beach or the historic cities of the Rhone. The Var bathes in the rustic splendor of vines, olive groves, walks and horse riding.  This is perfect for those looking for a peaceful getaway, good wine and food.  Please note that staying at many Provence vineyard accommodations means that you are almost always out in the country. A car is essential to reach nearby villages and explore further afield.
Old Style Charm – Chateau de Rouet, near Bagnols
This is a family owned Provence vineyard, set amidst chestnut and cork oak forests. It is rooted in local history. The Savatier family built their manor house in 1840.  The six-bedroom Provence vineyard accommodations offers traditional décor, and is available for rental. There are also three smaller houses nearby. Set in beautiful grounds, the swimming pool and tennis courts are available to use. Access to a spa and golf course is available at nearby St. Endreol. It is half way between the seaside towns of Frèjus and St. Raphael and the rugged charm of the Gorges de Verdon.
Romantic History – Chateau de Saint-Martin, Taradeau
This chateau has been in the family of the Comtesse de Gasquet since 1740. The bedrooms have ornate antique furniture, vintage wallpaper and grand four poster beds. Guests can relax and enjoy an evening aperitif on the terrace looking out over the vines.  The town of Taradeau is west of Frejus, and you can canoe on the Argens River near Vidauban.  A mere ten-minute drive to the north brings you to the charming town of Lorgues.
Urban Style in the Country – Chateau de Berne, Lorgues
This is a modern estate, owned by Englishman Mark Dixon, who has invested his time in wine tourism. The estate has three restaurants. There is a bistro, a mid-range and gourmet restaurant, and five star Provence vineyard accommodations with pool and spa. Concerts, antique fairs and other events take place in the gardens throughout the summer. This offers a bustling, glamorous environment. The chateau is between the small market town of Salernes and the hilltop village of Tourtour.  With amazing views and the bustling market town of Lorgues, there is plenty to do.
Fun and Luxury – Clos de l'Ours, Cotignac
This domaine is owned by "bear-like" Michel Brotons (the name l'Ours means bear). This modern and luxurious chambres d'hôtes (bed and breakfast) was recently renovated from an old mas–or Provencal farmhouse. It has rooms, junior suites and a suite all opening onto the terrace and pool. It is five minutes drive from the lively medieval village of Cotignac.  The village is nestled into the cliffs, with a wide choice of restaurants. Nearby Domaine Nestuby also has a wine bar with music. This is a perfect location to visit the vineyards of Coteaux Varois.
Elegance and Relaxation – Chateau Mentone, St Antonin du Var
This beautiful stone chateau is a veritable oasis. It is surrounded by Provence vineyards and woods. It offers walks along the old railway line. It has been restored and modernized to provide very stylish accommodations. Stay either in self-catered studios or B&B. The chateau also offers a swimming pool, tennis and a spa. Enjoy freshly cooked food with vegetables from the estate's garden. The tranquil setting provides a complete escape. The tiny hamlet of St. Antonin boasts five other wine domaines worth exploring.
Friends and Luxury – Chateau la Crostes, Lorgues
This estate is known for its royal touch. The owners' daughter married the son of the Prince of Luxembourg. This nine bedroom, 17th century chateau is special.  It has a swimming pool, gym, sauna, tennis courts, boules pitch, bbq and heli-pad. It is located between Lorgues and Vidauban. Lorgues has its Michelin starred truffle restaurant Chez Bruno worth visiting.
Family Groups – Terres de Sainte Hilaire, Ollières
This locale is a village of chambres d'hôtes and 15 cottages. One of the cottages has a private swimming pool! It is set among the vineyards and offers horseback riding and a family-fun golf course. Catering is available for groups. This is a good base to explore the vineyards of Coteaux d'Aix. It's near the National park of Ste Victoire, and it's only an hour from Aix-en-Provence.  A little further afield, the Provence vineyards of Bandol and Cassis lie an hour to the south.
A Taste of Provence – Domaine de la Fouquette, Les Mayons
Two generations of the Daziano-Aquadro family run this four bedroom B&B. It is west of St. Tropez in the foothills of the Massif des Maures mountains.  During weekends, the family restaurant offers copious portions of local specialties. There is an easy drive to the French Riviera coast around Bormes-les-Mimosas and the islands of Porquerolles.
Sign Up for our eNews articles and receive our Free Guide to Wine Tasting Like a Pro!