|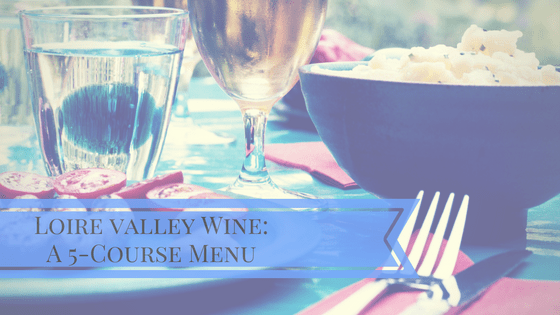 Perfect Loire Valley Wine Pairings: A 5 Course Menu
Loire Valley wine pairings are perfect during the summer.  Informal entertaining is the preference of many hosts. You want your guests to have a memorable occasion. But it is just not the season for breaking out the best china and serving vintage Bordeaux wines. Many people prefer something light and flavorful–like Loire Valley wine–and something not too difficult to arrange.  And the weather may change your plans, even at the last minute. So you may plan an outdoor barbeque, but switch to the indoors if the weather turns hot or rainy.
Loire Valley wine does its part, and some menus virtually suggest themselves. Try a Muscadet sur lie from the Northern Loire Valley. I enjoy Marquis de Goulaine (2013 $14) is light and delicious. And its just sturdy enough to go well with fish for a festive luncheon. It has flavor, and enough body to set off your Chesapeake Bay favorites – such as fresh crabs. Perhaps it would also go well with a prawn cocktail to begin a summer dinner.
Here is an easy summer luncheon suggestion, based on Loire Valley wine:
Serve giant grilled shrimp (with lemon butter for dipping), with caprese salad.
This summer favorite combines sliced beefsteak tomatoes with sliced mozzarella cheese and basil.  It's one of our favorite luncheons!
Try either the Marquis de Goulaine Muscadet or the Sancerre Rose wine mentioned above.
A warm weather meal or buffet based on Loire Valley wine will be a delight for your guests.
Here is a suggested dinner menu that will have your guests asking for seconds!
First Course: What is more festive than Oysters Rockefeller?

Oysters baked with spinach, cream and spices make this a special treat.  It was created at Antoine's Restaurant in New Orleans in honor of John D. Rockefeller. He didn't care for raw oysters.
Serve this dish with a NV Diamant de Loire brut. (Champagne method sparkling wine, but for $20, at a fraction of champagne's price.)

Second Course: Crab Bisque.

This is a fine treat, rather creamy, so you will want an assertive white wine, on the light side.  Try a Pouilly-Fume wine (Chatelain "Les Chaillon Silex" 2013, $20).

Third Course: Grilled rockfish with ratatouille and rice pilaf.

Rockfish, or striped bass, is a prized fish from the Chesapeake Bay.
It goes well with ratatouille. Which combines summer garden specialties. Usually zucchini, eggplant and tomatoes, sautéed in olive oil. 
A robust Sancerre white wine would be in order here. (Boulay Sancerre Chavignol 2013, $30.)

Fourth Course: Cheese assortment with light crackers.

The Loire Valley produces a palate of goat cheeses. 
The pyramidal Valencay is perhaps the most celebrated.
You have a choice of wines here, but I would just keep pouring the Sancerre. If you can find some Chavignol cheese, the Boulay Sancerre Chavignol is from the same area. It would complement the cheese as well.

Fifth Course: What says summer more than an assortment of fresh, homemade raspberry and blueberry tarts?

To conclude the meal, I would go back to the beginning. 
Uncork another NV Diamant sparking Loire Valley wine.
Reds and Rosé Loire Valley Wines for meats:
If you are grilling a pork barbeque, try a Sancerre Rose (Jean-Marc Crochet 2015, $15). This wine, from Pinot Noir grapes, would also go well with a Quiche Lorraine.
For filet mignon try a Chinon from Cabernet Franc grapes (Chateau de la Grille 2010, $20).
These wines would also partner well with the Loire Valley's outstanding cheeses.
Your guests will appreciate your hostess skills. And you'll enjoy sharing with them tales of the Loire Valley, its history, cuisine and fine wines.