|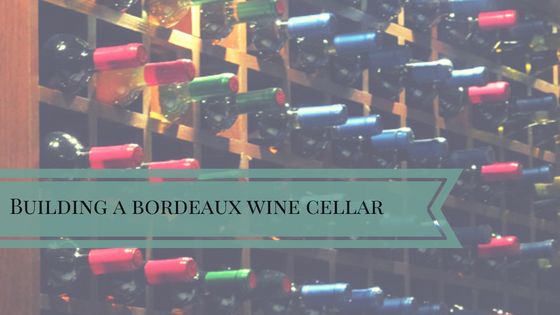 Our Wine Editor's Picks: The Best Bordeaux Wines For Your Wine Cellar
Would you like to have a Bordeaux wine cellar? There are several starting points for choosing the best Bordeaux wines for your cellar. First, stock your cellar with wines that you will enjoy. Don't limit yourself to one region.
And if reasons to start a wine cellar are needed, here are the classic ones:
Buy wines in the current vintage. Because never again will they be more readily available, or reasonably priced.
When you find a wine you like, consider buying a case for future delivery as a futures contract. Your retailer should have details. It's a good way to buy fine wines as they become available, usually at the best price you'll find for select wines.
Determine your budget for a starting cellar. Decide what you will emphasize, and include some wines from other regions that you enjoy. By all means, include some of the larger bottles, they are always appreciated. And they show your guests that their presence marks a special occasion. For example, I brought a magnum of Chateau Lynch Bages 1985 at La Voile Restaurant in Boston two weeks ago. We all enjoyed it!
Which Bordeaux wines should you buy? Bordeaux produces an ocean of wines, from many well-regarded regions. Like St Emilion and Pomerol. And then, there are 60 or so wines within the the Medoc that are part of the prestigious 1855 classification.
Let's choose a bottle or two from each region. Our goal is to get to know some quality wines from each region for a reasonable amount of money. Or you may even decide to specialize in a region that was previously unknown to you. Thus, I will make individual suggestions for each of Bordeaux's major regions. Let's start with a cellar costing $700.
ST. JULIEN –
Start with a Branaire-Ducru 2006 ($58). This is an opulent wine, a 4th Growth in the 1855 Classification. And it has some literary fame. As the writer Roald Dahl, in his short story "Taste," parodies wine tasting with a wine con artist.
Chateau Beychevelle 2011 ($70), also a 4th Growth, is reliable for excellent quality. A former owner once removed the pebbles from the property. Not realizing that they reflected needed heat into the growing plants. After a mediocre vintage, the rocks were quickly restored!
MARGAUX –
Chateau D'Issan (2012 vintage, $50) is a great favorite. If you are lucky, you might attend a concert during the May festivities in their courtyard.
I once bought a case of 5th Growth Chateau Dauzac ($50, 2005 vintage). I stored it at my favorite restaurant, and enjoyed this wine with dinners for many months.  It was a good savings despite the corkage fee involved.
PAUILLAC – Not all wines from Pauillac sell for Rothschild prices!
It would be fine to start with a Chateau Haut-Batailley 2012 ($38) from this region.
Or a Chateau Lynch-Moussas 2011 ($38).
Both wines are 5th Growths.
ST.ESTEPHE – Here I'll pick a personal favorite. It is a well-made wine that is not part of the 1855 Classification.
The 2012 Chateau Meyney that sells for a bargain at $35.
For another good bargain, try the second wine of Chateau Montrose, "La Dame de Montrose," at $35 for the 2011 vintage.
Second wines are not second rate!
GRAVES –
Chateau La Tour Martillac was once owned by Baron Montesquieu. He set forth the doctrine of separation of powers. The same idea that became enshrined in the American Constitution. The 2011 vintage sells for $40.
And you must try a bottle or more of Chateau Carbonnieux Blanc (2014 $32). It is the classic Bordeaux white wine blend, highly regarded at Bordeaux dinner parties.
MEDOC –
A magnum of the 2009 Chateau Clarke sells for a bargain $50. This is a Rothschild property of fine quality and reasonable prices.
POMEROL –
Try a bottle of the Chateau Lafleur-Gazin ($2010, $55).
Pomerol is one of the most expensive appellations of Bordeaux. Still, you may be captivated by the silky flavors of the wine, and devote some of your cellar to Pomerol. I did, and the wines were delicious over the years.
ST. EMILION –
Chateau Beausejour Becot in the 2012 vintage sells for $50.
Try also one of my favorites, Chateau Clos Fourtet, at $70 for the same vintage.
SAUTERNES –  You should try the 2005 vintage of Chateau Suduiraut for $40 for half a bottle. It's A great treat to end the meal. The French nation serves this wine at state dinners – so, perhaps, should you!
We have selected 15 of our wine editor's best Bordeaux wines, at a total cost of $710, or about $47 a bottle. If your budget allows, you can double that investment with 2 bottles of each suggestion. Or $1420 for two and one-half cases of superior wine.
You may be pleasantly surprised as you explore new wine regions. And expand your taste horizons along with your Bordeaux wine cellar.
Sign Up for our eNews articles and receive our Free Guide to Wine Tasting Like a Pro!