|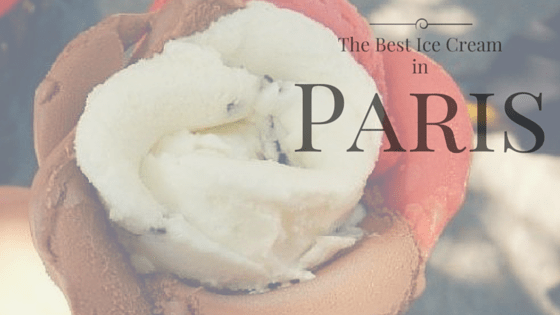 Paris Ice Cream: Where to Cool Down When the Heat is Up
Paris is best known for its pastries. But in the summer months, Paris ice cream is king. Here are our three favorite places to find the best Paris ice cream or une créme glacèe. But first… a bit of vocab, with pronunciation guide. Here are some useful words for ordering ice cream in Paris:
Une glace (ewne glass) – an ice cream
Un sorbet  (enh soar-bay) – a sorbet
Une coupe (ewne coop) – a cup
Un cornet (enh cor-nay) – a cone
Une boule (ewne boo-l) – a scoop
1. The Classic: Berthillon
Berthillon is a French manufacturer of gourmet ice creams and sorbets.  It's a veritable institution dating to 1928, so we would be remiss to not put it at the top of the list! Located on the Ile Saint Louis, it is  run by the Chauvin family. They are descendants of the first Monsieur Berthillon.
The official Berthillon shop is located at 29 rue Saint-Louis en l'Ile. But other shops sell Berthillon ice cream throughout Paris.
The ice cream itself is made with few ingredients. It boasts over 70 flavors including: chestnut with rum, tiramisu, and lemon thyme.
2. The Omnipresent: Amorino
Amorino is a gelato chain that you'll find throughout Paris. We recommend it for two reasons: it's easy to find one no matter where you are in Paris, and it's delicious.
Amorino makes both gelato and sorbet. It serves up the different flavors in pretty rose-petal shapes on cones or in cups.
At Amorino, you first have to pay for the size you want at the register. Then one of the people behind the counter will assemble your cone or cup based on the flavors that you choose.
Look for some of our favorite flavors. Like organic Italian citrus, dulce de leche, and the "inimitable" hazelnut and chocolate combination.
3. The Chocoholic: La Maison du Chocolat
If chocolate is your passion, try La Maison du Chocolat. It's another mini-chain, that will be right up your alley.
This chocolate shop makes some of the most delicious ice creams in the capital. With an unsurprising bias towards chocolate-based flavors. Look for both chocolate ice cream and chocolate sorbet.
Don't worry, this shop will even please non-chocoholics. They have an adequate selection of non-chocolate-based sorbets and ice creams as well.
You'll find these shops throughout Paris. And it will be easy to note which ones sell ice cream to go. There will be a stand outside the shop where you can make your choices.
Sign Up for our eNews articles and receive our Free Guide to Wine Tasting Like a Pro!