|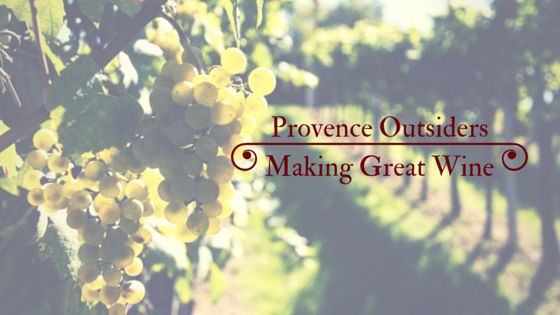 Buying a Vineyard in Provence: Outsiders Turning Their Dreams into Reality
How many of us dream of buying a vineyard in Provence? Do you dream of olive groves and vines, a grand chateau, and bottles of your own Provence wine and olive oil?
Many outsiders—art dealers, industrialists, law professors, politicians—have been bewitched by this Provençal vineyard dream.  They have brought with them their own dreams and ideas. Many stayed, others moved on, or passed their dream to their children.  And many of these outsiders have changed the Provence wine scene in their own way.
In 2007, Scandinavian art dealers, Bengt and Mette Røde Sundstrøm were looking for a holiday home. They fell in love with the gracious, Chateau Vignelaure with its 148 acres of vines in the Coteaux d'Aix. Georges Brunet, of Chateau Lagune in the Médoc, created the estate in the late 1960s. He brought with him Cabernet Sauvignon cuttings and created a cult wine, Provençal Claret. He is attributed with the popularity of Cabernet Sauvignon in the Coteaux d'Aix region. Throughout 80s and 90s the estate passed through a series of different owners. At that time its wines falling out of notice. Today the estate is returning to its former glory under the ownership of the Sundstrøm's. It is now known for wine as well as its impressive art collection.
Bruno Paillard and his son Aimeric, of Champagne Bruno Paillard, were looking for a challenge. They wanted to make wine in the hot climate of Provence. In 1995 Bruno bought the Domaine des Sarrins, with 60 acres of vines. The estate is hidden down a little lane in the Provence village of St Antonin-du-Var. Local legend says the name 'Sarrins' comes from the 'Saracens', who, from the 8th to 11th century, raided and occupied the area. According to local tradition, a local Saracen chief was killed and buried in his golden armor. He was surrounded with his treasure in the area, and the area became known as Les Sarrins. The hills around the vineyard show hollows where locals have sought treasure.  The treasure has yet to be found! But the wines are gems that are easy to find!
In 2000, Dutch industrialist Cornelis Kamerbeek came across the Gothic folly of Chateau de Crémat in Bellet. The estate, like Vignelaure, had somewhat lost its way. Kamerbeek rented the estate for two years before buying the chateau. Today, the gleaming chateau, with its Roman cellars makes a picture-perfect setting for events. The beautiful terrace overlooks Nice and the Mediterranean. The estate, with 50 acres of vines, is one of the main commercial properties of this tiny appellation.
In 1998, German industrialist, Hartmut Lademacher bought Chateau les Crostes, a turreted 17th century manor. It is hidden away in forests near Lorgues. The 545-acre estate, with 136 acres of vineyards produces wines that are locally popular. The chateau, with nine bedrooms, is available for hire and for events. In 2014, the estate took on a royal romance when his daughter Claire married Prince Felix, the second son of the Prince of Luxembourg. The estate hosted the royal wedding reception.
Sometimes the next generation take on the parents' dreams and builds on their success.
Henning Hoesch, an American professor of canonical law at Yale University purchased Domaine Richeaume.  The estate is nestled beneath the slopes of Cezanne's famous Mont Sainte Victoire. Feeling that 'progress was so often achieved at the cost of nature,' he wanted to return to an agricultural way of life. The small stone farmhouse was expanded with modern, eco-friendly buildings. Hoesch turned the derelict 7.5 acres of vines into a successful vineyard. He created terraces and planted more vines – they now have 77 acres. Today his son Sylvain continues the family tradition, creating stunning wines.
Le Grand Cros, near the village of Gonfaron, in the foothills of les Maures, was purchased as an existing 60-acre vineyard by Canadian politician Hugh Faulkner and his wife Jane in 1989.  This is the same year Peter Mayle's 'A Year in Provence' was published. They restored the old manor house, and started to make wine. Their son Julian took over the running of the vineyard in 1999.  He had completed his master's degree on vineyard management in Bordeaux. He introduced a new range of wines called Jules, appealing to  a younger audience.  At the same time he continued to increase the quality of his award-winning Grand Cros wines.
There are French regions where vineyards are cheaper, but few have the magic of buying a vineyard in Provence. If you are dreaming of buying a vineyard in Provence, expect to pay from $3-14 million dollars, depending on the extent of your Provençal dream!
 Sign Up for our eNews articles and receive our Free Guide to Wine Tasting Like a Pro!