|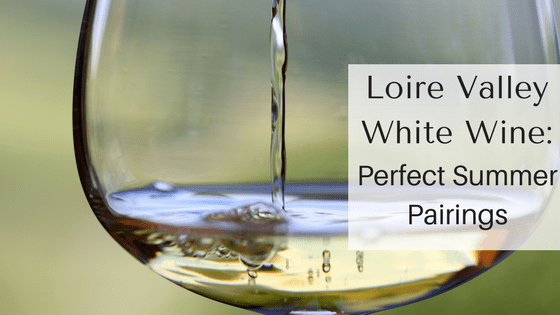 Loire Valley White Wine: Perfect Summer Pairings
Loire Valley white wine is highly regarded. Let us sample three of them, from three different grape varietals.
The Muscadet de Sèvre et Maine is a light, flavorful wine with good body, the sort of wine you can enjoy at luncheon that won't put you to sleep for the afternoon. Muscadet, said to be the largest white wine appellation in France, goes perfectly with seafood, especially crabs. Make sure the bottle says sur lie, which means that after fermentation the wine was kept on its lees for a time, adding body to the light Melon de Borgogne grape. You might try Marquis de Goulaine Muscadet de Sèvre et Maine sur lie 2007 ($9.50).  Robert, 11th Marquis de Goulaine, claims that his family is the oldest wine-making family in the world. I remember fondly when I was made a Chevalier du Bretvin in a colorful ceremony at Goulaine Castle near Nantes, on the Atlantic coast.
Pouilly-Fumé wines come from France's geographic center, the Centre-Loire, at the other end of the Loire Valley from Nantes. Grapes have been grown in this region for over 2,000 years. It is the original home for the Sauvignon Blanc grape, the varietal used to produce Pouilly-Fumé wine. It is aromatic and is famously used in Bordeaux to blend with the Sémillon grape to produce white Bordeaux wines. Pouilly-Fumé should age for a year or two, before pairing it with shellfish or white meats, such as chicken or turkey. Try Domaine Serge Dagueneau et Filles Pouilly-Fumé "Les Pentes" 2008 ($26.99).
A different taste entirely is Vouvray, which is grown near Tours from the Chenin Blanc grape. The wine ranges in taste from somewhat dry to sweet, and that is a matter for your own taste to decide. It is a wine of character, rich and distinctive, and stands up very well to strong flavors. I suspect it may go better with Asian food that the Alsatian Gewurtztraminer which is often recommended for such pairings. Balzac liked it so much that he set one of his novels in the town of Vouvray. I once tasted it on a summer camping trip in the Loire Valley, and it went perfectly with the sharply seasoned Harvard beets and pork roast. Try the Domaine des Aubuisières Vouvray Les Girardières 2008 ($18.99). It would also go very well with goat cheeses, especially the famous Valençay, which I think is the finest chevre, especially when it has been well aged.
Loire Valley White Wine Of The Month
We have just begun to sample the Loire Valley white wines and treasures of the Loire Valley. Here are two more to excite your palate:
Unlike many lighter Loire Valley white wines, the Baumard Clos du Papillon Savennières 2005 ($39.29) is a dry and full-bodied Chenin Blanc from Anjou ($39.29). It would go well with shrimp or chicken – or perhaps with either one atop a Caesar Salad for a festive meal. Also from the Baumard estates, the Quarts de Chaume 2003 ($67.49) is something of a rarity. It is a long-lived wine from the Loire Valley that improves and changes with age. This is a rather sweet wine, that you will want to pair carefully. Serve it with foie gras to begin your meal, or with blue cheese to end it, like a fine Sauternes. It's your secret that your new discovery comes from the Loire Valley, and select Chenin Blanc grapes.
Sign Up for our eNews articles and receive our Free Guide to Wine Tasting Like a Pro!