|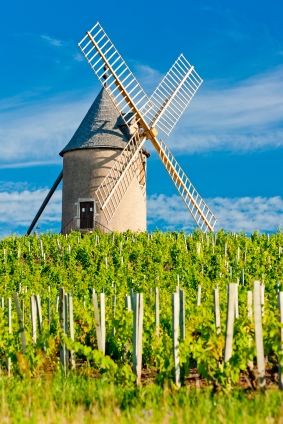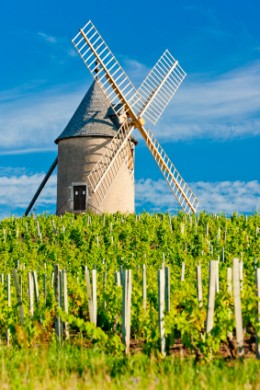 The scenic Beaujolais region, just south of Burgundy between Mâcon and Lyon, is four hours from Paris by car, and just half an hour from Lyon. It is full of vineyards, shops where the wines may be tasted, and bistros where the wines accompany French tavern food. It also boasts village bistros and B and Bs, coexisting with world class resorts, such as the Château de Bagnols. And the scenery, which you can enjoy without rushing in a day or two, is memorable. Like myself, you may find that your favorite Beaujolais wine comes from a vineyard view that you treasure.
Getting serious about Beaujolais wines seems contradictory. The wines are so pleasant, and so drinkable, that too much analysis might get in your way. In Beaujolais, you will find yourself stopping from time to time to sample the wines, either from local producers, or perhaps at the elegant Château de la Chaize in Odénas, which produces an excellent Brouilly.
Beaujolais is wine in a light style, with variable flavors. Compare them to each other, not to Bordeaux, Burgundy or California wines, that you enjoy during colder weather. Adding a light and gracious note to your summer grilling, they go well with your summer favorite meals, including poultry, barbecued ribs, delicatessen meats, and yes, hamburgers. Save some to go with a cheese and fruit platter at the end of your cookout. You'll develop your own favorite wine and food combination as you go along.
The standard (and very good) crus by leading producer Georges Duboeuf are relatively inexpensive, many running from $9 to $16 a bottle. But times may be changing. The 2009 vintage, just appearing, is considered exceptional, and the prices for this vintage may be somewhat higher. Now, individual estates are often identified on the wine label, rather than just the region of production. And increasingly, small producers are appearing whose quality wines should be better known.
Beaujolais wines are perfect for the summer, refreshing and flavorful. They are red wines (some white wine is produced, just one percent of the total wines of the Beaujolais region), and here it is the Gamay Noir grape that is king. With few exceptions these wines are meant to be drunk within two or three years of their vintage date. Also, chill your wine. It will be far more enjoyable than the same bottle at room temperature.
Lots of wine lovers know the Beaujolais nouveau (and Beaujolais Villages nouveau) wines and enjoy them. This was a huge commercial windfall for the region, as the new wine appeared around the world by special shipment early each November. It's enjoyable froth, but the hype seems a bit tired these days. That's all to the good, for this new wine doesn't begin to compare in flavor with the bottled vintage Beaujolais wines that appear six to eight months later.
There are 10 Beaujolais classified crus in addition to Beaujolais and Beaujolais Villages. They are Brouilly, Chénas, Chiroubles, Côte-de-Brouilly, Fleurie, Juliénas, Morgon, Moulin à Vent, Régnié (a recent new classification) and Saint Amour.
My personal favorite, Chiroubles, is one of the lightest Beaujolais crus. In part I enjoy it so much because, having visited the region, I associate it with a splendid view of the valley, looking towards the Alps. It is planted at a higher elevation than the other Beaujolais crus, and it has had a fine reputation for centuries. It has a nice bouquet and is very flavorful.
Let's contrast that wine with the sturdiest Beaujolais cru, Moulin à Vent, which is a deeper wine by comparison with other varieties of Beaujolais. In contrast to most other Beaujolais wines, it rewards cellaring for several years, for it will continue to develop, its flavors unfolding and color deepening over six or more years. The wine is often matured in wooden barrels, and during the fermentation process the juice is kept in contact with pips and grape skins, adding body and color to the wine. Aging helps the tannins to soften so that the wine is fully developed.
And yes, there really is a windmill. Have your photo taken with it in Romanèche-Thorins, where it was built in the 15th century. It still works! From time to time, the windmill has even appeared on the label of this wine, most notably after a painting by Maurice Utrillo in 1923, which adorned the 1988, 1989 and 1990 vintages. Also in Romanèche is a fine wine museum devoted to Beaujolais wines that was opened in 1992 by Georges Duboeuf.
Wines Of The Month
Let's taste two other Beaujolais crus, which are between Chiroubles and Moulin à Vent in degrees of richness and body. Fleurie, the "Queen of Beaujolais," is the favorite of many people. Fleurie lies between Chiroubles and Moulin à Vent and has some of the characteristics of each. It is rather light, aromatic and very flavorful, with excellent color. Try Clos de la Roilette Fleurie 2008 ($17). Family produced, this estate used to be part of Moulin à Vent. When the area was reclassified, the irate owner put his racehorse, Roilette, on the label instead of naming the region!
Then we have Juliénas, a sturdier wine, which you would expect for a wine from a region where winemaking has taken place for two thousand years. The wine is in fact said to be named for Julius Caesar, whose invasion route came this way in the first century BC. It has a fine bouquet and a good ruby red color. The presence of clay subsoil here means that the wines need some aging. Michel Tete's Domaine du Clos du Fief Juliénas 2008 ($18) is a fine example.
Inviting the neighbors over for a barbeque? Just remember that Georges Duboeuf produces magnums of Beaujolais Villages 2008. For around $20 retail, it's a festive and affordable treat by any standard.