|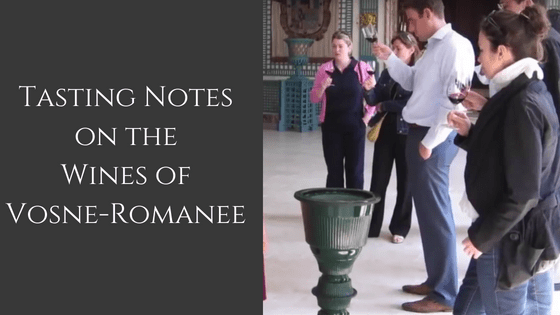 Vosne Romanee Wine: Tasting Notes From Our Expert
The wines of the Vosne Romanee region of Burgundy are rare, full-bodied and pricey.  The region lies between the picturesque Clos de Vougeot and the succulent Nuits St. Georges, many wine tasters' favorite region in the Cote d'Or of Burgundy. To make a comparison with the Medoc region of Bordeaux, if Nuits St. Georges is similar to the St. Julien region of Bordeaux, then the Vosne Romanee calls to mind pricey Pauillac in the same region of Bordeaux, full of treasures which one is fortunate to taste.
I'll share my notes from a tasting at the Domaine de la Romanee-Conti estate situated in the Vosne Romanee region of Burgundy.
My private tasting came in 1989, just after the 1988 vintage had been bottled, and just before the bicentennial of the French Revolution. We were at the DRC (Domaine de la Romanee Conti).
And so I had the privilege of tasting these wines where they came from, and in the company of those who actually had produced the wines. The grands crus represented from the Domaine de la Romanee Conti were a spectrum of famous and rare wines, including:
Echezeaux
Grands Echezeaux
Richebourg
Romanee St. Vivant
La Tache
and Romanee-Conti
This was also the order of our tasting. I assume that it went from the most accessible in taste and price towards the rarest and most expensive wine selections. I can still remember several of the tastes from that pleasant afternoon. I repeat them in the hope that something of that vintage's taste might prove characteristic of a given wine. Then we will explore some of the premiers crus and village appellation wines, which are less expensive and still of fine quality.
The 1989 Echezeaux had a very pleasant aroma, and was full fruited, with an aroma that recalled violets (rather like Chateau Margaux). If this was the most approachable of the wines of the estate, we were clearly off to a winning start.
My notes recall that ten years later, at a dinner in England, we enjoyed a 1988 DRC Echezeaux with a venison dinner. The wine was flavorful, and just sturdy enough to marry well with the venison. I noted that a sturdier Burgundy, perhaps a Chambertin Clos de Beze, would have been an even better match for the venison.
Then came the 1988 Grands Echezeaux. It was a revelation, sort of like the earlier wine, but with greater depth and character.
I note that the DRC has a portion of this vineyard (as well as portions of Echezeaux, Romanee St. Vivant, and Richebourg). It has monopoly holdings of La Tache (15 acres) and Romanee Conti (under 5 acres). We have enjoyed from our cellar a fine bottle of 1989 Grands Echezeaux from the esteemed Burgundy producer Mongeard-Mugneret, noting its depth of flavors.
The DRC practice is to sell mixed cases of their vintage wines, with perhaps one bottle of La Tache in the case. The estate owner joked that some purchasers did not realize the value of the DRC's wine offerings, and chided them from time to time for including "inferior" wines in their case assortment – not realizing that these were some of the finest wines in the world!
The Romanee St. Vivant (named for the nearby St. Vivant Chapel) was next. This was a grand wine, steel wrapped in velvet. It was very elegant, a fine and memorable wine.
The La Tache had great character, but would need many years to ripen to its full flavor.
The final wine of the vintage tasting, a Romanee-Conti, was well-proportioned but clearly far too young for a definitive tasting. It had a mouth-filling generosity of taste, and had to be cellared for decades to come.
I was asked if the Romanee-Conti tasted like a "feminine" wine, and answered that if that was an appropriate comparison, the wine did bring to mind a powerful female like Barbara Stanwyck. For a wine comparison from the Bordeaux region, it brought to mind a Cheval Blanc from the St. Emilion region, of an outstanding year.
The Richebourg turned out to be my favorite wine of the entire tasting. It was smooth, and very elegant. I hope that the 1988 Richebourg in our cellar will be just as memorable. The La Tache had great character, and as a mature wine would go well with game and wild mushrooms. The final wine, the Romanee-Conti, was less accessible than the other wines of the vintage. It was well-proportioned, with a generosity of taste, a wine for decades to come.
Bottles of Vosne Romanee, as you might suspect, are expensive and hard to find. Still, they reward the effort. Recent Washington suppliers had available:
a Vosne Romanee first growth Jadot ("Les Beaux Monts")
and a Mongeard-Mugneret first growth ("Les Orveaux")
When you can find them, village or regional appellation wines from a good producer offer relative bargains, if that is an appropriate term to use for any Vosne Romanee. Try a 2012 Latour Vosne Romanee ($67).
Better still, join us for a tour of the great wine regions of Burgundy. You'll taste the grands crus and premiers crus where they are grown and produced. It's the tasting experience of a lifetime!
Receive timely updates and promotions and a free Guide to Wine Tasting Like a Pro-Click Here!