|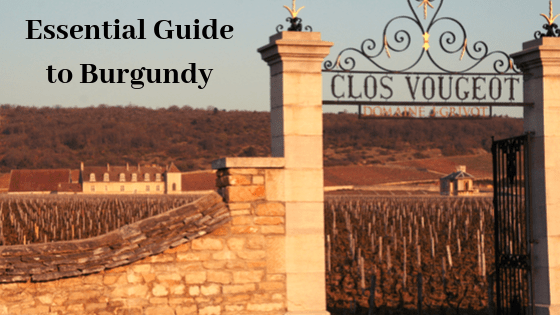 Here is our essential guide to Burgundy with useful articles, videos, and guidelines for wine touring through the region and sampling its wine.
The Burgundy region is perhaps best known as one of France's main wine producing regions. It is often noted as one of the most terroir conscious regions and it boasts a higher number of appellations than any other in France. This is the home of Pinot Noir and Chardonnay; and the wines can be ranked with some of the most prestigious and sought after wines in the world.  However despite its reputation for producing high-priced varietals, Burgundy is a diverse area with a variety of wines that can suit nearly every palate and price-point. Below is a guide to Burgundy, divided for easy access.
I can think of no more pleasant wine excursion than a slow drive through the Côte de Nuits, just fifteen miles of the Burgundy region, from Fixin just outside Dijon, to Nuits St. Georges. It is pleasant, rolling countryside, with vineyards which climb hillsides. This is the northern half of the Côte d'Or, and it is just a few hours by train from Paris.
It is not unusual in Burgundy for family members to represent 10-18 generations of ownership! In 1967, Jacques Seysses seized the rare opportunity to purchase Domaine Graillet and renamed it Domaine Dujac. Perhaps making its first vintage too soon (in 1968), D. Dujac was soon "discovered" in 1974.
Continuing south in Burgundy, we enter the Côte de Beaune at Aloxe-Corton, and begin a realm of excellent red wines, and the finest dry white wines on earth.
Okay, so my answer was pretty definitive despite published differences of interpretation among VERY knowledgeable wine professionals. Some say 32, others say 33, and there is even a vote of confidence for 34. But for we wine enthusiasts, what matters most is what's available in the bottle and what it says on the label of that bottle.
Perhaps you've gotten one of those shiny new wine refrigerators, and would like to begin storing some excellent wines for future enjoyment. Or, you've noticed a string of good vintages, and wondered how long they will be obtainable. Best of all, you may be pondering a trip to Burgundy, or have returned from that magical wine region, and would like to start putting aside some delicious wines for future enjoyment.
A recent Washington tasting of the Burgundy wines of Louis Latour from the 2009 vintage had a pleasant bonus. In 2003, the potentially fine Chablis house of Simonnet-Febvre was purchased by Maison Louis Latour. Considerable expense brought the nine-acre acquisition far closer to realizing its potential.
That feeling of plenty goes perfectly with fine Burgundy wines, both red and white. White Burgundy wines set the standard of excellence for dry white wines. Also, high quality Burgundy red wines, the summit of the Pinot Noir grape, have an underlying fruit taste, which complements fine cooking and ample dinners. Indeed, a carefully chosen bottle of Burgundy gives a sense of occasion to a festive meal.
Discover our Burgundy wine tours and discover the renown wine, food and heritage of the region. Also, tips for the best time of year to travel for Burgundy wine tours.
Sign up for our eNewsletter and get our FREE wine tasting guide.