|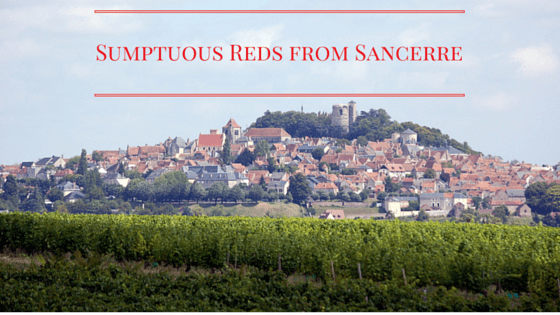 Sancerre Reds from the Loire Valley
It turns out that writing this column is good for my health! At this wintry moment, as I recall how I would much rather be in the Loire Valley–more specifically Sancerre–one of the most beautiful areas on earth, a blizzard has hammered the East Coast, and we have had record amounts of snow. With any degree of luck, however, by the time this column is finished, the snows will have melted, and my driveway cleared, without any snow shoveling on my part!
I will be concentrating on the Loire Valley with my columns this year; there is plenty of wine information in this famous region to learn and to share.
So let's begin with Sancerre, towards the center of the Loire Valley.
For many years, Sancerre was known primarily for its white wines. Indeed, the appellation controlée for white wines was awarded in 1936 – while the designation for red wines was not awarded until January 23, 1959.
Yields also reflect a strong preference for white wine grapes – for only some 22% of the acreage is in Pinot Noir production, and that includes grapes bound for rose wine production.
But now, the red wines of Sancerre are making a decided comeback, under the leadership of local firms dedicated to getting the best from their Pinot Noir acreage.
Pinot Noir wines, like other red wine grapes from the Loire Valley region such as Cabernet Franc, are generally considered light summer wines. That is why it was newsworthy when producers in this region began to make more substantial wines in the 1990s. The leader in this movement, Alphonse Mellot Jr. – the nineteenth generation of his family to produce Sancerre wines – decided to produce single-vineyard reds. Quality would be the focus, and the single-vineyard production gets around the problem of classification, there being no first growths in Sancerre.
Other producers in Sancerre have begun to join this trend, including Domaine Vacheron and Jean Reverdy. The producers started picking the grapes by hand, and yields were cut. Oak fermentation has become more common, producing sturdier wines. These steps have had their effect on the quality of wines produced, for recent tastings have shown that the quality of red Sancerre from concerned producers has improved substantially. Indeed, the French wine publication "La Revue du Vin de France" has called Alphonse Mellot's Sancerre red wines "the most sumptuous Pinot Noirs produced in France outside Burgundy."
Not all of these new wines are pricey – yet. A Jean Reverdy Sancerre Rouge Pinot Noir 2012, for example, retails for $23. By contrast, the Mellot wines are more costly, depending perhaps on their location of origin. Their 2012 Penitents Pinot Noir IGP Cotes de la Charite, for example, retails for $30. That seems like a bargain, for a wine that has received rave reviews. It is aged on the lees for 8-10 months in French oak barrels, 50-60% new. The wine has an elegant, long finish, and is "charactereistic of a great Burgundy." I note that this Mellot property is situated near Avallon, some twenty miles from the firm's main acreage in Sancerre, in an appellation controlée that was created in 1986.
Here are several more fine red Sancerre offerings from Mellot:
Alphonse Mellot Sancerre Generation XIX Rouge 2012 ($93)
Alphonse Mellot Sancerre Rouge "En Grands Champs" 2012 ($70)
Alphonse Mellot Sancerre Rouge Les Herses Rouge 2012 ($59)
The "Generation XIX" refers to the fact that the current younger generation is the 19th in direct descent to produce wines in Sancerre – it all began in 1513! Other wines mentioned are from single vineyards. They may not be easy to find, but the word is now spreading as to their savory quality. Let us know how you enjoyed them!
Sign Up for our eNews articles and receive our Free Guide to Wine Tasting Like a Pro!